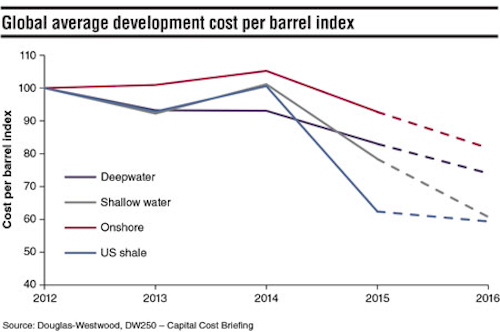 Development costs decline across the board as the oil price collapses
Douglas-Westwood's recent "DW 250 - Capital Cost Briefing" report analyzed 250 projects to evaluate field development costs since the oil price downturn. The headline outcome from this study is that since mid-2014 there has been a remarkable reduction in upstream capital costs per barrel recovered. The analysis of global upstream projects (onshore and offshore, including unconventional) shows that spend per barrel recovered for newly sanctioned projects has fallen up to 40% over the 2012-2016 period.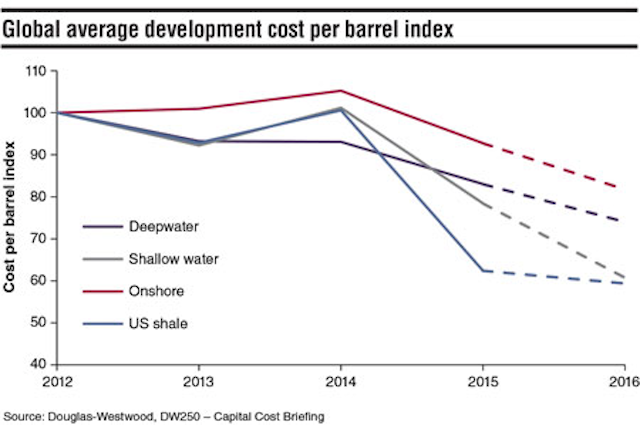 Three specific trends are driving a substantial reduction in upstream capital costs, and bringing some uneconomic fields over the threshold of viability. First, a squeeze on the supply chain by the E&P companies has resulted in 10-15% price reductions from service and equipment companies. This trend became evident early-on in the downturn and is unlikely to persist in a recovery. Second, reduced activity levels resulted in massive over-supply of some asset classes. Offshore rig utilization, vessel utilization, (amongst many other asset classes) has plummeted and day rates have fallen in some cases more than 60%. Some scrapping of older units is occurring although it will take time for these markets to come to equilibrium. Finally, the re-engineering of existing projects, returning to conceptual or front-end engineering and design studies to re-work the development scheme has also yielded substantial cost savings. Further gains are potentially there for the taking through standardization of engineering approaches and equipment. These savings should be far more permanent in nature.
- Ben Wilby, Douglas-Westwood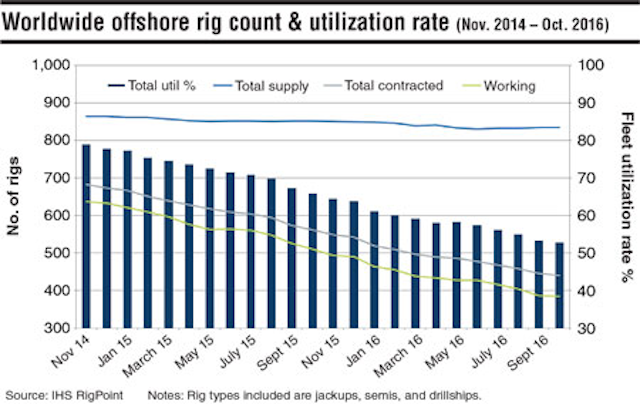 Rig rates trending downwards
This chart shows the average rig rates and the number of rig years contracted by quarter. Over the last few years, the average rig rate has been trending downwards in accordance with the few rig years that have been contracted in the same period.
Despite the fact that there has been little contracting activity recently, it is evident that the realized rig rates now have come down substantially compared to the period before the oil price started to fall during the summer of 2014.
- Oddmund Føre, Rystad Energy