(Courtesy ION Geophysical)
North/Central America
TGS and PGS will collaborate on this year's North Tablelands 3D and Southeast Grand Banks 2019 2D multi-client projects offshore eastern Canada. North Tablelands 3D will cover an area of around 5,000 sq km (1,930 sq mi) and with the 2018 Tablelands 3D survey, will encompass most of the open acreage to be offered in the November 2020 bid round. PGS' Ramform Atlas will acquire the data using the company's GeoStreamer, with the program likely to get under way in early June. Southeast Grand Banks 2019 2D will comprise around 13,300 km (8,264 mi), mainly across open acreage in upcoming bid rounds off southeastern Newfoundland (2021) and southern Newfoundland (2022). Starting next month, the MV Sanco Atlantic will acquire the data.
◆◆◆
ION Geophysical is reimaging 9,000 km (5,592 mi) of legacy 2D seismic data offshore the Pacific coast of Central America. This extends from the Tehuantepec basin offshore Mexico to the Sandino basin off western Nicaragua, an area reportedly not drilled for 40 years, although previous exploration suggested an active petroleum system was present. The Maya Reprocessing program should be completed before year-end.
◆◆◆
DEA Deutsche Erdoel has completed its acquisition of Sierra Oil & Gas following approvals by the Mexican authorities. Sierra brings interests in six exploration and appraisal blocks offshore Mexico, including 40% of block 7 containing the Zama oilfield. DEA will merge the company with its existing subsidiary Deutsche Erdoel Mexico, which has stakes in four blocks in the Tampico Nisantla and Sureste basins, three as operator.
◆◆◆
Pemex has contracted Borr Drilling and OPEX Perfadora to drill nine development wells offshore Mexico under an 18-month integrated services model. Borr will allocate its newbuild jackups Grid and Gersemi for the program, and will also draw on main shareholder Schlumberger for oilfield service support.
Telford Offshore will deploy three of its multi-purpose DP-3 construction vessels for a shallow-water development program on Pemex's Litoral de Tabasco area for Mexican contractor Protexa. The Telford 32, Telford 34, and Telford 28 will begin the campaign after completing their respective jobs elsewhere in the Gulf of Mexico.
South America
Three IOCs have signed up for exploration acreage offshore the Caribbean coast of Colombia. Repsol will operate the GUA OFF-1 block, 78 km (48 mi) offshore Guajira province, in partnership with Ecopetrol, and COL-4, 100 km (62 mi) from Bolivar province, in partnership with ExxonMobil. Colombia's Agencia Nacional de Hidrocarburos (ANH) said the planned programs would incur total commitments of more than $700 million. ANH also approved Noble Energy's entry to the COL-3 and GUA OFF-3 blocks as operator, after the company agreed to a 40% farm-in with Shell.
◆◆◆
Tullow Oil and its co-venturers have committed to a second exploratory well on the Orinduik block offshore Guyana. The drillship Stena Forth will spud the first well on the Jethro Lobe structure in early June, followed by the second on the Upper Tertiary Joe prospect in 650 m (2,132 ft) water depth in June. The targets could collectively hold 370 MMbbl, said block partner Eco (Atlantic) Oil & Gas.
◆◆◆
Petrobras has started production through the FPSO P-77 on the Buzios field in the presalt Santos basin offshore Brazil. This is the now fourth floater operating on the field – the location is 200 km (124 mi) from the coast of Rio de Janeiro state, in 1,980 m (6,496 ft) water depth. P-77, which will be connected to nine producer and eight injector wells, is designed to process up to 150,000 b/d of oil, offloaded to shuttle tankers, and up to 6 MMcm/d of gas, exported through the presalt pipeline network.
West Africa
Morocco's government has awarded Chariot Oil & Gas operatorship of the Lixus Offshore license which includes Repsol's 2009 Anchois gas discovery. The concession spans a 2,390 sq km (923 sq mi) from the coastline out to water depths of 850 m (2,789 ft). Consultants Netherland Sewell and Associates estimate Anchois' potential resource at 307 bcf, with a further 116 bcf in prospect in a deeper target not penetrated by the discovery well. Chariot has also identified five satellite prospects and will reprocess existing seismic to reduce the associated risks.
◆◆◆
Aker Energy has submitted a development plan for the Deepwater Tano/Cape Three Points (DWT/CTP) block offshore Ghana which contains various fields discovered by former operator Hess. Under a first phase program, Aker Energy will develop the 334-MMbbl Pecan field, 115 km (71 mi) offshore in water depths of 2,400-2,700 m (7,874-8,858 ft), using an FPSO. This will be connected to up to 26 subsea wells and will have capacity to produce up to 110,000 b/d of oil. Appraisal drilling continues at Pecan South and Pecan South East, and reserves here could be produced through a second floater, Ocean Yield's Dhirubai-1.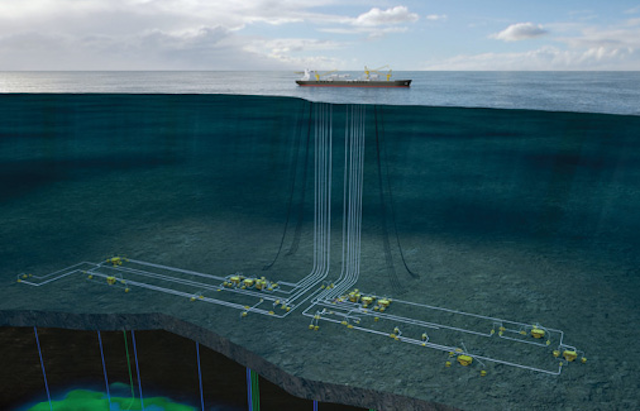 Proposed facilities for the Pecan field Phase One development offshore Ghana.(Courtesy Aker Energy)
◆◆◆
Noble Energy and its partners have committed to a $330-million development of an estimated 600 bcf of gas at the Alen field in blocks O and I offshore Equatorial Guinea. Alen began producing condensate in 2012, with the gas until now re-injected to the reservoir to boost liquids recovery. Noble plans to convert three high-capacity production wells on the platform to export gas through a new 70-km, 24-in., 950-MMcf/d capacity subsea pipeline which will connect to the existing Alba LPG plant and the EG LNG complex at the Punta Europa complex on Bioko Island. The program accords with the government's aim to position Equatorial Guinea as a new Gas Mega Hub.
◆◆◆
African Petroleum (AP) and PetroNor E&P have agreed to merge to form a new company. Petronor has net production of around 2,300 b/d from four fields in shallow water 25 km (15.5 mi) offshore Congo (Brazzaville), the oil being exported to the onshore Djeno terminal and the Nkossa FPSO. The company's subsidiary Hemla E&P Congo also secured rights to takea 28% interest in the offshore PNGF Bis fields. Operator Perenco plans an extended production test next year on one of these fields, Loussima SW, via a MOPU in order to de-risk the development.
◆◆◆
Total has started production through the second FPSO serving the deepwater Kaombo oil development in block 32 offshore Angola. Kaombo Sul, a lookalike to the Kaombo Norte which started operating last summer, will eventually double production from the block to 230,000 b/d. It receives oil and gas from the Canela, Louro and Mostarda fields, with the gas exported to the onshore Angola LNG plant. The project's 20% Angolan content represented a new record, Total claimed.
Offshore neighboring Namibia, Total has agreed to farm out an 18.89% interest in ultra-deepwater block 2912 in the Orange basin to Impact Oil and Gas. The two companies are also partners in block 2913B, where a well is due to spud later this year on the Venus prospect.
Baltic Sea
Offshore pipelay of the Balticonnector gas line between Finland and Estonia should start at the end of this month. The final consignment of pipes from Greece was due to be delivered in April. Once operations get under way, laying should proceed at a rate of 2-3 km/d (1.2-1.8 mi/d) south from the Finnish coast toward Estonia, with construction scheduled to be completed in June. Following pressure tests, drying and connection to onshore gas lines in both countries, first gas should flow in 2020.
Mediterranean Sea
Eni has activated its Inertial Sea Wave Energy Converter at a site offshore Ravenna, eastern Italy. The device converts energy generated by waves into electricity and is integrated into a hybrid smart grid system providing photovoltaics and energy storage. Eni may adapt the technology to power some of its medium-large offshore facilities, or to convert older platforms into renewable energy hubs.
◆◆◆
Ithaca Energy will take on Noble Energy's 25% operating rights in the 367/Alon D license offshore Israel, after Noble opted out of exploring the concession. Ithaca's parent company Delek Drilling is the other partner in the license.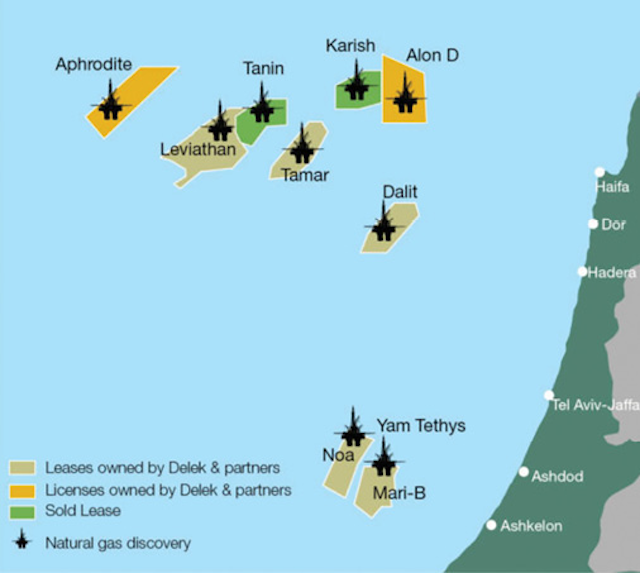 Location of the Alon D license offshore Israel.(Courtesy Delek Group)
Caspian Sea
Lukoil and JSC NC KazMunayGas have ratified their contract to explore and develop the Zhenis block, 80 km (50 mi) offshore in the southern Kazakh sector, with Kazakhstan's Ministry of Energy. Work obligations include an exploration well and 3D seismic acquisition.