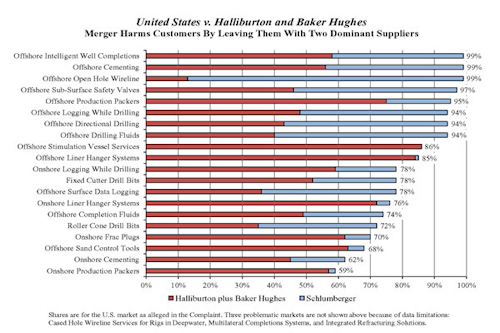 Offshore staff
WASHINGTON, D.C.– The US Department of Justice has filed a civil antitrust lawsuit to block Halliburton Co.'s proposed acquisition of Baker Hughes Inc. The department filed its lawsuit in the US District Court for the District of Delaware, where both companies are incorporated. 
It alleges that the transaction threatens to eliminate competition, raise prices, and reduce innovation in theoilfield services industry.
The complaint alleges that the acquisition – which the companies valued at$34 billion in November 2014 – would combine two of the three largest oilfield services companies, eliminating important head-to-head competition in markets for 23 products or services.
Attorney General Loretta E. Lynch said: "The proposed deal between Halliburton and Baker Hughes would eliminate vital competition, skew energy markets, and harm American consumers. Our action makes clear that the Justice Department is committed to vigorously enforcing our antitrust laws."
During the department's investigation, Halliburton proposed to remedy the effects of the transaction by divesting a mix of assets extracted from certain business lines of the two companies.
According to the complaint, the proposed divestitures would not include full business units but rather would be limited to certain assets, with the merged firm holding onto important facilities, employees, contracts, intellectual property, and research and development resources that would put the buyer of those assets at a competitive disadvantage.
The complaint further alleges that the proposed divestures mostly would allow Halliburton to retain the more valuable assets from either company while selling less significant assets to a third party. It also alleges that this divesture would not replicate the substantial competition between the two rivals that exists today.
Assistant Attorney General Bill Baer of the department's Antitrust Division said: "This transaction is unprecedented in the breadth and scope of competitive overlaps and antitrust issues it presents.
"Halliburton and Baker Hughes are two of the three largest integrated oilfield service companies across the globe, and they compete to invent and sell products and services that are critical to energy exploration and production. We need to maintain meaningful competition in this important sector of our economy."
In response to the lawsuit, Halliburton and Baker Hughes announced that they intend to "vigorously contest" the DOJ's effort to block the merger. They believe the department reached the wrong conclusion in its assessment of the transaction and that its action is counterproductive, especially in the current market.
The companies said they intend to demonstrate that the department has underestimated the highly competitive nature of the oilfield services industry, the many benefits of the proposed combination, and the sufficiency of the divestitures. Once completed, the transaction will allow customers to operate more cost effectively, the companies say.
Both companies previously agreed to extend the time period to obtain regulatory approvals to no later than April 30, 2016, as permitted under the merger agreement. If the judicial review extends beyond April 30, the parties may continue to seek relevant regulatory approvals or either of the parties may terminate the merger agreement.
04/06/2016