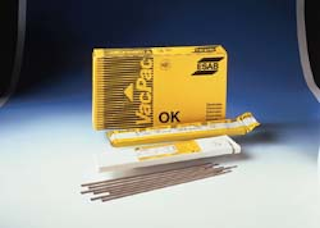 The vacuum packing of welding comsumables eliminates the need for re-baking, Esab says.
Vacuum-packed welding consumables from welding specialist Esab offer cost savings for offshore clients. Esab's Vacpac range covers the full gamut of consumables delivered in a vacuumised aluminium foil wrapping.
The big advantage of delivering electrodes to the welding site in this manner is that they do not require re-baking before use. This trend to simplify the welder's task appears to be popular, both among welders themselves and among those who employ their services, according to Nils Thalberg, the product marketing manager for Esab's consumables business area.
"The use of Vacpac for stainless electrodes is also growing very quickly," he says. "We're moving towards eliminating the re-baking of electrodes."In the process, a significant cost is being eliminated - the cost of re-baking. According to Thalberg, "Some customers say that the cost of re-baking can be higher than the cost of the consumables themselves. Clients are not always aware of the cost of using a re-baking oven."
The Vacpac system has been tested and approved under the supervision of TUV, the independent German certification body. As long as the vacuum is maintained until the packaging is broken, the welder knows that the contents will be in good condition. Each pack contains only a small quantity of consumables, which means that the whole of the contents is likely to be used before suffering prolonged exposure to the air.
"And this form of packaging gives the welder more confidence," Thalberg says. "Because the consumables arrive in prime condition, it reduces the risk of the welder doing a bad job."As one of the world's leading suppliers of welding consumables - it produces some 250,000 tonnes of electrodes, strips and fluxes a year - Esab believes in keeping in close contact with its customers. These include the offshore industry, which in the North Sea uses Esab products probably more than any other.
Much of the company's current R&D work is related to the welding of stainless, duplex, and super-duplex steels. Of interest to the offshore sector is a new electrode it recently introduced, the OK 9259 electrode, which corresponds to Alloy 59. With its high resistance to pitting corrosion, OK 9259 is suited for use on structures which will be exposed to sea water.
The new electrode, which can be used for austenitic grades such as 254SMO and 654SMO, was earlier this year undergoing procedure testing in Norway. But sales of both wire and flux have already been made to offshore clients, Thalberg says.
Copyright 1995 Offshore. All Rights Reserved.