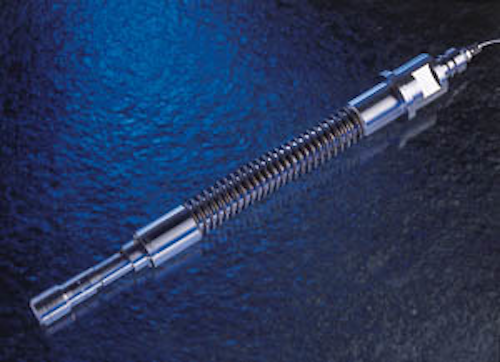 One of the components of the FOWM wellhead connector.
Diagram of the FOWM connection system installed in the wellhead connector [9,152 bytes].
The fiber optic well monitoring (FOWM) system developed by Optoplan makes the benefits of fiber optics technology available to the oil and gas industry.
FOWM, which has been developed for use in high-pressure/high-temperature (HP/HT) wells, has been successfully tested by Shell on the Guillemot A field. The company has now ordered it for its Heron and Egret fields, part of the ETAP development.
The system, which is now specified for temperatures up to 180(C and pressures up to 1,000 bar, offers a very reliable and cost-effective means of monitoring downhole pressures and temperatures, with at least as good accuracy as alternative methods, according to Morten Eriksrud, Optoplan's managing director.
One of its advantages is that only passive components are used downhole. The sensor units consist of a resonator chip mounted in a silicon tube. Communication with the optoelectronic unit which controls the sensors is via a fiber optic cable clamped to the tubing.
The optoelectronic unit, which is little bigger than a shoe-box, can be located on the platform or floater serving the well, or in the case of a subsea well, in a pod on the xmas tree. The low transmission losses inherent in fiber optic technology mean that signal processing can take place up to 25 km from the downhole location.
Data from the optoelectronic unit is converted into engineering values and presented to the user by a conversion and logging unit.
Connection with the downhole cable at the wellhead is made through a wet mateable wellhead connector located on the tree. The connection involves aligning two wires only 10 microns in diameter with an accuracy of less than one tenth of a micron. "As far as we know, we're the only ones to have developed such a wellhead connector," says Eriksrud. "It's a really unique component."
The FOWM development largely took place through a joint industry project involving Norske Shell, Alcatel Kabel Norge, Sensonor and Optoplan. Alcatel has now withdrawn and acts only as subcontractor for the cable.
The intellectual property rights now belong to Optoplan. Earlier this year the Trondheim-based company made a five-year worldwide distribution agreement with Wood Group Production Technology, which in addition to its marketing role has also taken on responsibility for installing the system.
Early tests of the system were performed in a well on NAM's onshore Sleen Field in 1993 and on an HP/HT well on BP's Gyda Field in 1994.
Its first subsea test came last October when it was installed on the Guillemot GUA-P2 well at a downhole depth of 2,140 meters in a temperature of 110(C and pressure of 400 bar. Both installation, including the first use of the wellhead connector, and operation of the system went well, Eriksrud says.
A wireline memory gauge was used to verify FOWM's performance. The average difference in pressure readings between the two systems was 2.8 psi, well within the wireline gauge's (5 psi margin of error.
Optoplan is now working on an order for five systems for Shell's Heron and Egret development. These will be installed at depths of around 4,200 meters with temperatures of up to 180(C and pressures up to 900 bar. The host platform from which the wells will be monitored is almost 23 km distant from Heron.
Another leading UK operator has also placed an order for two systems for a current development.
Having proved FOWM's worth at the hot end of the range, Eriksrud sees good chances of the system capturing some of the market for medium temperature - 100-150(C - applications. Current technology is based on electrical conductors which become less and less reliable as temperatures go up, he says.
There could be much else in the way of fiber optics products to come in the future, for in Eriksrud's view, the surface of what this technology has to offer the oil industry has only just been scratched.
"I see a huge potential for fiber optics in this business," Eriksrud says. "We've started with one of the more difficult applications, and now we have developed a basic infrastructure for fiber optic systems in the oil and gas sector."
Future applications could include the measurement of differential pressure, flow measurement, acoustic signals, corrosion monitoring, and monitoring of water penetration in wells. Eriksrud also sees scope for using fiber optics based instrumentation systems as the base for intelligent well systems.
Copyright 1997 Oil & Gas Journal. All Rights Reserved.