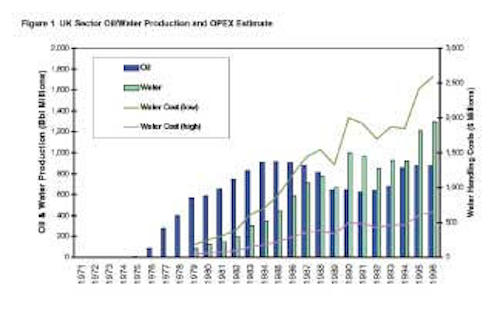 As water production rises and fields begin to produce more water than oil (WOR > 1:1), field economics begin to deteriorate. The water ultimately rest-ricts the level of oil production and can result in significant capital and operational expenditures. Capital expenditure normally means the installation of artificial lift facilities, though it can also include the later installation (retrofit) of additional water treating equipment and/or injection wells.
Operational costs that can be incurred due to water production are usually associated with retreating up the well, i.e. abandoning a particular zone and re-perforating further up hole. Abandonment is usually carried out by using a bridge plug if the zone is lower most. However, the zone may be a high permeability streak that requires careful placement of cement or gels (blocking agents). Industry experience has shown mixed results with this approach. At best, this merely delays the on-set of high water production and at worst; it reduces the ultimate productivity of the well.
The North Sea has a number of mature fields that could benefit from a concerted water management strategy. The main options available are water shut-off, downhole separation, and debottlenecking surface facilities with produced water re-injection (PWRI). All these approaches have been "equalized" with an environmental benefit that can be summarized as follows, "no new discharges." In other words, debottlenecking surface facilities in order to be able to discharge more water to the environment is not, for the purposes of this paper, considered to be a realistic long-term option.
Water shut-off
There have been many instances where this has been an effective strategy. Sidetracked wells showed the lowest risk but of course, suffered from the highest cost. Other water shut-off treatments, such as cement and gels to isolate lower zones, were least dependable and suffered from problems with isolating the right zone, damaging productive zone (irreversibly), and the treatment simply failed after a period of time. Intelligent well technology will shortly be available to overcome some of these weaknesses. However, the single biggest issue associated with water shut-off is that the ultimate recovery from the zone is compromised. Simply put, money is left on the table.
SubSep system
Installation of a SubSep system is an economic decision and the economics are affected by CAPEX, and resultant incremental OPEX (if any) vs. improved asset NPV, incremental oil recovery and reduced environmental risk. Many of the decisions whether to use this system are very field specific. Some fields are constrained by the gathering and facility limits; others are constrained by the need to invest in artificial lift (i.e. they are constrained by today's bottom hole pressure or BHP, or today's gas-lift rate and pressure). In any case, this system can provide that improvement in asset NPV while simultaneously reducing the discharge levels to the environment.
Debottlenecking and PWRI
This course of action is a highly capital intensive proposition. Highly limited in application due to limited space/weight availability on offshore platforms and usually, a limited number of well slots.
Benefits
The system combines hydrocyclones with conventional oilfield electrical submersible pump (ESP) systems. Produced fluids are pumped through the separator such that the clean, produced water has sufficient remaining potential energy to flow to a disposal zone accessible from the same wellbore. The oil stream exits the separator at a pressure just less than that of the water stream.
In many cases, sufficient pressure exists for the oil to flow directly to the surface. If insufficient pressure exists then the oil stream may be pumped to surface via a low volume/low head (TDH) pump driven off the same motor. A conventional production packer isolates the injection zone.
Experience has shown that the oil stream will contain 20-50% water by volume, while the water stream will contain 100-500 ppm residual oil. This means that a well operating today at 3,000 m3/d with an 80% water-cut, contributes 2,400 m3/d of water to the total overboard discharge. The same well operating under this new system will contribute only 120 m3/d to the total overboard discharge or 95% less.
The major feature of wellbore separation is the ability to leave the vast majority of the produced water in the ground. This reduces the environmental risk and in many instances, enables the operator to improve field economics.
Environmental risk reductions
Risk of pollution of a subsurface aquifer during production, e.g. through casing leak, is lowered versus a conventional well as production to surface's water-oil ratio (WOR) is maintained less than 1:1.
Risk of surface pollution, e.g. through a leak or spill, is lowered as volume of water is reduced by 85-95% c.f. of a conventional well.
Risk of leak/spill of high-pressure brine at injection facilities is lowered and risk to subsurface aquifers via injection well is reduced.
Long-term environmental risk due to discharge of produced water to the sea is mitigated.
CO2 emissions will be lower (energy efficiency is higher than any other lift type in this kW range).
Reduced chemical consumption, e.g. hydrate inhibitors, corrosion inhibitors, demulsifiers etc. This translates to fewer drums, less transport risk, fewer HS&E issues etc.
Improved field economics
Accelerated oil production (improved net present value of the asset), either from the same well or from other wells in the same field, where the field production rate is constrained by water processing capacity. Conversion of an existing injection well to a producing well can result in significant incremental oil.
Improved ultimate recovery from the asset's original oil in place (OOIP). This improvement is a result of the well remaining in production longer (between side-tracks), and that the water is injected into a location where it can act positively on reservoir pressure and sweep efficiency.
Reduced operating costs due to, say, lower CO2 tax, lower chemical consumption, reduced frequency of injection well workovers, or lower injection pressure. Operators reduce capital expenditure by drilling of fewer injection wells.
HS&E issues
Pollution risks associated with this system vs. conventional surface production and disposal are much lower. Risks from surface spills and leaks from process piping and separators and injection facilities are primary sources. By reducing the volume of formation water brought to the surface, the level of pollution risk is reduced. Also possible is the reduction in risk associated with disposal of lower water volumes (disposal water quality is related to the volume throughput of the water treatment facilities) or fewer injection wells or lower injection pressure. For onshore facilities in areas dependent on subsurface potable water aquifers, the level of pollution risk is far lower than that of a conventional production/injection scheme.
This is primarily due to the removal of much of the salt water such that the remaining liquids are far less aggressive (corrosive) in the producing well and less likely to undermine casing integrity. Similarly, removal of the water at the source results in no injection pressure applied at surface for that water and no column of water under pressure in the injection well and therefore no risk to any aquifer.
The system implementation strategy can affect the HS&E issues. This is because a field may currently be producing naturally and may not be in need of artificial lift, or alternatively the field is examining the issues associated with converting to ESPs from conventional gas-lift etc. Each of these options has a unique affect on the economics and benefits.
Opportunities and challenges
The main challenge facing the future application of this technology is the development of understanding by the operators of the full cost of water treatment. Once fully understood, it is believed that a greater emphasis on fully developing this technology will occur. The opportunity to design any given facility for flowlines and surface processing/disposal of produced fluids with a maximum water content of 50% will offer savings of enormous magnitude. This type of understanding will foster wells designed for this technology, plus the incremental cost is low.
Identify disposal zone as legitimate target in wellbore design/construction.
Drill well in disposal region with fluids and procedures conducive to good injection.
Drill and case wells with a larger diameter.
Consider sand control as a standard feature.
Taking this to a logical extension, it's clear that significant work in the area of sand prediction and sand control is required. Similarly, there are a number of issues associated with understanding of the injection zone:
Sand production predictions model (and plugging risk - need to understand affect of water production, hydraulic shocks etc.)
Sand control methods (selection, sizing, impairment, pre-pac, screens, gravel pack, frac-pack, expanding screens etc.)
Sand control development especially remedial processes.
Produced water separation and same-well re-injection is a new concept that requires some significant work to help reduce the level of technical risk:
Need a single well reservoir-engineering model for production and injection in the same well.
Need to ascertain level of risk associated with recycling the water (function of vertical permeability and spacing and produc-tion rate vs. injection rate etc).
Need an injection zone model to enable prediction of injection half-life and to model the affects of solids and residual oil on the half-life.
Need to understand the significance of having a fractured or naturally fractured disposal zone.
Need to understand fracture plugging mech- anisms and their affect on injection half-life.
The good news is that many of these unknowns are currently being examined. Two PWRI groups are at work. One UK based consortium using Triangle Engineering and the other based here in the US at The University of Texas at Austin.
Conclusions
Once the aspects detailed above have been developed and a statistically significant sample of success stories has been achieved (say, 35 or so), then the SubSep system will be a consideration from the well's inception and its use applied to the design of the surface processing equipment. Application to subsea completions cannot be too far away. This technology has the potential to improve asset economics while simultaneously meeting environmental targets. Broad application of the technology may decrease the need to legislate stricter and/or new disposal limits. Application of this technology may enable operators to meet lower discharge limits by reduction of the volume rate of formation water processed through the facilities. ESPs are inherently more HS&E friendly than gas-lift.
Additional benefits include:
Higher energy efficiency
Lower requirements for production chemicals
Process facilities have less HP gas inventory
HP gas pipelines and reciprocating/rotating equipment not required.
This technology has the potential to reduce the H2S and CO2 content of crude off-gas.
Acknowledgments
The author would like to thank the management at Centrilift for permission to publish this paper. Thanks too to Mike Fox and Jeff Knight for their support and contribution.
References
Fousler, RWS "Water Management" AEA Technology Paper.
Tubel, P. and Herbert, P. "Intelligent System for Monitoring and Control of Downhole Oil-Water Separation Applications" SPE 49186 presented 1998 Annual SPE Technical Conference, New Orleans
Editor's Note: This is a summary of SPE 61186.