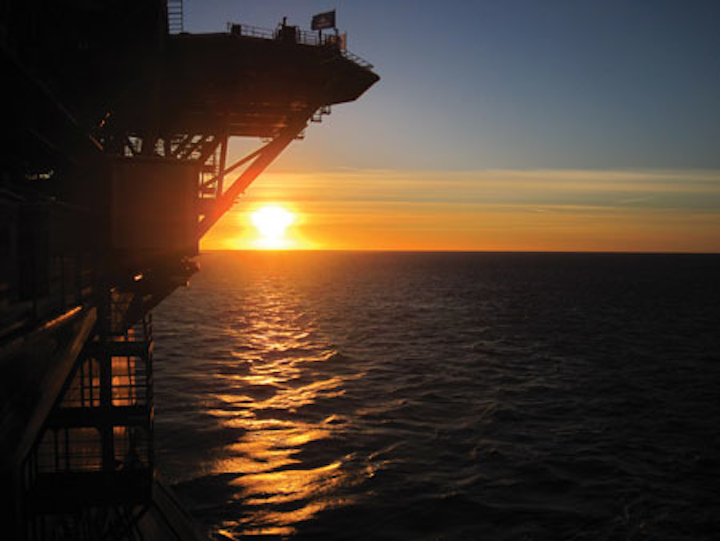 Robin Dupre • Houston
MPD increasingly embraced for offshore drilling
More than 40% of drilling problems occur during offshore operations, significantly increasing non-productive drilling time and therefore cost. As oil operators move toward more complex drilling environments, they find themselves exposed to high risk. Against this backdrop and the continued need to maintain energy security, oil operators are increasingly adopting advanced technologies such as managed pressure drilling (MPD) that offer safety benefits. Recent analysis from Frost & Sullivan, titled "Managed Pressure Drilling," finds that the MPD service market earned revenues of $11.4 billion in 2014 and estimates this to reach $18.5 billion in 2020 at a compound annual growth rate of 8.4%. Frost & Sullivan Energy & Environment Industry Analyst Mahesh Radhakrishnan said: "Geographically, North America will be the highest revenue contributor due to huge capex advancement in MPD technology. West Africa will be another important market for MPD as drilling costs are high and large investments in offshore drilling have been made in the region," he said. "Along with these markets, Asia/Pacific and Europe are expected to witness high end-user interest in MPD technology owing to rising energy demand and redevelopment of mature oilfield wells."
Although MPD reduces non-productive drilling time significantly, the high capex generally deters operators from moving away from conventional drilling. The lack of industry experts and the strong expertise needed to execute MPD projects have also discouraged adoption.
"The breadth of knowledge and skill required for the successful use of MPD is typically too wide. Oil and gas companies must collaborate with the right kind of suppliers to make this technology cost-effective," noted Radhakrishnan. "Suppliers will also have to create awareness among operators on the benefits of MPD, demonstrate the life-cycle cost of installing the technology, and educate end users on offshore drilling hazards and safety issues to fight market challenges."
Schlumberger, Cameron join forces
Schlumberger and Cameron have agreed to merge in a stock and cash transaction valuing Cameron at $14.8 billion. Given the lower oil price environment, Schlumberger CEO Paal Kibsgaard highlighted the combined company's ability to deliver "innovative technology and greater integration" to meet customers' demand for increased efficiency, while Cameron CEO Jack Moore added that the transaction "builds on our successful partnership with SLB."
Cameron shareholders will receive 0.716 Schlumberger shares and $14.44 in cash for each share of Cameron, valuing the company at $66.36 per share. Cameron shareholders will own about 10% of Schlumberger upon closing and Schlumberger expects the deal to be accretive in the first year, despite an increase in the share count, driven by cost synergies that can be immediately realized. Schlumberger targets $300 million in pre-tax synergies in the first year and $600 million in synergies in the second year, primarily related to reducing operating costs, streamlining supply chains, and improving manufacturing processes. Evercore ISI estimates that the combined company will generate sales of $47 billion in 2016 and $50 billion in 2017.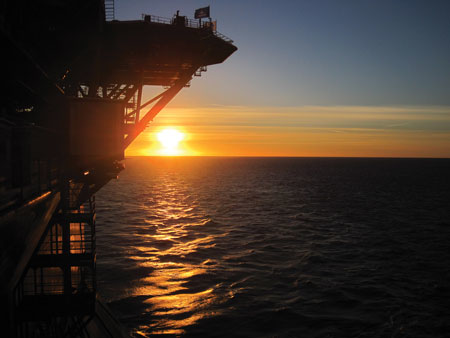 Gazprom Neft has brought its second well into production at the Prirazlomnoye field, with output totaling 1,800 metric tons/d (1,984 tons/d). (Photo courtesy Gazprom)
Second well brought into production at Gazprom Neft Prirazlomnoye field
Gazprom Neft brought its second well into production at the Prirazlomnoye field, with output totaling 1,800 metric tons/d (1,984 tons/d).
The launch of this facility plans to see production increase more than double over 2014 production levels at Prirazlomnoye, which stood at 300,000 metric tons (330,693 tons). The depth of the new well extends to more than 4,500 m (14,763 ft), with drilling undertaken by Russia's Gazprom Burenie LLC.
Altogether, the project envisages 36 wells being brought into production, including 19 production wells, 16 re-injection wells, and one absorption well. The first production well at the field was launched in December 2013.
Gazprom says the Prirazlomnaya platform is equipped with a system to prevent the discharge of any production or drilling waste into the sea. All wells to be drilled at Prirazlomnaya will be located within the platform, the base of which then acts as a buffer between the well and the open sea. In addition, the company explained that all of the wells are specially equipped to prevent the possibility of any uncontrolled emission of oil or gas and can, if necessary, be hermetically sealed within 10 seconds.
Schlumberger, IBM to provide integrated services
Schlumberger and IBM have teamed up to provide integrated services to upstream oil and gas customers that will improve the business impact of production operations projects.
The offering combines Schlumberger's production optimization services, upstream expertise, and industry-leading Avocet production operations software platform with IBM's enterprise asset management and enterprise services to deliver an end-to-end service for optimizing integrated production operations. Through the service, customers should expect improved productivity, efficiency, and cost management across operational areas including production optimization, flow assurance, logistics, scheduling, HSE, human resources, equipment monitoring and maintenance.
Uwem Ukpong, president, Software Integrated Solutions, Schlumberger, said: "Our customers have high expectations of the business impact of integrated production operations projects and in the current financial climate the demand for return on investment is stronger than ever. The alliance with IBM will drive production excellence beyond engineering to all workflows across the production operations business lifecycle."
John Brantley, IBM general manager for the Chemicals and Petroleum Industries, said: "Traditional ways of doing business are being challenged and business process re-engineering has become an absolute requirement. Schlumberger and IBM are coming together with a joint engagement model to deliver our clients a clear path to achieving operational excellence, through integrated enterprise and domain-specific business processes with collaborative, real-time intelligence for improved decision making in the oil and gas industry."
This new service unifies the decision environment to provide the support critical for productivity and efficiency gains in today's oilfield operations. The combination of production optimization workflows with enterprise business processes enables multidisciplinary solution teams to implement customized business offerings spanning asset to enterprise levels.
Drilling resumes at Guendalina offshore Italy
Eni has begun drilling a side track at the Guendalina gas field in the Adriatic Sea offshore eastern Italy.
Operations should last around 80 days, according to Rockhopper Exploration, and are designed to optimize production from the field. •