CEO explains selective focus on Africa, Asia
Gurdip Singh
Contributing Editor
With the current economic crisis in hand, Malaysia's Bumi Armada presses forward with technology development and market expansion, albeit selectively with focus on Asia and Africa.
"We want to be an Asian giant with an Afro-Asian focus," Hassan Basma, CEO and executive director of Bumi Armada toldOffshore in an interview.
This is done by executing technology and developing expertise, the vital tools for an international player, he stresses.

Installation of the largest module (939 metric tons or 1,035 tons) during construction of the FPSO Armada Perdana by Bumi Armada.
"Our plans are to focus on high-end, value-added assets, expand into the deepwater segments, and provide total services from seismic and drilling to FPSOs," says Hassan.
Bumi Armada has come through the economic crisis well by being prudent on investments. "We have never placed speculative orders for new vessels. We only made investments on confirmed contracts and projects," he points out.
This has left Bumi Armada a stronger group in an environment where some competitors made speculative investments on new assets.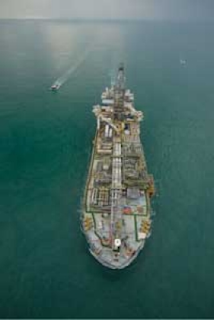 Armada Perdana nearing completion of construction. The FPSO is on its way to Nigeria.
Bumi Armada started the international journey four years ago, expanding from Southeast Asia into West Africa and the Caspian Sea markets. "Today, we have built a business with operations in 11 countries," says Hassan, but stresses the importance of maintaining niche markets. It is not necessary to be present in every country, he adds.
"Just as Asia is our backyard, Africa is our new market region," he says.
As it is, Bumi Armada is developing business in challenging markets such as Nigeria. A second FPSO, namedArmada Perdana, is on its way to Oyo field, offshore Nigeria. It is the second FPSO, after Armada Perkasa which was upgraded in 2007 and is in the Nigerian Okoro Setu field. Both vessels are contracted on five-plus-five year fixed-time charter.
While oil and gas reserves often are found in the most challenging environments, Hassan sees each of these oil and gas endowed countries as having their own work culture. "Bumi Armada, too, has its own way of mitigating some of the most challenging business climates," says Hassan who has spent 28 years in the industry.
The company believes in local content and in building strong relationships wherever it operates. A good business relationship has been established with Nigerian-owned Century Energy Services Ltd., he points out.
The success of business in Nigeria underlines Bumi Armada's decision to deploy eight offshore service vessels to Nigerian oil and gas fields. The vessels include a number of anchor handling tugs and other oilfield service support vessels which should be reaching Nigeria about now.
Bumi Armada confirms its commitment to technology. It has made $900 million capital expenditure in the past two years on an FPSO, a derrick pipelay barge, and a subsea installation vessel. "More is to come," says Hassan, keeping his investment strategy on confirmed projects and contracts.
Additionally, the company is progressing with "Steel on Water 1," its newbuild program which comprises 20 vessels, mostly dynamic positioning enabled. Bumi Armada has spent $320 million on a 2007-2009 investment plan with the last eight vessels due by year end.
Adoption of advanced technology forms the basis of future expansion, adds Hassan, highlighting the engineering team at Bumi Armada which provides a range of services to clients. This is seen as a compulsory requirement of cost efficient, competitive services in today's business environment.
"Bumi Armada takes advantage of all available technologies. We adapt it along with our ideas and put it to effective use," says the industry veteran. "We have the right people to be a technology architect," he adds.
Hassan acknowledges the manpower challenge faced by global industries, and was quick to point out that Bumi Armada has been working on this aspect for many years. "We currently have close to 50 Malaysians undergoing DP training to manage our new DP-enabled vessels," he says.
In fact, Bumi Armada has initiated the establishment of DP Training in Malaysia through a tie in with the Akademi Laut Malaysia (Malaysian Marine Academy) with the provision of DP Masters to develop the course, materials, and conduct training programs. Over and above that, the company has sponsored training at local marine institutions for 55 cadets.
"A well-educated and trained manpower makes the backbone of our operations, which is increasingly involved in international projects," says Hassan. The company currently has about 400 in its shore-based staff and more than 1,200 crew made up of 22 nationalities.
Bumi Armada evaluates new opportunities especially in assets expansion, and some of this could come through acquisition. Hassan notes that a number of speculatively built rigs are available now but thinks these still are over priced. A good opportunity would be a new deepwater unit with a price of below $400 million, he says.
Though Hassan says assets related to contracting services are over priced, he expects some acquisition to take place soon.
"I see another consolidation round in the fourth quarter of this year. A lot of people have tried to hold on to their assets but some will run out of the financial ability to hold on, so there are likely to be one or two fire sales," he says.
On the client side, M&A has already taken place among major oil companies, he notes.
Commenting on the drilling rig and service boat day rates, he says: "Now we are into the crystal-ball and mind reading rounds."
It was difficult to project such rates as the international oil prices have dropped from the high of $140+ per barrel to an average of $50-$70/bbl in the past year or so.
He expects the Organization of the Petroleum Exporting Countries' production management strategy to help stabilize global oil prices in the coming year, and looks for prices in the $50-$70 per barrel range for a good part of 2010. The global economy needs a $50-$70 per barrel price stability to recover from the current economic recession, Hassan believes, but remains concerned about another price spike in case of a security issue.
He points out that funding has never been an issue in any acquisition or project. Despite the banking system meltdown since the middle of last year, banks still provide funds for solid clients, assets, and projects. Bumi Armada is confident of sourcing funds for its ongoing business and asset development programs, he adds.
The company was delisted from the Kuala Lumpur stock exchange in 2002 and since has reorganized for the global position it takes today.
Bumi Armada focuses on offshore support vessels, FPSOs, EPIC, commissioning, and ship management. It has clients in Malaysia, Southeast Asia, India, Mexico, Congo, Angola, and Nigeria.
More Offshore Issue Articles
Offshore Articles Archives