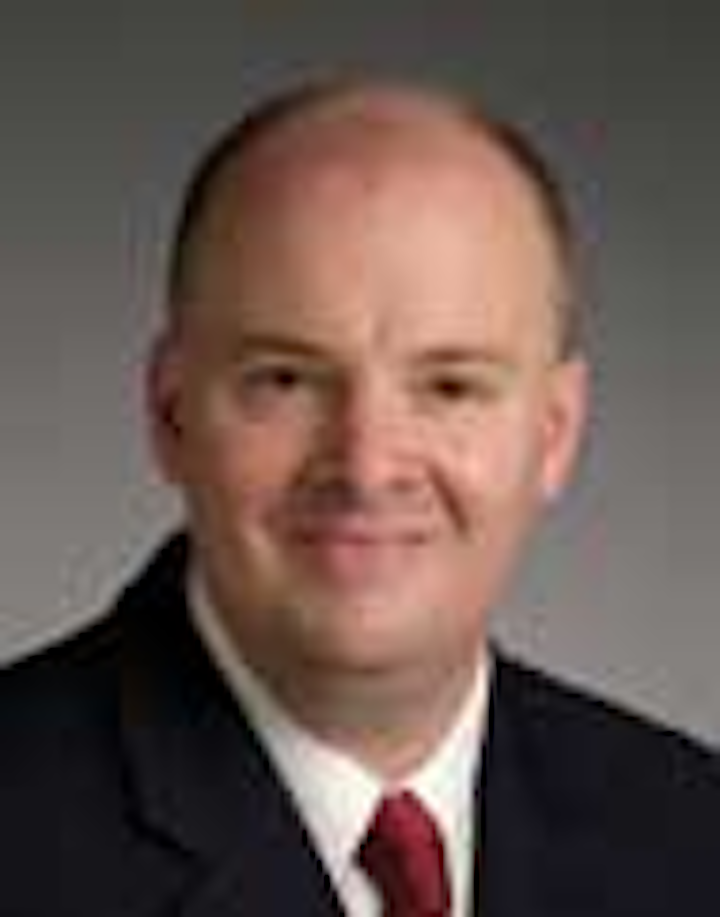 | | | |
| --- | --- | --- |
| | | Bruce Beaubouef • Houston |
Shell has announced its third major discovery in the Norphlet play in the deep waters of the Gulf of Mexico with the successful Rydberg exploration well. After more than 10 years of exploration activities in the Eastern GoM, Shell says that this discovery enables it to continue its leadership in the exploration of this Jurassic play.
"The Rydberg discovery builds upon our leadership position in the Eastern Gulf of Mexico, and its proximity to our other discoveries in the area make Rydberg particularly exciting," said Marvin Odum, Shell Upstream Americas Director. "These successes represent the emergence of another hub for Shell's deepwater activities that should generate shareholder value."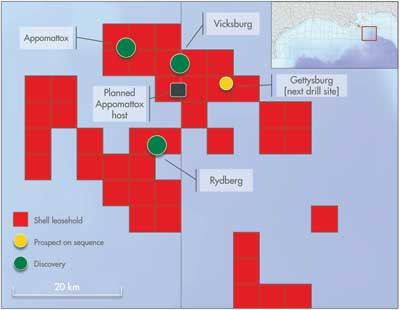 The Rydberg well, together with the Appomattox and Vicksburg discoveries, brings the total potential Norphlet discoveries to over 700 MMboe, says Shell. (Courtesy Shell)
The Rydberg well is located 75 mi (120 km) offshore in the Mississippi Canyon block 525 in 7,479 ft (2,280 m) of water. It was drilled to a total depth of 26,371 ft (8,038 m) and encountered more than 400 ft (122 m) of net oil pay.
Shell says it is completing the full evaluation of the well results, but expects the resource base to be approximately 100 MMboe. Together with the Appomattox and Vicksburg discoveries, this brings the total potential Norphlet discoveries to over 700 MMboe.
This is the first discovery for the partnership of Shell (operator, interest 57.2%), Ecopetrol America Inc. (28.5%), and Nexen (14.3%), a wholly-owned affiliate of CNOOC Ltd. The discovery is within 10 mi (16 km) of the planned Appomattox development and the 2013 Vicksburg discovery (Shell, operator, 75% and Nexen, 25%).
Shell and Nexen are following up the Rydberg discovery with an exploratory well at Gettysburg, located in Desoto Canyon block 398, which is also within 10 mi (16 km) of the planned Appomattox development.
Consulting firm Wood Mackenzie offered its own analysis following the announcement of the Rydberg well. "Shell continues its role as master of the emerging Jurassic play with Rydberg discovery," said Jackson Sandeen, deepwater Gulf of Mexico analyst for Wood Mackenzie. Jackson says that Wood Mackenzie believes that Appomattox alone justifies an economic stand-alone development, with Rydberg offering high-return incremental value potential (IRR 60%). The firm estimates reserves at Rydberg to be 100 MMboe, with a valuation of $782 million, and first production in 2022. This brings the Appomattox complex to 790 MMboe, one of the largest in the history of deepwater GoM, says Wood Mac.
No other operator has yet made a commercial Norphlet discovery in deepwater GoM, Wood Mac notes. Shell has several additional prospects in the area and has already mobilized theNoble Globetrotter I rig for the nearby Gettysburg prospect. From a portfolio perspective, Shell adds to its platform hubs at Auger, Mars, and Na Kika with peak production at the Appomattox complex expected to reach 200,000 boe/d by 2024.
Wood Mackenzie says that the Rydberg discovery does not change its view of the emerging Norphlet play. It confirms the potential for high-quality reservoirs with discovery sizes of 25 to 150 MMBoe. Large fields like Appomattox (500 MMboe) appear to be less common, Wood Mac believes. Rydberg continues the de-risking of the Norphlet, but the Lower Tertiary and subsalt Miocene trends will continue to represent the core long-term drivers of production and investment growth in the deepwater Gulf of Mexico.
BOEM spells out GoM leases on offer in next sale
In mid July, the Bureau of Ocean Energy Management (BOEM) announced plans to offer 21 million acres offshore Texas in a lease sale that will include all the available unleased areas in the Western Gulf of Mexico Planning Area.
Western Gulf of Mexico Lease Sale 238, to be held in New Orleans, Louisiana, on Aug. 20, 2014, will be the sixth offshore sale under the Administration's Outer Continental Shelf Oil and Gas Leasing Program for 2012-2017 (Five Year Program). This sale builds on the first five sales in the current Five Year Program, which have offered more than 60 million acres and netted nearly $2.3 billion for American taxpayers.
Sale 238 will include approximately 4,026 blocks, covering roughly 21.6 million acres, located from nine to 250 mi (402 km) offshore, in water depths ranging from 16 to more than 10,975 ft (5 to 3,346 m). BOEM estimates the proposed lease sale could result in the production of 116 to 200 MMbbl of oil and 538 to 938 bcf of natural gas.
BOEM will offer blocks located, or partially located, within the three statute mile US-Mexico Boundary Area, as well as blocks within the former Western Gap that lie within 1.4 nautical miles north of the Continental Shelf Boundary (1.4-nautical mile buffer) between the United States and Mexico, subject to the terms of the US-Mexico Transboundary Hydrocarbon Agreement.
The terms of this sale include conditions to ensure both orderly resource development and protection of the human, marine, and coastal environments. These include stipulations to protect biologically sensitive resources, mitigate potential adverse effects on protected species, and avoid potential conflicts associated with oil and gas development in the region.
BOEM says its economic terms include the same range of incentives to encourage diligent development and ensure a fair return to taxpayers as used in previous sales.
The US Outer Continental Shelf (OCS), primarily in the Gulf of Mexico, is a significant contributor of oil and gas to the US energy supply. As of July 2014, BOEM administered more than 6,100 active oil and gas leases covering nearly 34 million OCS acres. Production from these leases generates billions of dollars in revenue for the Federal Treasury and State governments while supporting hundreds of thousands of jobs. In 2013, oil and gas leases on the OCS accounted for approximately 18% of domestic oil production and 5% of domestic natural gas production. The offshore areas of the United States also are estimated to contain significant quantities of resources in yet-to-be-discovered fields.
All terms for Western Sale 238 are detailed in the Final Notice of Sale information package, which is available at:http://www.boem.gov/Sale-238/. CDs and copies of the maps may be requested from the GoM Region's Public Information Unit at 1201 Elmwood Park Boulevard, New Orleans, LA 70123, or at 800-200-GULF (4853).