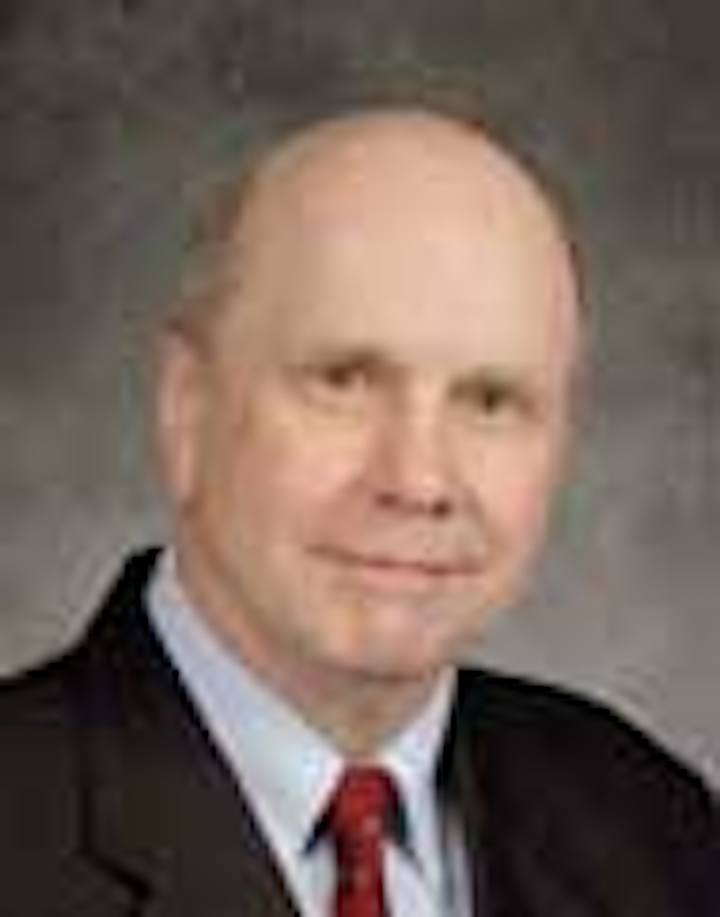 | | | |
| --- | --- | --- |
| | | Gene Kliewer • Houston |
A number of seismic surveys are in the news beyond Ophir's Seychelles 3D project shown on the map elsewhere on this page.
CGG announced the release of the Fast Trax processed data from its Deux multi-client survey covering 357 blocks in the Gulf of Mexico. The Fast Trax seismic images were delivered less than seven months after completion of the survey.
Deux is the second of a three-survey multi-client program that CGG is conducting in the Garden Banks, Green Canyon, Keathley Canyon, and Walker Ridge areas of the GoM using StagSeis subsalt imaging technology.
CGG is acquiring Trois, its third StagSeis survey. The location includes several key prospects and multiple discoveries and covers 293 blocks adjacent to IBALT and Deux.
Fast Trax data is available from IBALT, the first of the StagSeis surveys in the program covering 221 blocks, and the fully processed data set for IBALT Area A (110 blocks) will be available in August 2014.
StagSeis delivers full-azimuth, ultra-long-offset broadband seismic.
•••
TGS is acquiring a new 3D multi-client survey west of Shetland.
The survey will cover 2,500 sq km (965 sq mi) and will tie into the company's existing 3D library in the region, bringing the total volume of recent TGS 3D data in the area to more than 17,500 sq km (6,757 sq mi), the company says.
The broadband seismic data will be acquired by theM/V Polarcus Naila towing 12 streamers at 6,000 m (19,680 ft or more than 3.7 mi) cable length. Data processing will be performed by TGS using its proprietary, Clari-Fi broadband technology. Initial data is set to be available to clients in 4Q 2014.
•••
TGS will start acquiring a new multi-year, multi-client 2D program offshore northeast Greenland. The project will be fulfilled over a maximum of four seasons, bringing the company's total multi-client database in northeast Greenland to more than 36,000 km (22,369 mi). Data acquisition for the first season is scheduled to start this month.
Data processing will be done by TGS using Clari-Fi. The first season of data is expected to be available to clients in 1Q 2015.
•••
African Petroleum Sierra Leone Ltd. has signed a contract to acquire more than 1,000 sq km (386 sq mi) of 3D seismic data on block SL-4A-10 offshore Sierra Leone, in addition to the existing 3D coverage. The seismic acquisition is expected to start in 3Q 2014.
African Petroleum Sierra Leone was awarded SL-03 in April 2010 and the adjacent block SL-4A-10 as part of Sierra Leone's third offshore licencing round in 2012. Both licences are in their first exploration period.
•••
Rosneft has started geological and engineering studies over license blocks in the Barents and Pechora seas off northern Russia. The seismic acquisition program is as follows:
West Prinovozemelsky in the northeastern Russian sector of the Barents Sea, close to the Novaya Zemlya archipelago – 2,800 sq km (1,081 sq mi) of 3D seismic
Perseevsky in the northwestern Barents Sea – 6,500 sq km (2,510 sq mi) of 2D seismic
South Russky, South Prinovozemelsky, and West Matveevsky in the Pechora Sea – 4,000 sq km (1,544 sq mi) of 2D seismic.
A specialist research vessel owned by a subsidiary of Rosneft LLC, RN-Shelf-Arctic, will acquire the data simultaneously with a shipboard gravi-magnetometric survey.
In addition, Rosneft plans to assess geological and ecological conditions of the sites ahead of drilling during 2016-2017.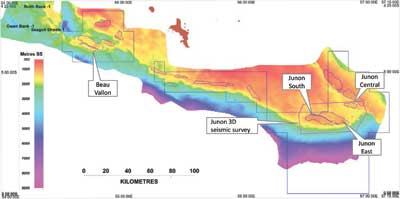 Ophir Energy has contracted Dolphin Geophysical to undertake a 1,500-sq km (579-sq mi) 3D seismic survey over the Junon trend on its Seychelles exploration blocks. The survey, by the M/VPolar Duchess should be wrapping up its acquisition at this time. An initial fast track processed data set is expected to be delivered in September and a PreSTM processed volume in December. The Junon 3D seismic survey is designed to mature prospects for drilling on the Junon trend in Junon South, Junon East, and Junon Central. (Image courtesy Ophir Energy)