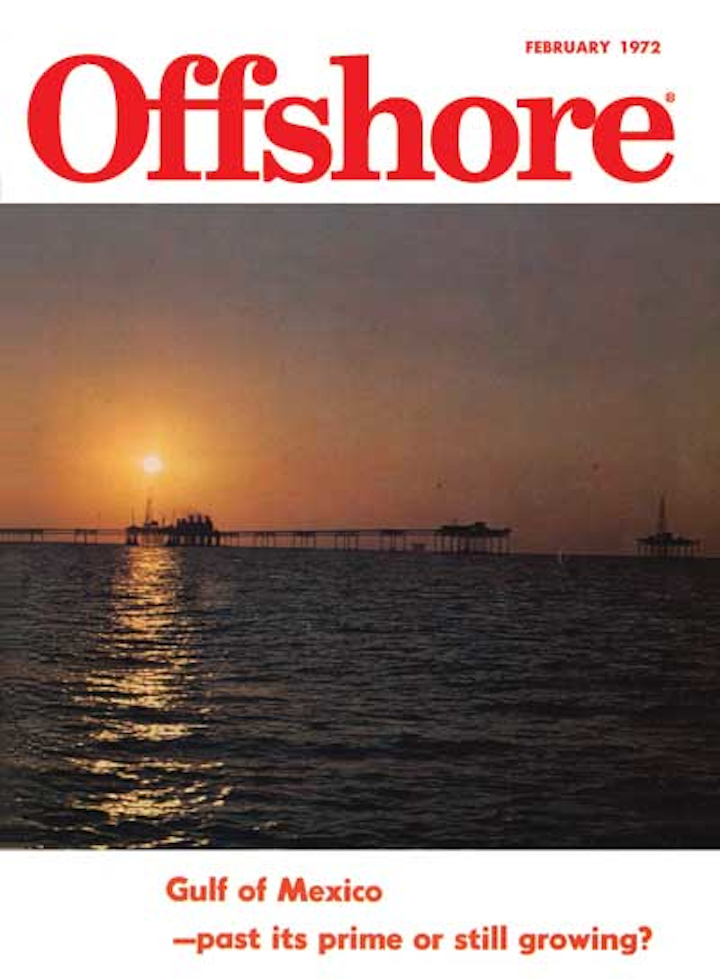 Magazine continues to cover petroleum business ups and downs into the digital age
Eldon Ball
Contributing Editor
Pick up an issue ofOffshore - any month, any year - and you have the offshore industry itself in your hands, encapsulated and preserved for posterity in black and white.
This year,Offshore celebrates its 60th birthday, marking 60 years of reporting on the industry whose name it bears. During much of that time, it was my privilege to be a part of the Offshore experience, first as a staff writer and later as an editor. As such, I was able to observe, study, analyze, question, and report on our great industry. That experience gave me a perspective that few enjoy.
I first walked into theOffshore offices in Houston in the early '70s, green as winter wheat, having arrived on the proverbial turnip truck from West Texas, with cactus needles still in my hair and a tumble weed stuck to - well, you know where. I began as an associate editor (in exchange for a modest salary, I was given an impressive title that actually ranked at the bottom of the chain of command).
The industry was just gaining steam from the recent the OAPEC (Organization of Arab Petroleum Exporting Countries) oil embargo of 1973, in which the Arab producers cut oil production and raised prices in retaliation against the US for supporting Israel during the Yom Kippur War of that year. The supply shortage meant that the US was looking for more oil, and offshore was the hottest game in town.
I was fortunate enough to begin my career reporting to Robert G. Burke, the Editor in Chief and the man who, in my opinion, did more than any single individual to shapeOffshore into the leader of the offshore publishing world that it is. Under his mentorship, I learned more about writing and about the offshore industry itself than from anyone before or since.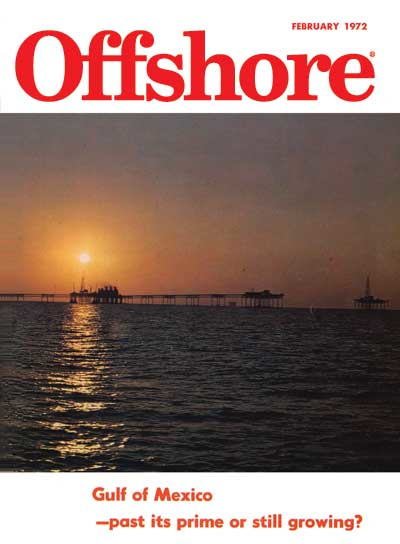 Offshore
The February 1972 issue ofOffshore contained a feature article by Associate Editor Eldon Ball on the future of E&P in the Gulf of Mexico. The article was an editorial response by the magazine to queries from industry and analysts as to whether the GoM still held promising opportunities for oil and gas operators and developers.
The mid-1970s was a period of rapid growth for the offshore industry, mostly in theGulf of Mexico, but also in West Africa, Southeast Asia, and the emerging North Sea. Oil companies were pushing further offshore with each new discovery. Drilling budgets grew each year, sometimes within the year. Money flowed freely. Business was great. Everyone was in a good mood.
It was a period when the pioneers of the industry were emerging - Alden J. "Doc" Laborde, John Laborde, Henson Moore, James Storm, George H.W. Bush (yes, he was in the offshore business), Robert LeTourneau, Paul "Red" Adair, William Clements, Dillard Hammett, Lad Handelman, George and Herman Brown, Ralph T. McDermott, Robert F. Bauer, Pieter Heerema…the list goes on.
AtOffshore, our greatest challenge then was to cover all the events taking place and to fill the growing number of pages, since the size of a magazine increases with each new advertiser. I remember writing furiously each day in a race against time that would end at that month's last deadline, only to begin again the next day for the following month. We learned to use lots of art. I grew fond of half-page and full-page photos and big maps. In our coverage of the Louisiana Offshore Oil and Gas Exhibition (LAGCOE) one year, we found that we had run various photos of Miss LAGCOE seven times in the issue. Well, we were young.
Industry analysis was a high priority for the magazine. "Don't just tell them what happened; tell them what it means," Bob would say.
In those days, the Bureau of Land Management, led by John L. Rankin, held offshore lease sales in the Grand Ballroom of the Roosevelt Hotel (now the Fairmont Roosevelt) Hotel in New Orleans. I would attend each one, furiously writing down the winning bids and lease-hold partners, then flying back to write it up for the next issue. The March 1974 sale brought in $2.2 billion in winning bids for 91 offshore tracts, for an average of $4,968 per acre. It was topped in 1983 with $3.4 billion in bids on 623 blocks.
With that kind of money being spent, it was clear that the industry wanted all the information possible on each sale. We had a mapmaker who put the newly leased blocks into a color-coded layout of the Gulf of Mexico. I wrote an analysis of what it all meant, hoping I got it right based on what knowledgeable operators told me. I must have been at least close. We got requests for reprints and extra copies.
My first stint atOffshore came to an end when another opportunity came open at a sister publication, a weekly newsletter called Ocean Oil Weekly Report. The editor had left and I asked for the job. I was promptly turned down. Not to be discouraged, I asked again after a month, and again I was told "no."
Finally, weary of the search for a seasoned writer, they gave me the job on a temporary basis. I stayed six years.Ocean Oil flourished. It gained readers every month. We raised the price each year and still they came. Remember, this was before email or the Internet. Ocean Oil was printed each Friday night, mailed Saturday morning, and arrived on most desks Monday morning. It was the industry's most immediate source of what was happening, and the industry was hungry for information. After six years of trying to think of something new to say each week, I took a spot with Pennzoil doing media relations.
By 1981, I was back. Once again,Offshore was setting records for ad pages, and the sheer volume was putting production behind schedule. To further complicate things, the magazine had just converted to something called "computer-set" type and the staff was giving up their old and familiar typewriters for another new wrinkle called "word processing." Bob Burke wanted someone to keep everything on track. I signed on as Managing Editor. I still had a lot to learn.
The next year, 1982, may be remembered as the pinnacle of offshore celebration. The industry, giddy with success, set an all-time attendance record at the Offshore Technology Conference - the annual gathering place and family reunion of offshore players worldwide that happens each year in Houston. That total, 108,000, set a record that has not been broken.
AtOffshore, we were setting our own records. In 1976 one issue ran over 450 pages. That was high, but not uncommon. We continued at that rate or near it for the next six years. Ironically, 1982 proved to be the turning point, not only for Offshore, but for OTC, for the industry, and for the US economy.
Without thinking about it, I saw it coming. In April 1982, the home office sent a delegation of executives to Houston to discuss a five-year-plan, based on a five-year forecast of the industry. I was asked to do a five-year projection of demand for drilling equipment, new rig construction, production facilities, and marine support vessels. The consensus was that all five of those categories would continue their upward trend. The only question was to what degree - how high would it go?
But before I did the projection, I did something else. I asked questions. It was not that I doubted the consensus, just that I wanted confirmation. What I got instead was a jolt of reality. A vice president of one of the major operators made it simple for me.
"There is no reason to drill," he said.
I got that same opinion more than once from others and, reasoning that the money starts with the operators, I did not see how the party could go on much longer. If they were not spending, then the money was not coming. There would be no need for rigs, new construction, services and supplies, support vessels, or, finally, a lot of personnel.
My analysis for the home office that year consisted of five charts, all with lines drifting consistently lower for the next five years.
No one liked that. We did not carry that analysis in the magazine, but we did temper our outlook. As it turned out, the industry began its mid-'80s slide almost immediately. As a friend who owned his own company told me, "It was like they unplugged the phones." He ended up declaring bankruptcy, but I am happy to say he is back in business today.
Those who lived through 1983-1991 would just as soon forget it. Spending stopped. Orders for drilling contracts, new construction, and new equipment not only stopped, existing orders were canceled. The cancellations continued all the way down the supply chain. TheHouston Chronicle began running a standing column on the first page of its business section: "Bankruptcies Today."
What had happened?
WTI crude oil prices dropped steadily from $36/bbl in 1981 to $11/bbl in 1986. Prices drifted back up to around $16/bbl through the late '80s and started to rally in the early '90s, but the current bonanza did not begin until 2002. Foreign imports were cheaper than domestic costs in the US of finding and producing hydrocarbons. At $11/bbl, the man was right. There was no reason to drill.
As a publication that flourished on advertising dollars,Offshore suffered along with the industry. We made the same adjustments as our customers, and weathered the storm. We covered it all, the bad with the good. We wrote about the need for innovation, technology as a solution, and the consolidation that took place in the industry.
Then came 2002. I had just been kicked to the curb along with 4,500 others by the crash of Enron. I worked briefly for an engineering company doing anything they assigned me, while looking for something else.
Then came the call fromOffshore. It was like being pulled from a burning building by Angelina Jolie.
Glad as I was to be back, this time as Editor in Chief, I was in for a shock. The business-to-business publishing world of whichOffshore was a leader had changed. It was not just a print business anymore, but one of websites, online newsletters, online webcasts, conferences, technical papers, advisory boards, white papers, smart phone applications, the Internet, email distribution…the brave new world of publishing.
Soon I would be chasing content for the hungry beast called the website, a ravenous animal that woke up starving every morning and screaming for more all day long. It wanted more news, more images, more video, more anything that would have viewers coming back to read the latest.
Then there were the online newsletters - eight separate ones, eventually - to be written, edited, and distributed. If I felt these nagging children were under some kind of control, I had conferences to consider - flying to theMiddle East, Africa, Europe, Southeast Asia, Brazil, Canada, the North Sea to meet with people I did not know to craft conference programs on technology, economics, and future changes that I found hard to understand, much less explain to others. The industry was moving at warp speed and we raced to keep pace with it.
Which leads us into now, the present. The offshore industry is more robust today than I have ever known it. The technology continues to amaze me. I remember when deepwater meant 600 ft. Today not only do we drill more or less routinely in 8,000 ft, we are looking ahead to complete subsea-to-shore operations - little or nothing on the surface. I have learned not to say "that can't happen."
One of the things I like most about the offshore industry is that it is a relatively small family. I have known some of the people in this industry since that first day back in 1972, when my only recommendation was that I had worked as a roustabout during high school and college. I knew what a BOP looked like.
I grew up with the industry. Through my window atOffshore I was a witness to an exciting story that still has many chapters to write. And that is the story of Offshore. The story of the industry itself.
The author
| | | |
| --- | --- | --- |
| | | Eldon Ball has more than 35 years of experience in writing and editing, media relations, and marketing communications, specializing in the oil and gas and high tech industries. He can be reached ateldonr.ball@gmail.com or eldonball@stratcomms.net. |