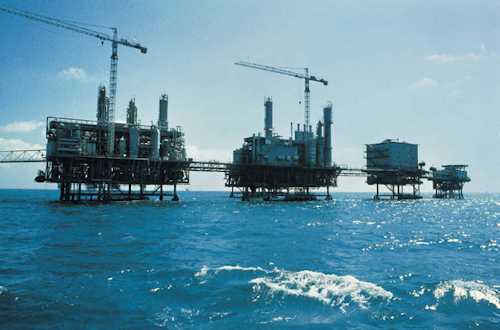 From platform output to customerdelivery
Scott M. Shemwell
Jerry Dake
Darryl Daniel
MCI Systemhouse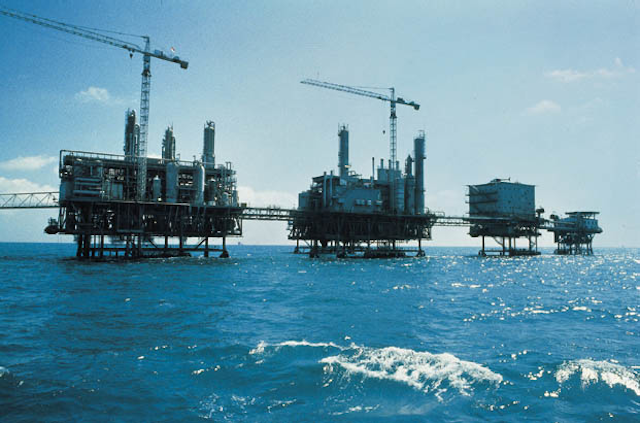 Networked production, processing, and transmission structures such as the above have countless numbers of limit-control microchips to calibrate and move production automatically. Y2K malfunctions could cripple many production and transmission functions.
Successful offshore operations depend on timely logistical interaction among a multitude of suppliers, partners, and customers. If one link weakens because of Year 2000 computer glitches, the entire chain may snap.
For want of a nail, the shoe was lost; for want of a shoe, the horse was lost; for want of the horse, the general was lost; for want of a general, the battle was lost; for want of a battle, the kingdom was lost; and all from the want of a horseshoe nail.
We've all heard the proverb. Something as small as a tack can change the course of history and sometimes has. For modern offshore operations, the nail may be the embedded computer chip, those devices that measure and control the drilling, production, and transport of oil and gas.
Interdependence
Today's extended enterprise is very dependent on third party contributors for its successful operation, especially in offshore operations. Literally, hundreds of activities are necessary for the efficient and safe production and transport of oil and gas. Industry experience has shown that firms must capitalize on the core competency of others; costs of going alone are prohibitive.
In an era of declining (in real economic terms) oil prices, the organization that achieves the lowest overall cost structure will obtain/retain competitive advantage. The 21st Century operator will most likely be even more dependent on others.
These relationships have come to be known as the organization's supply chain. The supply chain is defined as the set of inputs, internal processes, and outputs that define the function of the firm. For the last several years there has been a tendency toward reducing the number of companies with whom firms have a buying and selling relationship.
Often expressed in terms of "just-in-time" or as part of a re-engineering exercise, these efforts are designed to reduce the overall cost structure of the firm, often by taking cycle-time out of processes.
Supply efficiency
Supply chain effectiveness and efficiency can be the competitive advantage oil and gas firms are searching for. It can also lead to lower lifting and producing costs. An effective and efficient supply chain is the fundamental component of low structural costs.
This concept is a double-edged sword. Firms are increasingly dependent not only on their internal computer systems, but communication with external systems. This extends to the physical links of transportation and storage, services managed by third parties, and customer's systems.
Business interruption can be caused by a computer failure outside the control of the organization. A recent example of this was the failure of the Galaxy 4 satellite. It had a negative impact on the broadcast industry, pagers, and other corporations that depended on the communication channel.
By now, most executives have heard of the Year 2000 (Y2K) computer problem. This issue exists because many software programs use two digit calendar dates in various calculations. This procedure is similar to pre-printed checks where the writer simply fills in the last two digits of the date: 19__. Software programs that make calculations with these date fields run the risk of errors after 1999, for example, dividing by zero.
During the last two years there has been an evolution of Y2K solutions. Initially focused in large computer systems, the effort has shifted from information technology (business) systems to production/embedded systems, or computers on a chip. Computer chips in various control systems and measuring devices have software imprinted on them in addition to the software applications they drive, e.g., application specific configurations of SCADA systems.
An evaluation of the firm's supply chain and its automated components, such as custody transfer units, is necessary to assure that business interruption does not occur due to problems with a third party's computer system.
Limited slack
Initially, supply chain referred to inventory issues surrounding inputs to production. Now, it is generally extended to include production supply, customer demand, and distribution. The oil and gas industry relies heavily on third parties and the ability of their customers to take product as it becomes available.
There is very little physical slack in the system with regard to product storage at the producing or the consuming end. Increasingly, this supply network relies on computer technology at the physical connection between firms. Embedded chip control and monitoring systems are used to keep the supply chain operational, including pipelines, storage, and power.
The first step in the Y2K discussion is to define the elements of the chain. These elements have evolved over the years and the industry's attempts to reduce the number of suppliers have been relatively successful. However, the emergence of autonomous business units has made it difficult to keep up with a firm's supply chain and to recognize the critical links.
To date, much of the emphasis has been on internal processes with limited evaluation of the input side of the supply chain. Downstream processes have remained essentially untouched. There is very little excess storage available in process industries due to just-in-time methods. What happens to the firm if its customers are unable to accept its product?
Suppliers and vendors
Who supplies operations? Which vendors are mission-critical to operations? Often, companies cannot answer either of these questions as easily. Firms operate with decentralized or distributed purchasing, split between corporate, engineering and production. Vendor masters (lists) are notoriously out of date. Many contain vendors that "might be needed again" someday in the future.
The first step in attacking this issue is to determine the suppliers and the goods and services they provide. Obviously, everything purchased is not critical. Therefore, the Y2K readiness of all suppliers is not required.
The Y2K assessment methodology needs to involve purchasing and operations to define and rank the suppliers by their impact on operations. It is necessary to actually define and map the supply chain for these vendors. This map is the basis for a statement of risk of failure of the ability to supply. Potential for negative business impact can then be assessed and the appropriate contingency plans developed and emplaced.
Customers
Most efforts in defining Y2K failure risk have focused internally. The links are just as real and just as constraining on the demand side. The controls and physical constraints downstream can also create production problems as they affect upstream producing locations.
Examples are pipelines that cannot take gas or oil from the production platforms. Moreover, just-in-time connections limit the customer's ability to store these inputs. Many have limited storage facilities that are more like surge facilities. How long can operations continue?
The same logic can address this potential problem. Who are the key customers? What is the impact of their inability to accept product? Again, the firm needs to extend the supply chain definition downstream, identify those customers at risk, and specify the operational impact.
Partners
The industry has developed a set of relationships designed as risk sharing vehicles. Vendor partnerships, buyer process, operations and investment relationships are found throughout the industry.
Many offshore operations are joint ventures consisting of two or more partners, with only one acting as operator. Remote platforms or remote wells owned by one company feed into the processing platform of another company. The same set of questions posed for suppliers and customers apply. Once again, focus on mission critical partnerships.
Pipelines often carry gas or liquids jointly from many different operators. Unanticipated Y2K production interruptions by a partner may drop the line pressure. This may cause the control systems on the firm's platform to misinterpret this as a system malfunction and reduce or shut in production.
Automated supply chain
Firms are tied together by a series of automated systems that monitor and control the transport of oil and gas. Sometimes multiple parties share these systems. All these systems must be evaluated for Y2K compliance. This will assure that the entire supply chain will function properly on January 1, 2000.
Lease automatic custody transfer (LACT) units provide for the automatic unattended custody transfer of liquids from the lease operator to the sales pipeline. While the producer usually supplies the LACT unit, the system is often a third party vendor package maintained by either the pipeline or the producer.
Assessment of electronic components susceptible to Y2K problems within LACT units is difficult because the units are often sealed. Seals are broken periodically, either monthly or as specified, for calibration and proving. This requires witnessing by both the producer and the pipeline operator.
Should the LACT unit fail, production may be shut in as soon as the liquid tanks reach capacity. Items susceptible to Y2K problems within LACT units include flow transmitters, PLCs, smart I/O cards, and modems.
Gas metering points are another example of custody transfer that are often purchased as a third party vendor package. They may be supplied and or maintained by either the producer or owner of the sales gas pipeline.
Although many of these are low-tech in nature, any gas metering systems should be examined to ensure that electronic components are identified and inventoried for Y2K assessment. These may include smart flow transmitters, totalizers, and RTUs.
While gas-metering points are typically not sealed, they are routinely calibrated and proved on a predetermined schedule by witnesses when representatives from both the producer and pipeline are present.
Typical third party vendor packages include:
LACT units
Compressor packages
Sulfur recovery units
Generator packages
Amine systems
Glycol systems
Production modules
Heat media systems
Vacuum distillers
Fire and gas detection systems
Supervisory control systems (SCADA).
Contingency planning
The Year 2000 is an historical event that will arrive on schedule. Most observers agree that the issues surrounding potential computer problems are real and some level of failure is likely if organizations do not adequately address the problem. The systems discussed in this article are complex and often owned or serviced by others. It is likely that even with best efforts some components will be overlooked or misdiagnosed. All firms can expect to have some level of exposure to the Y2K problem.
The organization must initially address its internal Y2K issues. Additionally, firms must work with the mission critical suppliers, customers, and other stakeholders to address the overall supply chain. Prioritizing the key mainstay processes and developing an understanding of alternatives is essential to maintain production in the event of a partial or total computer shutdown.
One approach is to form standing committees composed of the appropriate stakeholders: operations, information technology, communications, and third parties. These teams should develop and stand ready to implement appropriate contingency plans. Multiple teams may be required due to operational constraints, customer, and vendor relationships. All activities should be under the auspices of a senior executive and focused exclusively on the Y2K issue.
The oil and gas industry is in the business of risk management, a core competency. Firms should use a similar philosophy and techniques to resolve Y2K issues that they deploy in normal business practices.
Treat this as a serious issue, and act accordingly. Work with your extended enterprise, and the risk of a Y2K event can be no greater than that from normal operations. Develop contingency plans and alternatives to insure that the embedded computer chip "nail" does not negatively impact the organization's ability to continue business at the turn of the millennium.
Authors
Scott M. Shemwell, Director of Oil and Gas at MCI Systemhouse, has over 20 years experience in executive management, information management, and international business within the petroleum industry. He holds a BS in Physics, an MBA, and a PhD in Business Administration.

Jerry Dake, Director of Systems Integration at MCI Systemhouse, has over 30 years experience in supply chain and operations management, information management, and finance in the process industries, both international and domestic. He holds a BS in Civil Engineering, an MBA, and PhD in Industrial Administration.

Darryl Daniel, Senior Consultant at MCI Systemhouse, has ten years of project management experience and is currently engaged in Year 2000 work for a major upstream producer. He holds a BS in engineering from Texas A&M University.
Houston-based MCI Systemhouse can be contacted by telephone at US 1-281-423-3023 and e-mail:
sshemwell@systemhouse.mci.com
Copyright 1998 Oil & Gas Journal. All Rights Reserved.