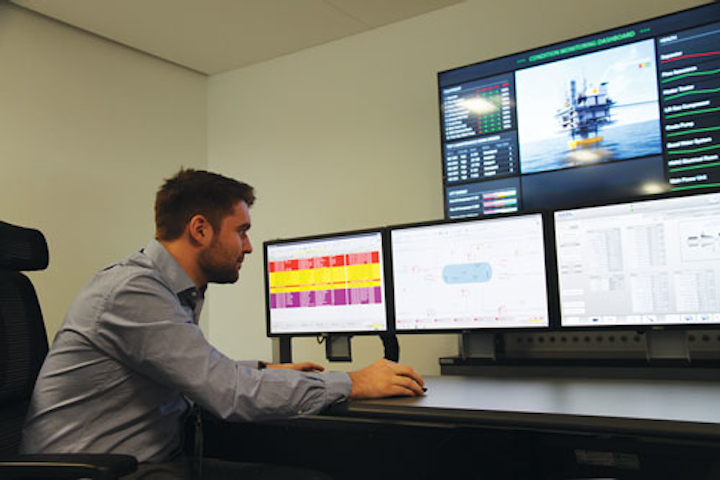 BP using integrated control and safety system
Ronnie Bains
Emerson Automation Solutions
Ensuring that new assets start up expeditiously and without incident is critical for oil and gas companies. Dynamic simulation is playing a key role in helping them meet this challenge by providing vital support in the areas of control and safety system development, testing, commissioning, and operator training. By helping to flag up potential errors in the control and safety system design while identifying inefficiencies with the production process during the commissioning stages, and preparing control room operators to deal with abnormal situations, dynamic simulation is helping to support assets coming online safely, on schedule and within budget.
Dynamic simulators
Dynamic simulation has evolved over recent years, enabling simulation technology and multi-purpose dynamic simulators (MPDS) to be applied widely. MPDS comprise replica control and safety systems communicating with a dynamic simulation (process model) of the production asset. This is designed to reflect the actual process dynamics and provide realistic feedback to the control and safety systems. The process model provides an approximation to the behavior of the production asset. For large capex projects, such as offshore platforms, it is commonplace for high fidelity process models to be used. These are configured from asset design data and adapted to the specific design requirements of the project. The control and safety system configuration, including relevant databases and graphics, replicates the final systems that will be installed on the asset.
The traditional use of dynamic simulation solutions is supporting operator training. Operator training plays an important part in any large project, especially offshore installations, where onsite training is difficult to schedule and could delay the start of production. Operators are usually required to be certified to ensure they meet company standards for competence.
Operator training solutions (OTS) are increasingly used to support this process. OTS use dynamic simulation integrated with a replica of the control and safety system to create a hands-on learning environment tailored to a platform's specific needs. Designed to accelerate learning and upskill the operations workforce, OTS enable operations personnel to gain experience in an offline, non-intrusive environment, and expose them to what they will experience in their actual control room.
The practical experience gained from an OTS includes operating process systems in various situations, such as start-up and shutdown, normal operations at different throughputs, recovery from malfunctions and upsets, and emergency shutdowns, as well as being equipped to deal with the management of abnormal situations.
When an operator is trained on a process-specific training platform their skills are raised to new levels. This leads to increased profits through faster and smoother start-ups, increased asset performance, and improved energy efficiency. An API study found there was a $350,000 per year per operator positive financial impact when an operator was upskilled from an average level to an advanced level. Improved operator effectiveness also leads to increased plant-wide safety.
MPDS can also be used to perform vital tasks that provide value throughout the whole lifecycle of a project. By integrating the MPDS with the control and safety system it can be used as a tool to provide enhanced verification of the control and safety system configuration during various stages of its development. This can include verifying alarm and trip settings, providing initial controller tuning values and enhanced verification of control logic. As more data becomes available, the MPDS can evolve and support different activities through the typical phases of a development project.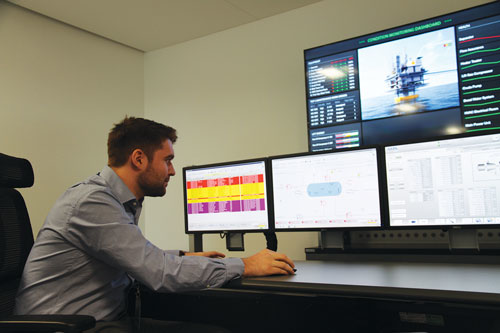 Emerson is providing BP with a DeltaV distributed control system to control and monitor onshore, topsides and subsea operations while a DeltaV safety integrated system will perform process and emergency shutdown functions. (Courtesy Emerson Automation Solutions)
BP project
An MPDS is being used to support the engineering phase of one of BP's major projects. An integrated control and safety system (ICSS) provided by Emerson will help ensure safe and efficient control of gas production on two new offshore platforms and at an expanded onshore gas processing plant. Emerson's DeltaV distributed control system will control and monitor onshore, topsides and subsea operations while a DeltaV safety integrated system will perform process and emergency shutdown functions, if needed, plus control the fire and gas detection systems to enable secure gas production.
The integrated control and safety solution will use asset management software to deliver predictive diagnostics from control and measurement devices to enable timely corrective maintenance.
All system engineering, installation, configuration, and testing is being performed by Emerson, with a MPDS used to support operator training and competency assessment and help reduce commissioning time.
Prior to the completion of the fully configured ICSS, Emerson provided a provisional version of the MPDS for the OTS being used to train operators. This enabled training to begin earlier, which was important as the operators had no previous experience with the Emerson systems. The OTS is installed within Emerson's own training center in Baku, with groups of seven-nine BP operators trained by a BP instructor. The OTS is helping operators to familiarize themselves with the ICSS graphics, which many had not encountered before. The OTS is providing the operators with the opportunity to understand the configuration of the ICSS and to learn how to handle various procedures, including start-up, shutdown, emergency shutdowns, abnormal situations, and changes to production processes.
ICSS testing
In addition to starting the operator training earlier, the provisional MPDS/OTS provided BP and Emerson with the opportunity to identify issues with a number of aspects, including both the configuration of the ICSS system and the process design. While the pre-FAT and FAT of the ICSS focused on elements such as testing the graphics, alerts and alarms, the OTS provided the opportunity to perform additional testing of the ICSS, ensuring that the configuration could be optimized.
Another area in which the MPDS/OTS is now helping is in providing an additional test and verification resource of the complete asset's process configuration. The MPDS can be used to evaluate different process design philosophies and alarm limits, inserting different ranges and seeing where possible process trips may occur. These can be addressed and rectified in advance of start-up, thereby reducing the potential for trips during start-up that could affect the project schedule. This functionality has proved very valuable, with a number of issues highlighted prior to the commissioning of equipment on the offshore assets. Using the MPDS, issues with the configuration of some critical pumps and compressors were identified that would have been problematic during start-up. By correcting this prior to installation, significant problems that may have caused costly delays have been prevented.
Improving production
Having completed the configuration of the final ICSS, this was uploaded to the offline MPDS to ensure that it mirrors the final ICSS solution installed on the asset. This enables the MPDS to be used in parallel as part of an integrated operations solution for a range of tasks throughout the lifecycle of the asset. It is expected that the MPDS will be used almost every day and become a vital tool in improving safety and production efficiency. This is called integrated operations. Once first oil has been achieved, there will be a program of continuous operational improvements. Should additional wells be planned or changes made to the process or throughputs, the MPDS will be used to evaluate those and ensure that they are correctly implemented.