South Korean shipyards play key role
Jessica Tippee
Assistant Editor
South Korea's three major shipyards have suffered in the past few years from a lack of new orders, order cancellations, and delivery delays due to low oil prices. For instance, in November 2016, Hyundai Heavy Industries (HHI) announced that it will split its non-shipbuilding divisions into independent companies as it looks to improve management efficiency and sharpen its core competitiveness. The current Shipbuilding, Offshore & Engineering, and Engine & Machinery Division will form a new Hyundai Heavy Industries. A month later Chevron North Sea Ltd. canceled its $1.9-billion contract with HHI to provide the Rosebank FPSO.
Also in December, Daewoo Shipbuilding & Marine Engineering Co. (DSME) and Atwood Oceanics Inc. agreed to delay the delivery of the newbuild ultra-deepwater drillships,Atwood Admiraland Atwood Archer, by two years to Sept. 30, 2019 and June 30, 2020, respectively.
In addition, to restructuring, workforce reductions and other cost-cutting measures, HHI, DSME, and Samsung Heavy Industries (SHI) have focused on collaboration and cross-industry efforts to help lower cost and complexity in construction of floating and fixed offshore oil and gas installations.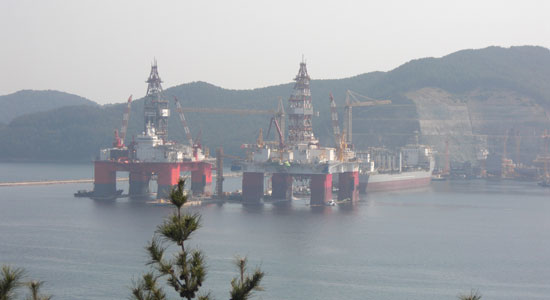 The DSME shipyard in Okpo, South Korea. (Courtesy Bruce Beaubouef)
Unfamiliar specifications and processes often result in rework, delays, misunderstandings, and miscommunication and add thousands of engineering hours to the design and construction of offshore assets. Cost savings are delivered by addressing variations in owner, operator, and regulatory requirements during engineering and construction phases.
In July 2015, DNV GL launched a joint industry project (JIP) with HHI, DSME, SHI, the Korea Offshore and Shipbuilding Association (KOSHIPA), and the Korea Marine Equipment Research Institute (KOMERI) to establish a new international standard for engineering and construction of offshore oil and gas installations. It aims to develop common and global best practices for components and equipment to reduce the number of, and variations in, requirements to the minimum necessary. The outcome will be reduced complexity, less rework and delays, and greater predictability. This, DNV GL points out, will help reduce cost and increase predictability without compromising quality and safety, enabling more projects to move forward. The initial focus was on simple components and equipment, such as tertiary structures and bulk materials for construction, piping, and electrical and instrumentation engineering.
In July 2016, the first phase of the JIP delivered four recommended practices (RP):
DNVGL-RP-E401 Recommendation for selecting standards for piping components
DNVGL-RP-E402 Recommendation for selecting standards for electrical and instrumentation
DNVGL-RP-B201 Recommendation for selecting standards for structural steel materials
DNVGL-RP-E403 Recommendation for selecting standards for steel bulk items.
According to DNV GL, the objective of the first RP is to provide a uniform reference for design and fabrication of ball valves, piping insulation, welded and clamp shoes in piping systems. The second RP looks to provide a uniform reference for selection of standards for design and fabrication of low voltage cables, high voltage cables, instrument cables, telecommunication cables, instrumentation tubes, instrument tubing fittings and clamps. The objective of the third RP is to standardize the specifications of plate, section, and tubular steel materials for use in special, primary, secondary, and tertiary structural elements. The fourth RP aims to provide a uniform reference for design and construction of tertiary structural items such as hand rails, stairs, vertical ladder, and grating.
"Standardization will provide an opportunity to enhance efficiency and competitiveness of whole value chains in the oil and gas industry and induce environmental improvement by minimizing the surplus resources," said Kil-seon Choi, chairman and CEO of HHI. "These RPs are a very positive and radical step forward which will help to reduce inefficiencies in design and construction as well as to increase predictability and quality even further."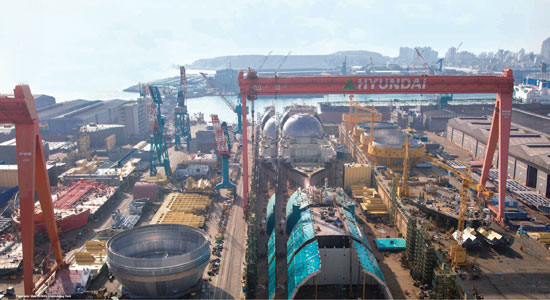 The HHI shipyard in Ulsan, South Korea. (Courtesy Hyundai Heavy Industries)
In October 2015, ABS entered into a memorandum of understanding with South Korea's three major shipyards to establish a JIP with operators, drilling contractors, and engineering companies to develop new international design standards for offshore oil and gas projects based on relevant industry and international regulations, and class requirements. ABS said that it will lead the standardization process to verify technical compatibility of the developed standards, conduct safety and risk assessments, and provide a gap analysis report.
At last year's Offshore Technology Conference, 15 companies - including the three Korean shipyards, operators, drilling contractors, engineering companies, and classification societies - signed a memorandum of understanding to establish a unified JIP for standardization. The goal is develop criteria to help shipbuilders and designers increase design and construction efficiencies, manage and reduce project costs, and improve safety.
According to ABS, while smaller JIPs have formed to address standardization issues, the number of companies participating in this partnership is said to constitute an industry first, bringing together a broad range of leaders with the common goal of improving consistency and reducing construction inefficiencies. The signing parties were DSME, SHI, HHI, KOSHIPA, KOMERI, MODEC International, Royal Dutch Shell, Chevron, Wood Group Mustang, McDermott International, Technip, ABS, DNV GL, Bureau Veritas, and Lloyd's Register.
The objective is to reduce cost and increase predictability without compromising safety in international offshore oil and gas engineering, procurement, and construction projects by using standardized bulk materials and equipment, construction, and qualification procedures, and documentation requirements.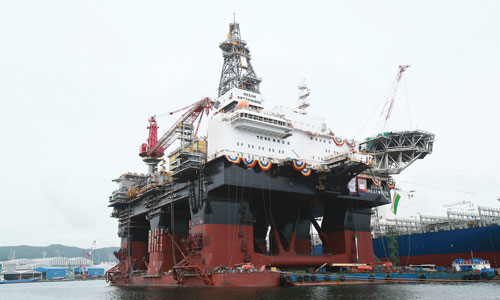 Ocean Greatwhite is 123 m (404 ft) long and 78 m (256 ft). (Courtesy Hyundai Heavy Industries)">
In July 2016, HHI delivered what it claims is the world's largest semisubmersible drilling rig to Diamond Offshore Drilling. TheOcean Greatwhite is 123 m (404 ft) long and 78 m (256 ft). (Courtesy Hyundai Heavy Industries)
"Designers, yards, and suppliers work more efficiently when projects apply standards with which all players are experienced," said Petter Ellingsen, group leader Offshore Risk Advisory-Korea, DNV GL-Oil & Gas. "Our ambition is to establish a standard for oil and gas projects that builds on a well-established approach for classification. Industry estimates for potential cost savings on construction of installations range well into double-figure percentages."
In August 2016, the unified offshore standardization JIP set out to develop an industry-wide standard building specification called the Integrated Offshore Standard Specification (IOSS).
The ABS-led IOSS development program consists of two JIPs, one focusing on equipment and one on bulk material (which includes structure, piping, electrical, and instrument). The tasks are divided among working groups located in Houston, Korea, London, and Paris. Although separate efforts, the two JIPs overlap through the participating companies: the bulk material JIP works closely with the three shipyards and has the oil majors and engineering companies as advisers, while the equipment JIP works closely with oil majors and engineering companies and has the shipyards as advisers.
This integrated effort seeks to find acceptable common ground between the numerous individual standards, practices and requirements in offshore projects. The working groups are focusing on four areas for standardization: material, design, procedure, and equipment.
The IOSS aims to deliver familiarity and simplification. A document well-known to both builder and client would help both parties proceed with a clear understanding of all expectations from the start of the project. In the shipyard, the elimination of rework and change orders will save time and energy and conserve raw materials. In the offices of the oil majors and engineering companies, the standardized specification will reduce the work-hours spent in engineering design and analysis.
In 2016, Energy Maritime Associates predicted that "fundamental reforms," including standardized designs and closer collaboration, "will reduce the costs for offshore hydrocarbon developments and result in new orders for floating production systems." According to its2017-2021 Floating Production Systems Outlook Report, that prediction proved to be true. After cancelling what would have been the largest spar ever built, BP spent two years revising its development concept for the Mad Dog Phase 2 project in the deepwater US Gulf of Mexico and was able to reduce the overall project cost by 60%. A simplified and standardized production semisubmersible platform design was ordered from SHI in 4Q 2016 at a cost of $1.26 billion.