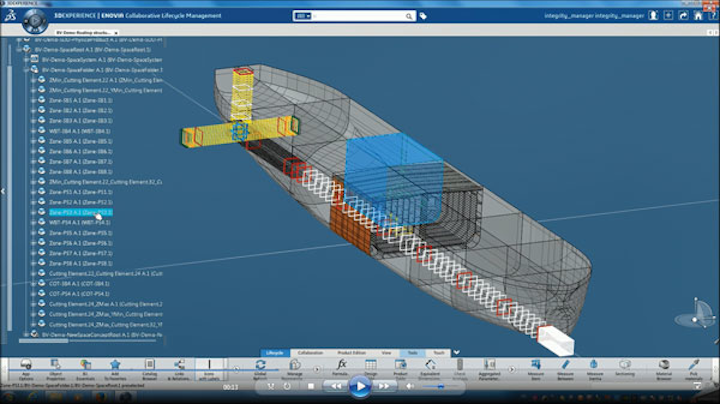 Continuing its journey toward the digitization of the offshore and maritime sectors as it announced last year, Bureau Veritas has now realized its ambition to completely overhaul its asset integrity management (AIM) system.
In parallel, the company has developed mobile applications for clients and class surveyors, which are now being used worldwide. Further development of new mobile applications continues; additional applications for survey planning, as well as, services for digital certification will also be available shortly. This work is the digitization of existing processes and provides the benefits of efficiency and accuracy.
In early 2016, Bureau Veritas formed a partnership with France's Dassault Systèmes to integrate Dassault's 3DEXPERIENCE platform with BV's existing VeriSTAR suite of tools to become the heart of its new AIM system. Initially based on the concept of digital twinning, the partnership with Dassault has now developed further and matured into a platform for an AIM service designed to leapfrog current fragmented IT solutions.
In March, McDermott signed a multi-year agreement with Dassault to integrate this platform into the company's existing processes, with a pilot program planned in 4Q. It will be implemented in phases, with the first phase scheduled for completion next year. The EPCI giant claims to be the first such company to implement an advanced data solution to improve schedule certainty for its customers.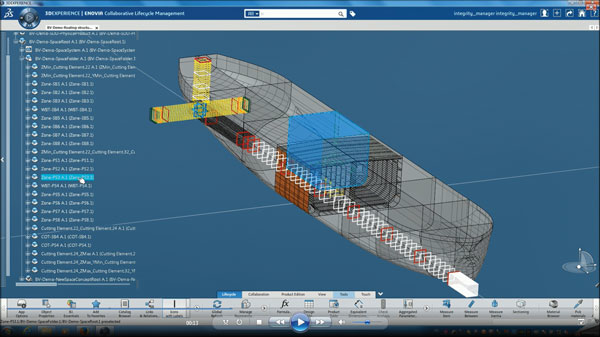 Screenshot from Dassault's 3DEXPERIENCE. (Image courtesy BV)
BV's new asset integrity management solution and service, launched publicly in April, enables operators to manage risk and maximize value and return on their assets through the digital transformation of inspection, maintenance, and repair processes, connected assets, and connected surveyors. From a class perspective this opens the door to risk-based inspection and condition-based maintenance regimes to be integrated with: classification and certification requirements; procurement; ship management software and ERPs.
The service looks to provide offshore clients with total solutions connecting assets, from the design process, through construction, with non-stop asset analysis. This enables predictive maintenance and reduced costs related to periodic surveys and inspections. The service will also be available to ships as well as offshore sector assets, allowing operators to manage any type of marine asset – from small and specialized vessels to large bulk carriers, tankers, containerships and offshore industry assets, such as FPSOs, floating liquefied natural gas vessels, floating storage regasification units, and rigs.
BV's solution-based service is designed to bridge the gap between available technology and industry needs, providing the environment for safety, risk and operational management to move beyond traditional reporting structures. The service addresses the challenge of fragmented IT environments to provide an overall picture, or dashboard, of the data related to assets and fleet of assets. Asset adaptable, offshore operators were identified as the first users but interest is now being seen from traditional ship owners, especially if classification and statutory requirements, as well as shipmanagement systems.