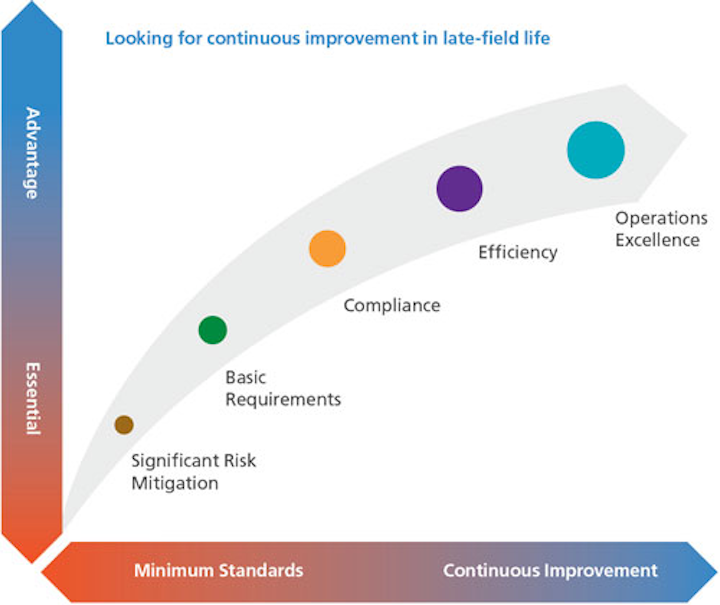 Steve Gilbert
Lloyd's Register
The global oil and gas industry is navigating unchartered waters, with the low oil price, high operating costs, and aging assets all combining to accelerate decommissioning activity. According to analyst McKinsey & Co., 27 UK fields ceased production over the past five years to 2015, with one-third the subject of submissions to the UK regulator for approval to decommission.
Offshore Malaysia, more than half the production facilities are more than 20 years old, but only an estimated 95 platforms have been decommissioned since 1975. This is due in large part to a lack of clear and specific regulations from national authorities. Globally, the Gulf of Mexico leads the way with an estimated 4,600 offshore facilities decommissioned to date.
Late-field life management is an equally pressing concern in the current climate, demanding radically leaner models of working and rigorous asset management to sustain production optimization, operational efficiency, and cost reduction. Activities that fail to deliver commercially or ensure compliance with safety standards may have to be eliminated.
Outsourcing the full running of late-life assets offers numerous advantages, without detracting from the operator's responsibilities for assets approaching Cessation of Production (CoP). Fields can be optimized until abandonment with minimum capex. Operating costs can be reduced, with personnel redeployed to greater use elsewhere. At the same time, data can be gathered that is required for CoP and, in turn, decommissioning.
Setting the agenda
A late-field outsourcing approach should focus on six core objectives:
Zero accidents and no harm to the environment
Cashflow-positive position in the current market
Competitive unit operating cost
Extended field life where possible, deferring CoP and delaying decommissioning liabilities
Preparing for CoP, while managing late-life assets
Optimizing well and reservoir performance.
Outsourcing should move quickly and efficiently from providing the essential service an operator requires to managing the assets through continual improvement. Superior asset performance and subsurface operations pre-CoP can follow once the risks have been identified and mitigated and the operator's basic needs, including compliance demands, fulfilled.
Handover of late-field life management should involve five main stages or sets of activities.
Project framing and review:Close collaboration with the client's asset and operations teams is critical to gaining a total understanding of the planned scope of work, the overall objectives during the transition period, and the operator's way of working, with special emphasis on aligned HSE cultures. Governance structure, accountabilities, reporting interfaces, deliverables, timelines, and IT requirements should all be covered.
Access to data and systems:IT solutions can provide the specialist contractor with remote access to critical information such as real-time production and injection well data, process and operations data, and the operator's systems for loss management, dashboards and intranet document management.
Knowledge transfer:Prior to handover, the full range of petroleum and reservoir engineering activities needs to be discussed through visits, meetings and in-depth reviews, with regular cooperation following to cover the range of requirements and responsibilities.
Management of meetings: It is important to agree, refine, and schedule the full inventory of meetings, with appropriate terms of reference. Meetings should involve both internal and external stakeholders, including joint venture partners and regulatory bodies, where applicable.
Quality control, peer review and project management:Once the transition plan has been completed and agreed, details on the peer reviews and quality control of the contracted service should be finalized. Full management can be handed over by the operator to a specialist external team within a four-month, fully collaborative transition period.
Redeploying personnel
With fields no longer delivering at peak capacity, outsourcing enables redeployment of subsurface teams and expensive technical and scientific equipment to more strategic assets. Concerns about losing valuable resources - hired directly as the project approaches CoP, but also with an eye to the next opportunity - are also negated. Subsurface and production management can be delivered successfully with a pre-CoP team comprising a dedicated project manager, reservoir engineer and production and operations engineer, supported by other subsurface discipline experts on an ad hoc basis.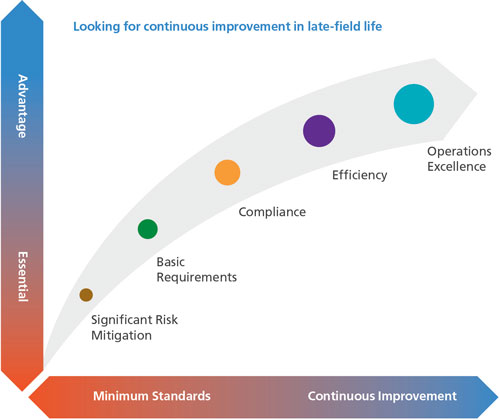 Five key measures for late-field life management. (Image courtesy Lloyd's Register)
While outsourcing typically leads to a 50% reduction in traditional staffing levels, the remaining personnel can perform a range of activities, including gathering data for the final well and reservoir status. Late-life asset management should form part of the roadmap to CoP. A specialist team should be both focused and in the ideal position to collate all information necessary for decommissioning planning and the CoP documents required by the regulatory authorities. This also applies to preparing the CoP Application Document itself. Key tasks can be transferred, such as reserves booking, short- and long-term forecasts, revisiting opportunities for final close-out and other forms of reporting that are all unique to each project. Field optimization may also bring further operating savings, enabling the pre-CoP team to be reduced, while still delivering the necessary level of specialist services.
Choosing the right specialist provider enables an operator to tap into a spectrum of skills for managing mature fields, up to and including CoP. An understanding of the full subsurface and production management requirements, together with expertise in areas such as management of wells and facilities, can be beneficial to both the operator and the regulator, helping to ensure that maximum economic recovery is delivered.
Some examples of results that can be achieved are:
Streamlining the management of reservoir and subsea pipeline network by reviewing the efficiency of water injection and 'back-out' in the subsea pipeline network.
Using all available data - recent seismic, well-test, inter-well connectivity and seawater composition data - to minimize deferred production.
Exploring a range of options for improving oil rate and recovery by performing water shut-off using either thermally- or chemically-activated polymers at injector or production wells (or both). Deployment via the subsea manifolds, rather than by direct well intervention, can reduce cost and risk.
Using a cement assurance assessment for safe, cost-effective well abandonment not just for an interval above a main reservoir, but for the entire wellbore.
Maintaining stable operations by addressing the impact of slugging and gas deficiency on wells and process facilities that were designed for higher production rates.
Tackling the common problem in late life of unreliable rate measurements, especially of water and oil, which are critical to optimizing production. Improved outcomes can be achieved through closely monitoring the performance of wells and process facilities, running optimization exercises, maintaining updated well and network models, and educating all personnel to operate in a dynamic scenario in which process settings may have to be adjusted daily.
CoP feasibility
When the time approaches to move to CoP, various technically feasible decommissioning options must be studied and subjected to formal comparative assessments, based on safety, environmental, technical, societal, and economic criteria. This often arduous process entails identification of assessment scales and weighted scores, resulting in recommendations to the regulatory authority of viable decommissioning solutions.
Lessons learned from decommissioning programs across the world will prove invaluable in managing the maturing oil and gas regions. For many operators, outsourcing the full running of assets approaching CoP, prioritizing both resources and inspection plans, and eliminating non-value adding activities, will become the logical conclusion to one of the greatest challenges that late-life asset management presents: adopting a cost-effective operational approach that does not compromise on safety and integrity standards. Application of the right models can help smooth the transition to cessation of production.