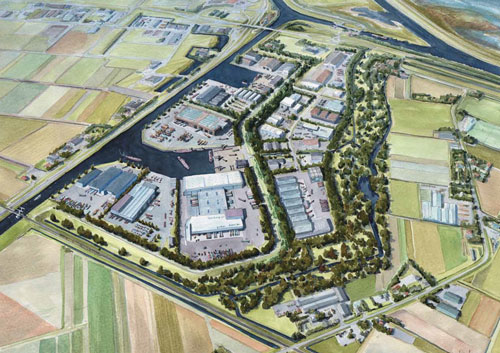 Representatives from 20 Dutch supply chain companies and other organizations joined the North Sea Energy Gateway (NSEG) delegation to OTC last month. NSEG is the offshore service and logistics center for the central and southern sectors of the Dutch North Sea, and for over 40 years Den Helder has been the region's offshore hub, servicing nearly all the platforms in the adjoining F, K L, M, P, and Q quadrants.
Den Helder has the airport and port with the shortest flying and sailing times to 155 production platforms and wind farms, and Port of Den Helder, part of the NSEG group that visited Houston, recently opened the Kooyhaven business park at a newly created inner harbor, financed under a combined private/public sector initiative. This is designed to provide additional room for companies in the energy market supply chain that need a port or waterfront location, with the more developed part of the port severely space-constrained. Aside from its proximity to offshore installations, Den Helder offers direct deep-sea access, with none of the locks or tidal restrictions prevalent along other parts of the Dutch coast.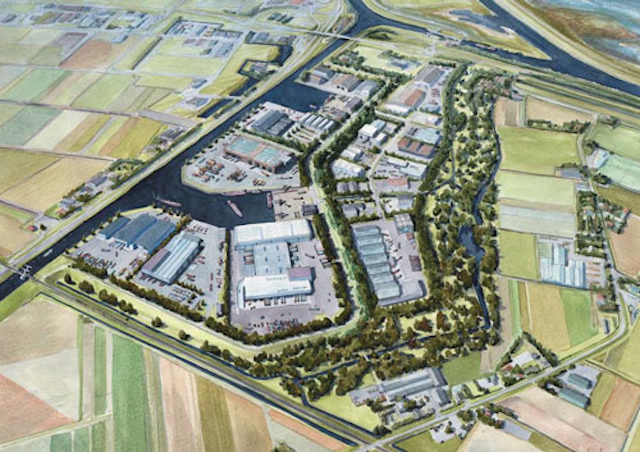 Aerial view of the Kooyhaven business park. (Photo courtesy Port of Den Helder)
The first confirmed tenant of the new inner harbor was support vessel contractor Glomar Offshore, and four other oil and gas supply chain companies were also recently negotiating to move in. Kooyhaven, in the municipality of Hollands Kroon, is less than an hour by road from Amsterdam's Schiphol International Airport, and the entire Kooyhaven area has been designated "All Electric," with no gas mains installed, but instead powered by alternative sources such as wind and solar energy, which could be combined in future with thermal storage.
Kooyhaven is also part of the port's vision of advancing Den Helder as a Dutch offshore logistics hub, focusing increasingly on offshore wind energy with services such as turbine maintenance to compensate for the steady decline in Dutch North Sea E&P. Over the next six years, newly built wind farms off the Dutch coast will add 3.5 MW of power, with more likely to follow thereafter.
The busiest thoroughfare for marine traffic in the Netherlands remains the waterways around Rotterdam to the south. Rotterdam Offshore Group (ROG), based at a location with open access to the sea in the main port of Rotterdam, provides a wide range of construction, maintenance, conversion, mob/de-mob and decommissioning services to the oil and gas industry via its two business divisions, Rotterdam Offshore and ROG Ship Repair. The lay-by facilities can accommodate vessels up to 190 m (623 ft) long, 60 m (197 ft) broad and with a draft of 9.5 m (31 ft); the 14,000-sq m (150,695-sq ft) yard alongside features a fully equipped workshop and provides heavy-lift crane capacity of up to 1,400 tons, in addition to the site's floating cranes.