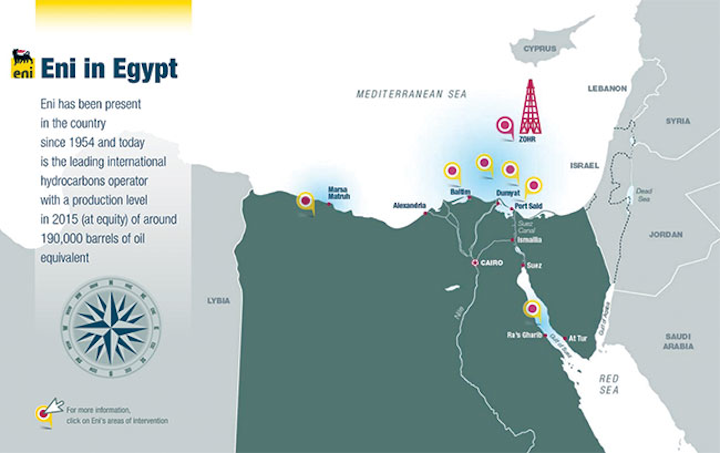 Curt Cultice
US Commercial Service, Department of Commerce
Egypt is a mature fossil energy market attracting increased international attention. However, there is a continued demand for new energy technologies from innovative US suppliers committed to long-term partnerships with Egypt.
In the below Q&A, Mai Abdelhalim, commercial specialist, US Embassy, Egypt discusses the latest trends and opportunities in Egypt's oil and gas market. Her office is part of the US Commercial Service of the Department of Commerce's International Trade Administration and its worldwide export assistance network.
•••
US Department of Commerce (DoC):How is the economic outlook for Egypt, and how significant is the oil and gas industry to its economy? How does the country compare to other major oil producing nations?
Abdelhalim: Egypt is the largest non-Organization of Petroleum Exporting Countries oil producer in Africa, and the largest oil and gas consumer on the African continent. With a growing population and 94% of energy consumption coming from fossil fuels, Egypt has more recently been forced to transition from exporting energy to importing these resources to meet the country's needs. In recent years, there have been several oil and natural gas discoveries, both onshore and offshore. One of the largest is the 30-tcf Zohr discovery in the Mediterranean, as well as the North Alexandria and Atoll discoveries. The oil and gas industry now accounts for 16% of Egypt's gross domestic product, and 54% of its foreign direct investment.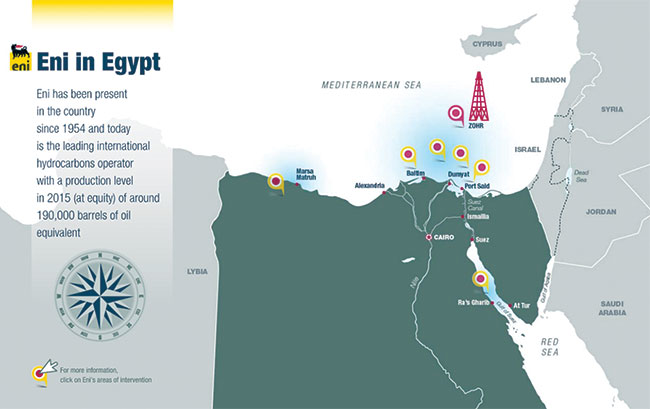 Eni interests offshore Egypt. (Courtesy Eni)
Domestic energy is a major focus of the Egyptian government as a way to reduce the country's dependence on imported energy. The high cost of energy subsidies in Egypt has contributed to high budget deficits and subsidy cuts remain destabilizing. However, the Egyptian government has attempted to improve the economy by reducing subsidies, floating the Egyptian pound, and improving the business climate.
DoC:The Italian energy company Eni made a large gas discovery at Zohr in deepwater off Egypt's Mediterranean coast. What is the current status?
Abdelhalim: This discovery, made in August 2015, is the largest in the Mediterranean and represents about 30 tcf. The gas field will produce an estimated 900 MMcf/d by the end of 2017. It is expected to reach 2,700 million metric standard feet per day when it reaches full production, which is currently projected to be in December 2019. An estimated $16 billion is expected to be invested over the lifetime of the project. Schlumberger of Houston, Texas, is the designated company servicing the rigs for Eni. Zohr is expected to almost double Egypt's gas reserves and allow it to export gas by the end of 2019.
DoC: To what extent does the Egyptian government embrace foreign investment in its oil and gas industry?
Abdelhalim: The Egyptian government has been very proactive in announcing new tenders for oil and gas discoveries through outreach with international oil companies and the Egyptian media. Over the last three years, the country has signed 73 onshore and offshore oil and exploration agreements with international and US oil companies worth $15 billion, agreements that have led to the drilling of more than 300 wells. The Egyptian government continues to underscore that its economic future is tied to the development of its oil and gas sector.
However, Egypt has some non-market based policies that have created challenges for foreign operators in Egypt. The Egyptian government has placed requirements on foreign companies to divert some or all of natural gas production to the domestic market. US companies often must navigate payment delays, though the government is beginning to chip away from its current tab of $3.5 billion in arrears to international oil companies while not disrupting payment for current production.
DoC: What about overall opportunities in Egypt for technology transfer and for offshore equipment suppliers?
Abdelhalim: Although Egypt is a fairly mature oil and gas market, there still remain numerous opportunities for technology transfer and offshore equipment suppliers. Significant natural gas discoveries continue to be made in shallow and deep waters, and US equipment suppliers have opportunities with stakeholders in the field to become approved suppliers. The United States, a long-time leader in supplying energy technologies, continues to fill that role despite increased international competition in the onshore and offshore market. The local market is looking for technology that reduces energy costs while simultaneously boosting production.
In general, the Egyptian government and local partners have a strong preference for US and international suppliers offering high quality, competitively-priced products, an ability to provide on-time delivery, and reliable after-sales service and training. The Egyptian government also looks favorably on US companies that are willing to consider introducing corporate social responsibility projects into the local economy and technology transfer initiatives to build Egyptian capacities. Top US oil and gas-related exports to Egypt include industrial machinery, drilling equipment, pressure valves, and pumps.
DoC: The Suez Canal was recently expanded, what is the impact on Egypt's oil and gas market, and opportunities for US firms?
Abdelhalim: Forty percent of global oil shipments and over 10% of the world's trade passes through the Suez Canal. The Suez Canal is an important transit route for oil and liquefied natural gas (LNG) shipments travelling southbound from North Africa and along the Red Sea to Asia. In 2014, the Egyptian government initiated a project to deepen and widen the existing canal, and build a new canal parallel to the existing one. The new Suez Canal project was implemented in one year and was inaugurated in August 2015. As a result, the Suez expansion reduced wait times by allowing northbound and southbound ships to pass through the waterway simultaneously. The reduction allows ocean carriers to save some money on fuel and other operating costs.

Timeline of the Zohr project. (Courtesy Eni)">
Timeline of the Zohr project. (Courtesy Eni)
Egypt also plays a vital role in international energy markets through the operation of the Suez-Mediterranean (SUMED) pipeline. The SUMED pipeline is running from the Ain Sukhna Terminal on the Gulf of Suez to the Sidi Kerir Terminal in Alexandria on the Mediterranean. It provides an alternative to the Suez Canal for transporting oil from the Persian Gulf region to the Mediterranean.
DoC: Low oil prices have slowed large government-funded projects. It has also created cases of non- or delayed payments to foreign investors. To what extent should US companies be concerned?
Abdelhalim: The issue had been hampering growth of the oil and gas sector until two years ago. Since that time, significant progress has been made and Egypt is moving forward with investment. The late 2016 devaluation of the Egyptian pound has restored foreign exchange liquidity. Over the past three years, the Egyptian government has reduced arrears to private oil companies from $6.3 billion in 2012 to the current $3.3 billion. Most of the impact has been on investors and international oil company operators in Egypt. Service companies working for the operators have not experienced these problems.
DoC: What are some key market trends in the areas of logistics and international competition?
Abdelhalim: Egypt's oil and gas sector is characterized by its complex regulations; however, the government is working to streamline the process. Egypt's Ministry of Petroleum has embarked on modernization of physical energy infrastructure which will greatly facilitate port facilities and logistics associated with drilling and transport in the oil and gas sector. While Egyptian companies have a high regard for US products and services, there is strong competition from Europe. Egypt has a Free Trade Agreement with the European Union which has undercut suppliers of US goods that can be readily imported tariff-free in other sectors. Moreover, the Europeans have been very responsive in establishing training centers throughout Egypt and there have been some instances of outright favoring of European competitors over US suppliers.
DoC: How can US exporters identify and pursue business opportunities related to oil and gas?
Abdelhalim: It's advantageous for US suppliers to have prior export experience, especially when selling to the Middle East. If a company is new to exporting, the Zohr project would probably offer limited opportunities as the project tends to source from established international suppliers. However, most offshore Egypt oil and gas fields tend to be managed by European firms which usually offer more opportunities for outside suppliers. For small and medium-sized US companies, we recommend having a local partner or agent to be their intelligence on the ground. Larger US and international companies tend to be familiar with the Egyptian market, establish local entities, and therefore usually don't need local partners to do business.
US exporters should also keep in mind the following tips for doing business in Egypt:
Egypt is a diverse and mature market, and newly introduced legislation has created barriers for certain commodities from entering the market. It is essential to be aware of new and existing legislation and how it may impact your goods and services.
As Egypt looks to get its economy back on track, the energy sector is of particular interest to their government. The energy sector is dominated by state-owned enterprises, and they are looking for companies with a long-term commitment in Egypt, even if the products are more expensive. Transfer of knowledge with local labor, capacity building, and service training can make your products competitive.
Make sure you understand the banking regulations and requirements when getting paid. Use resources like the Export-Import Bank of the United States, if at all possible, in order to reduce risk and avoid delayed payments.
DoC: What's the best way for US companies to get started or expand into Egypt's market?
Abdelhalim: A good place to start is by contacting the US Commercial Service. Our office in Egypt is part of a global network of 108 offices across the United States and in US embassies and consulates in more than 75 countries. Here in Egypt, we counsel many US oil and gas companies and suppliers on doing business in the market, dealing with customs and intellectual property rights, finding reputable partners, due diligence, advocacy, and much more.
To get started, visitexport.gov, the US federal government's export assistance portal.