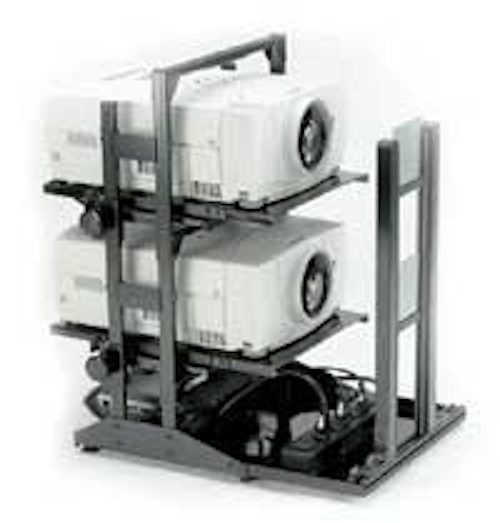 3C-4D vertical seismic profile
Weatherford International has installed a multi-station, multi-component (3C), fiber optic, in-well seismic imaging and monitoring array, purported to be the world's first. The optical seismic system was deployed in a well at the Izaute Gas Storage in southwestern France for TotalFinaElf. The distributed array of accelerometers provides time-lapse seismic (4D) imaging.
The installation represents the validation of the Bragg grating-based, multi-channel, in-well seismic system developed by Weatherford and its Optoplan subsidiary. The design qualification and installation project was supported by the Norwegian Demo 2000 Program and the project's oil company participants: TotalFinaElf, Statoil, Norsk Hydro, and BP.
The system uses fiber optic multiplexing techniques for single-cable operation and miniature fiber optic seismic accelerometers for use in narrow boreholes. The design requires no downhole electronics.
The system was tubing-conveyed with the accelerometers coupled to the casing. Five 3C stations were used for a walkaway vertical seismic profile (VSP) survey, with repeat VSPs planned for 4D imaging. A sixth 3C station at the reservoir level will be used for continuous recording of micro-seismic events.
"This installation represents the successful achievement of a four-year program to develop a unique sensor system for the seismic industry and to demonstrate that fiber optic seismic sensors are a superior alternative to conventional electronic devices," said Tad Bostick, vice president of business development for intelligent completion technologies.
Linux clusters
Saudi Aramco ported its mission-critical seismic data processing application to a cluster of 1,800 Intel Pentium III processors. The new system has boosted throughput many fold and is expected to grow to a cluster of 4,000 CPUs.
---
TECHNOLOGY
•Attributes
Paradigm has released two seismic attribute software packages: Seismic Data Attribute and Seismic Feature Enhancement Attribute. The SDA package offers 20 seismic attributes computed from the seismic trace. It also includes three geometric properties to highlight the lateral relationships in the data.
The SFEA software uses attributes designed to detect thin beds using spectral decomposition, isolate attenuation zones, and enhance subsurface discontinuities. The software provides details not readily visible in normal amplitude images. Both packages integrate with Paradigm's VoxelGeo and Reservoir Navigator.
•3D projector
Christie Digital Systems has introduced the Montage LX33, a compact, passive-stereo, 3D projector set. The set is a fully integrated system that enables a large viewing audience to see 3D stereo images in high ambient light conditions using stereo polarization glasses.
The system includes with two 3,300-ANSI lumens (polarized) LCD projectors at XGA resolution. Input resolution ranges from 640 by 480 (VGA) to 1,280 by 1,024 (SXGA). The system is platform and software independent, making active signal conversion to passive stereo possible for any application. The system provides flexible options for 3D stereo data presentation to larger audiences and is transportable.
•Modeling upgrades
Technoguide has released the second edition of Petrel Workflow Tools, a PC-based software system. This release speeds the workflow within fault modeling and volume calculations. Automated fault connection enhancements quicken the modeling process.
Improvements in facies modeling and surface editing were added, and the Workflow Manager was upgraded to aid automatic plotting. Petrel now includes Truncated Gaussian Simulation for geoscientists to model carbonate systems and river deltas.
---
EXPLORATION
•Deepwater GoM
Fugro Multi Client Services has begun a regional 2D seismic and gravity program off the deep US continental shelf and into the deepwater Gulf of Mexico. The deep focus long offset survey will ultimately require 80,000 line-mi of shooting, beginning with the first phase of 22,000 line-mi.
The 2-by-2-mi seismic grid will be gathered by the Geo Arctic pulling a 10,000-m streamer and will infill an earlier Fugro gravity survey. This will produce 1-by-1-mi gravity coverage across this frontier region. The first phase of the survey will be available in August 2003.
•North Sea survey
Fugro Multi Client Services has completed acquisition of its 3D Entenschnable survey off parts of the Dutch, German, and Danish offshore areas of the North Sea. Shot by the M/V Ramform Viking and M/V American Explorer, the survey was gathered with 8-by-5,100-m and 6-by-5,100-m streamer sets, respectively.
The survey ties the Central Graben with under-explored portions of Germany and The Netherlands. Also, the Chalk play of Denmark is tied to recent Dutch discoveries. The survey will be available during 1Q 2003.
•Mediterranean survey
TGS-Nopec recently completed a 4,220-km 2D nonexclusive survey off the southern French coast. The company will be expanding its offerings with a new survey by gathering data in a new 25,000-sq-km license in the Rhone Maritime area.