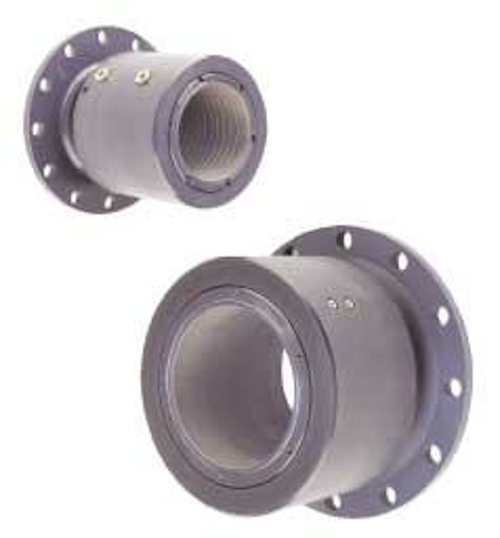 While couplings have long dictated shaft size, a new coupling coating is shrinking the necessary shaft diameter.
Voith Turbo Safeset has developed a high-friction coating that reduces the necessary shaft diameter when used with its Hycon couplers. The coating also provides higher than normal torque and torsional stiffness and lower weight and moment of inertia in a compact design. The normal friction rating for steel against steel is 0.14, but the new coating has a coefficient of friction of more than 0.3.
The new material can also be used to optimize the size of drive shafts. "You can often choose a smaller shaft if you use this coupling," said Erik Nordström, area sales manager.
null
The coating more than doubles the friction factor, so compact couplings can have corresponding increases in transmittable torque without expanding the length and overall area of the friction surfaces.
"It's very compact due to the coefficient of friction," Nordström said. "You can shorten the effective friction length by more than 50%."
Det Norske Veritas and Lloyd's have classified and type-approved the Hycon to 0.3 friction coefficient, and VTS is working to gain the same status with ABS. Additionally, VTS will seek approval with DNV for a coating with an even higher coefficient of friction, Nordström said.
For a further reduction in weight, a Hycon can be used with a hollow shaft. Although there are concerns that a hollow shaft might collapse under high clamping pressure, a Hycon with low pressure and a high coefficient of friction reduces the need for a high-pressure clamp.
The couplings have found application in the marine market for conventional propulsion lines, water jets, thrusters, and pump drives. Mud pumps are also candidates for Hycon.
For more information, contact Erik Nordström, Voith Turbo Safeset. Tel: +46 650 54 01 59, fax: +46 650 54 01 65, erik.nordstrom@voith.com, www.safeset.se.