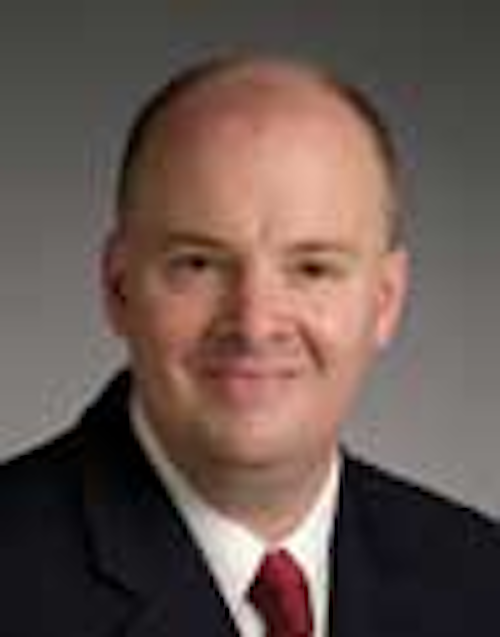 | | | |
| --- | --- | --- |
| | | Bruce Beaubouef Houston |
Leaner market prompts new partnerships, acquisitions
Amidst the market downturn, oilfield and downhole service firms are looking for new ways to reduce costs and work more efficiently. In some cases, this trend is leading to new mergers and acquisitions; while other firms are entering partnerships to increase their value to operators.
One such example was announced in mid-June, when Diamond Offshore Drilling, Inc. announced a joint development agreement with Trelleborg to develop, manufacture, and market Helical Buoyancy riser technology developed by Diamond Offshore. The companies say that the patented riser buoyancy design reduces riser drag and mitigates vortex-induced vibration in offshore applications, and enables improved operational efficiency.
This solution is designed as an alternative to adding fairings or strakes to the drilling riser; and can reduce deployment time and operating expense. The Helical Buoyancy design also improves safety in challenging environments by eliminating the need for personnel to work below the drill floor to attach a separate apparatus. The "helical" design is the result of several years of development by Diamond Offshore utilizing computational fluid dynamics and high Reynolds Number wind tunnel testing.
Diamond Offshore says it will work with Trelleborg on further application engineering, data acquisition, testing, and development of Helical Buoyancy applications across the offshore drilling market.
"Development of this new technology for riser buoyancy is even more important as drilling moves into deeper waters," said Ron Woll, senior vice president and CCO of Diamond Offshore. "We continually look for ways to improve the economics of offshore drilling for our customers, and this new buoyancy design will enhance drilling efficiencies in high-current environments."
In conjunction with this agreement, Diamond Offshore has ordered Helical Buoyancy from Trelleborg for drilling risers on theOcean BlackRhino and Ocean BlackLion, two of Diamond Offshore's sixth-generation drillships currently under contract in a high-current area in the Gulf of Mexico.
"This technology advancement is the result of Diamond Offshore's engineering expertise and thought leadership and should benefit the broad offshore drilling industry as it gets adopted," said Woll.
Elsewhere in the oilfield services market, acquisitions are the name of the game. In early June, Schlumberger reported that it had acquired Omron Oilfield and Marine, Inc., and Saltel Industries.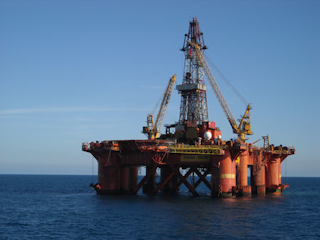 Songa Delta after the rig completes the current Slemmestad well in the Norwegian North Sea. In late June, the rig will go on 75% suspension rate ($277,000/d), likely resuming work with Statoil in mid-August. (Photo courtesy Songa Offshore) ">
Statoil says it will suspend its contract for the semisubmersibleSonga Delta after the rig completes the current Slemmestad well in the Norwegian North Sea. In late June, the rig will go on 75% suspension rate ($277,000/d), likely resuming work with Statoil in mid-August. (Photo courtesy Songa Offshore)
With the Omron deal, Schlumberger hopes to strengthen its control systems capabilities for integrated well construction. Omron designs, manufactures, sells, and provides aftermarket services for automated drive and control systems, power houses, and drillers' cabins.
Ashok Belani, executive vice president-technology for Schlumberger, said that the addition of Omron Oilfield and Marine "will enable us to strengthen our industrial automation control systems capabilities as part of our long-term strategy to develop an integrated well construction system." Belani explained that an added that an enhanced control system offering will play "a pivotal part in developing the software capabilities required to realize our vision to provide our customers with a step change in drilling performance."
Robert Bost, CEO, Omron Oilfield and Marine, commented that the transaction will enable it to leverage its US-installed base with Schlumberger's global reach to create new market opportunities internationally. "We will continue to build on our existing technology collaboration to expand control system capabilities in oilfield applications," Bost said.
With the Saltel Industries acquisition, Schlumberger hopes to strengthen its completions technology portfolio with Saltel's expandable steel technology solutions. Saltel is a France-based engineering, manufacturing, and service company that offers expandable patches and steel packers technology for the oil and gas industry.
Olivier Le Peuch, president, Schlumberger Completions, said that Saltel Industries has "an impressive track record in providing expandable steel patch technology to the remedial services market and has developed an innovative portfolio of openhole steel packer technology." He added that the acquisition "strengthens our technology portfolio in the growing completions remedial services market, and the unique expandable steel packer technology has the potential to disrupt the openhole isolation market."
Over the last few years, Saltel Industries has developed expertise and established a commercial track record in both inflatable packers and expandable tubulars for steel patches or packer technology applications. The company's deployment of expandable steel patches is recognized for its effective water shut-off applications to restore production in wells. Also, in cementing operations, the application of expandable open steel packer technology for external casing packers has resulted in lowering operational risk and cost compared to traditional inflatable packers.
Jean-Louis Saltel, managing director, Saltel Industries, said that the transaction "is an important milestone for Saltel Industries as it will leverage Schlumberger's footprint to maximize market access for our products and, in particular, expandable steel patch technology." By combining Saltel Industries' steel expandable technology with Schlumberger's technology integration capability, "we will offer unique well integrity and zonal isolation applications to our customers," Saltel observed.
Meanwhile, National Oilwell Varco, Inc. (NOV) says it has entered into a definitive agreement to acquire the completion tools business of Trican Well Service Ltd. The business designs and sells a range of patented downhole tools for multi-stage fracturing and multi-zone completions in North America and select international markets.