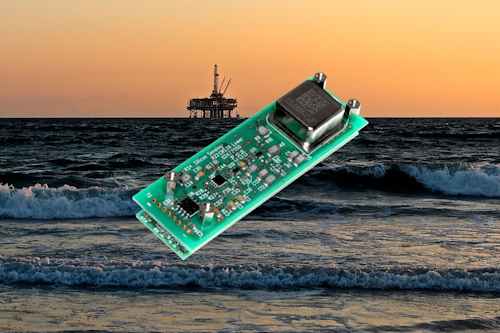 (Courtesy Silicon Sensing Systems)
Silicon Sensing Systems has developed the CRS39 gyroscope specifically for the oil and gas industry, with offshore applications. The device is intended for platform stabilization, downhole surveying, north-finding and robotic control.
With a form factor created specifically to suit systems operating within small-bore tubes, the company says that CRS39 will provide optimal solutions for applications where bias instability, angular random walk and low noise are critical. Depending on the requirement, CRS39 can be used alone or in combination – as in complex applications such as drill hole mapping systems.
Silicon Sensing says that recent technological improvements afford its gyros the sensitivity to detect the earth's rotation, allowing north to be determined without using magnetic means. This is advantageous in systems performance, especially underground where using conventional magnetic compass or GPS technology can be difficult or impossible.
The company says that the CRS39 is based around a proven and robust silicon micro electro-mechanical system (MEMS) vibrating ring sensor which delivers ultra-low noise performance, high shock tolerance and excellent vibration rejection. The patented MEMS device is the outcome of 15 years of design evolution and refinement.
CRS39 is one of the most capable sensors in Silicon Sensing's single axis gyro portfolio. The technology is used as the basis of the company's highest performance IMU – the DMU30 which challenges the performance of bigger, heavier and far more costly fiber optic-based inertial systems.
Silicon Sensing says that it continuously evolves and enhances its products, aiming to reduce size and extend performance. Currently the company is introducing improvements which will reduce the existing two board structure of CRS39, making it a single PCB component and reducing the size. At the same time engineers are incorporating changes to update the gyro sensor head and associated drive electronics – enabling improved north-finding-performance. •