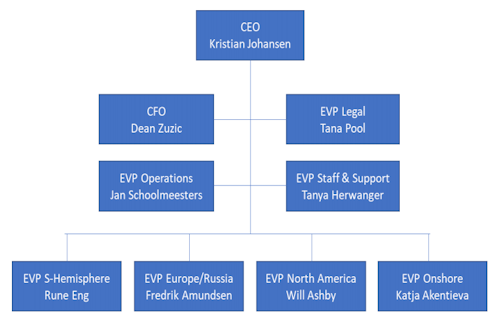 (Courtesy TGS)
Offshore staff
OSLO, Norway – After completing the acquisition of Spectrum ASA in mid-August, TGS has appointed a new executive team.
Led by CEO Kristian Johansen, the team consists of the following executives:
Katja Akentieva – EVP Onshore
Fredrik Amundsen – EVP Europe & Russia
Will Ashby – EVP North America
Rune Eng – EVP Southern Hemisphere
Tanya Herwanger – EVP Staff & Support
Tana Pool – EVP Legal / General Counsel
Jan Schoolmeesters – EVP Operations
Dean Zuzic – CFO.
As part of the transition, TGS CFO Sven B. Larsen will transfer into a new role heading up strategic initiatives for the company, reporting to the CEO.
08/30/2019