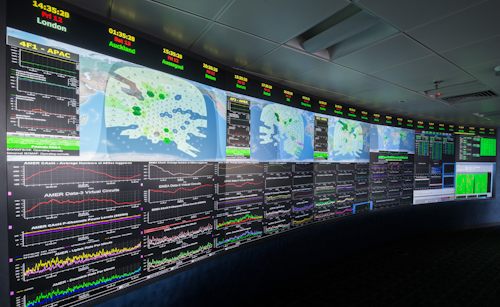 (Courtesy Inmarsat)
The ability of Unmanned Aerial Vehicles (UAVs) to operate in hard to reach spaces has seen class societies making good use of the technology in close-up ship inspections, but satellite connectivity supports 'beyond line of sight' applications offshore that is rapidly coming to include predictive maintenance.
The application is a key objective for global mobile satellite service Inmarsat as it unveils its 'UAV Pop-up lab' to work with commercial drone companies in demonstrating the role of L-band connectivity in delivering real-time UAV control for long range missions worldwide.
Formally launched in February, the UAV Pop-up lab sees Inmarsat providing satellite connectivity and live mission testing to a partnership with terminal hardware provider Cobham and technology accelerator Starburst, alongside seven commercial drone companies.
"The UAV Pop-up lab program is a grass roots innovation program that seeks to explore the full scope of benefits available using satellite communication in the commercial UAV market," says Jordan Picard, Digital Incubation Lead, Inmarsat Product Group.
Applications include search and rescue, ground-mapping, forest firefighting and vaccine drops.
According to PwC research, the UAV industry in the UK alone will be generating £42 billion ($51 billion) in incremental GDP by 2030 – just a small fraction of the anticipated global market opportunity.
Inmarsat and its partners believe the use of UAVs will provide a decisive advantage for those operating in remote parts of the globe that will be immediately recognizable. Within the Pop-up lab initiative, UAVs use Cobham's lightweight but resilient AVIATOR 200 terminal to communicate in 'beyond line of sight' (BLOS) missions via Inmarsat's global network, where L-band is especially robust for remote area operations.
According to Andrew Legg, Regional Sales Director at Cobham: "While many UAVs will rely on terrestrial-based connectivity solutions, they often operate beyond line of sight of point to point digital data links and out of coverage of ground networks. Many of these airframes are compromised by connectivity shortcomings and the addition of a high reliability, light footprint satcom solution enables a broader theatre of operation."
Many countries have yet to introduce legal frameworks to regulate UAV flight operations and manufacturing, meaning that most UAV flights today have to be within radio line of sight or require special exemptions. However, market forces are in play that suggest change is inevitable, according to Francois Chopard, CEO of Starburst Accelerator. "The UAV market is very exciting due to the bottom-up emergence of start-ups focused on making UAVs economically accessible to users outside of the military domain," he says. "The UAV Pop-up Lab is a fantastic way to work with these start-ups to develop propositions that will bring this market to maturity as regulatory certainty improves."
Picard expresses similar confidence. "Even at this early stage, our expectation is that the commercial UAV market will grow exponentially in the next five to 10 years, with satellite playing a crucial role in remote areas," he says. "This aligns with Inmarsat's role as the leading provider of global, resilient satellite communications for mobile assets. It also links nicely to the emerging digital economy of tomorrow."
The offshore sector is just beginning to shake off a five-year dip in fortunes and put assets back to work. It is once more prioritizing data analytics and diagnostics technology to optimize performance, condition monitoring and remote diagnostics of subsea assets. Subsea, ROVs and AUVs have provided critical gains through standardizing operations and centralizing project management, with video streaming providing operators on the surface with the 'eyes' to get the job done.
The same safety benefits apply in the case of airborne drones, where remote inspection techniques are already covered in International Association of Classification Societies (IACS) Unified Requirements, which took effect in January 2019. Lloyd's Register recently offered new guidance notes on UAV inspections based on a pilot flare tip and boom inspection for the Eni offshore installation Liverpool Bay, and a 'Test and learn' project for a Maersk Drilling rig. LR is also working with Oil Spill Response Ltd. and drone-based inspection service provider Sky-Futures to trial a surveillance/reconnaissance application.
Fly-by inspections negate the need for human risk of scaling structures, while Picard also points out that drones are faster to mobilize than field inspectors, do not mind antisocial hours or need accommodation.
On another level, floating rigs need to be taken out of operation for essential maintenance checks every five years, and getting the schedule wrong can involve losing earnings of $300,000 to 400,000/d perhaps for up to three weeks. Picard says that the tests carried out to date are showing the way routine remote inspections allow actionable decisions to be made on a predictive basis so that repairs can be planned at the budgeting stage. "This type of budgetary control is a key reason why, despite higher upfront investment, UAVs will cost less than traditional manual inspection."
Picard adds that the UAVs are delivering high quality data for specialist analysis in real time and that inspections can be reviewed by competent personnel, yielding integrity assessments for areas of concern, while captured images can be subjected to closer inspection, monitoring continued to evaluate degradation rates.
"In a nutshell, we're learning that UAVs deliver real value when it comes to obtaining critical data in hard-to-reach places where terrestrial networks are spotty," Picard says. "This can mean the difference between life and death for emergency response, and of course there is a straightforward safety gain when inspectors are not exposed to high risk activities. However, UAVs should also be recognized for the way they can help companies with heavy operational footprints in remote areas to save millions. That's where the global satcom solution using L-band becomes a massive enabler." •