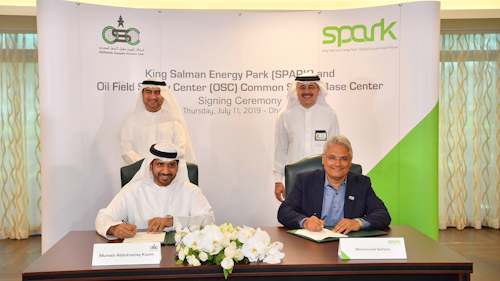 Saudi Aramco
Offshore staff
DHAHRAN, Saudi Arabia – Dubai-based Oilfields Supply Center (OSC) has agreed to become an anchor tenant at the King Salman Energy Park (SPARK).
In collaboration with Saudi Aramco, OSC will develop a business incubator, known as the Common User Supply Base.
This will provide industrial buildings of various sizes to host companies in the oil and gas industry and provide them with integrated services such as logistics, technical engineering services, and business support.
The center will be the first of its kind in Saudi Arabia, Aramco added, occupying initially over 1 million sq m (10.76 million sq ft) with potential to expand by a further 500,000 sq m (5.38 million sq ft).
OSC plans to invest around $450 million over the next two years in the program.
"OSC's investment in SPARK and collaboration with Saudi Aramco will position the project as a major enabler for oil and gas manufacturing and service companies and related SMEs," said Iqbal Mohammad Abedin, director and general manager Corporate Affairs at OSC.
07/15/2019