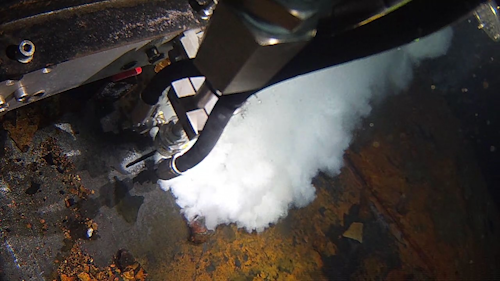 James Fisher Offshore
Offshore staff
OLDMELDRUM, UK – James Fisher Offshore (JFO) has developed an internal abrasive cutting system for decommissioning of offshore oil and gas structures.
The technology can be applied for internal cutting and removal of subsea tubular structures, from piles and jacket legs through well casings and wellheads, and can sever double-plated hull sections greater than 84 mm (3.4 in) in one pass.
It has already been deployed by Atlantic Subsea Ventures for an offshore cutting operation in water depths of more than 180 m (581 ft).
According to James Fisher, special features include real-time cut verification, visual external cut monitoring and a unique airflow system which dispenses with the need to de-water and leads to a 60% reduction in typical cutting times.
In addition, the cut verification system helps to reduce the risk of stitching and with it the risk of cost over-runs.
06/07/2019