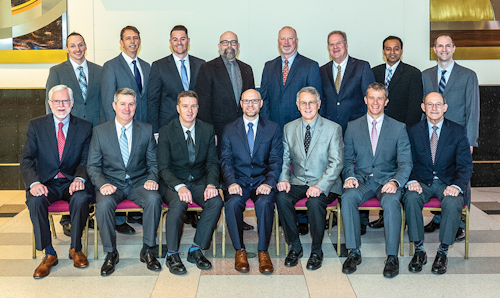 Topsides, Platforms & Hulls
Topsides, Platforms & Hulls Conference & Exhibition, hosted by Equinor, was held Feb. 5-7, 2019 at the Moody Gardens Hotel & Convention Center in Galveston, Texas. Co-located with Deepwater Operations Conference & Exhibition, the event attracted more than 1,100 attendees. Jim Reiners, Big Foot Installation Manager; Chevron, won the Best Presentation award for "Big Foot Tension Leg Platform Installation." Kurt Shallenberger, Vito Project Manager; Shell, won the Best Presenter award for "Advancing Deepwater Together – Vito Host." The Best Presentation award was based on content and Best Presenter for delivery.
The annual event will return to Galveston on Feb. 4-6, 2020.
People
John Lechner has resigned as CEO of Archer Ltd.
Total has appointed Ladislas Paszkiewicz as senior vice president, Investor Relations, effective July 1, 2019.
Framo has appointed Martijn Bergink as CEO. He succeeds Sameer Kalra, who has been named the new head of the Alfa Laval Marine Division and a member of the Alfa Laval Group Management.
Susan Steyn has joined Add Energy as vice president of the Asset and Integrity Management division in the USA and Canada.
Crondall Energy has appointed Tony Hodgkins as general manager of its London office.
SBM Offshore has reappointed P.C. Barril and E. Lagendijk as members of the Management Board and L.B.L.E. Mulliez, C.D. Richard, and S. Hepkema as members of the Supervisory Board.
The International Marine Contractors Association has promoted Mark Ford to technical director.
Dr. Nabil Abou-Rahme has joined Bentley Systems Inc. as chief research officer.
OPITO has appointed Richard Roberts as vice president of strategic development for the Middle East and Africa region.
Crowley Maritime Corp. has named Michael Roberts as senior vice president for government relations and Parker Harrison as senior vice president and general counsel.
Cornelius Dupré II has been named LAGCOE Looey 2019.
WFS Technologies has appointed Richard Adams as sales channel director.
Greg Junge has joined Hogan Lovells' Washington D.C. office as a partner in its Energy and Global Regulatory practice.
Dan Galley has joined Hughes Pumps as export sales manager for the Middle East region.
Airswift has appointed Kati Greenall as vice president Strategic Accounts, Jason Goodall as Strategic Accounts director, Troy Trevino as field operations manager, and Albert Kahlow as regional director for Canada.
Company News
Tenaris S.A. has entered into a definitive agreement to acquire from PAO TMK, a Russian company and manufacturer of steel pipe, 100% of the shares of its wholly owned US subsidiary IPSCO Tubulars Inc. for $1.2 billion on a cash-free, debt-free basis, which includes $270 million of working capital. The transaction is subject to regulatory approvals, including approval by the US antitrust authorities, and other customary conditions.
Proserv has agreed to sell its drilling services business to Houston-based BOP control systems provider and field service specialist C-Automation. The business will now trade as C-Automation Services. Under the agreement, the two companies will work in a partnership offering clients Proserv's drilling controls products, including its Gilmore branded valves and field-testing equipment; and C-Automation's welding, electrical, piping, flushing and tubing services.
Equinor has extended eDrilling's contract to provide artificial intelligence and predictive analytics technologies to optimize drilling/casing operations. The contractor's software is said to deliver early detection of symptoms of downhole deterioration, along with diagnostics and actions to assist drilling/casing performance based on downhole conditions.
Apache Corp. has announced a corporate partnership with the United Service Organizations (USO). Under the partnership, Apache joins the USO as a Force Behind the Forces to help strengthen the armed forces by keeping them connected to family, home and country. Apache employees across Texas will team up with the USO to assemble 7,000 care packages for deployed military personnel and build bicycles for service members' children. In addition, the company and the USO will partner on future activities to support military men and women and their families.
FPSO and marine integrity management specialist Marine Technical Limits (MTL) has formed a strategic alliance in Brazil with Rio de Janeiro-based AES Union. This will lead to MTL providing integrity management and safe system of work equipment for confined space entry on Brazilian FPSOs, and on-station repairs. Initially MTL's teams will provide services, project management, and offshore project supervision, while AES Union supplies skilled trades personnel for inspections and repair projects; tools and equipment to support offshore projects; and Brazil-sourced materials, consumables and personnel logistics.
Yokogawa Electric Corp. has established a new subsidiary in Norway, Yokogawa Norge.
Smart Data Solutions, part of CGG's Geoscience division, has opened a new reservoir fluids and gas sample storage facility in Schulenburg, Texas.
Rovco has entered a partnership with Drexel Marine Petroleum Services in Egypt. The two companies will jointly provide subsea services to clients in Egypt, and Rovco also plans to offer its 3D and AI technologies to oil companies and offshore contractors across Egypt, northeast Africa, and the Middle East.
Baker Hughes, a GE company has opened a manufacturing and technology center in Oklahoma City dedicated to advancing the performance, quality and reliability of downhole drilling motors.
Premier Oil has awarded the NHV Group a long-term contract to provide helicopter services to its North Sea assets. Daily flights with the H175 will depart from NHV's base in Aberdeen for a period of five years. To further optimize its service, the company will add another new H175 to its fleet in Aberdeen. The company has also exceeded the 30,000 flight hours milestone with its H175 fleet.
Deep Down Inc. has secured $4.4 million in orders for flying leads and associated equipment, and offshore installation services for the Gulf of Mexico. The orders include more than $1 million in offshore services for a new international customer. The company expects to complete the work during the first half of 2019.
Ocean Infinity has agreed to take a 25% stake in Guardian Geomatics. The latter, based in Perth, Western Australia, is a marine survey company serving the offshore oil and gas and renewable markets, with representation across Australasia and the broader Asia/Pacific region.
SIMMONS EDECO has opened its second operations base in Mexico. The new 13,500-sq ft (4,115-sq m) facility in Villahermosa, Tabasco features operations, training and research facilities.
GATE LLC has become the first company in North America to be certified by DNV GL to the ISO 45001 Occupational Health and Safety Management System standard.
Gardner Denver Petroleum & Industrial Pumps has opened a 10,500-sq ft (3,200-sq m) warehouse in Neuquén, Argentina.
Trident, a Wärtsilä subsidiary, has opened a new diving center facility in Fujairah, United Arab Emirates.