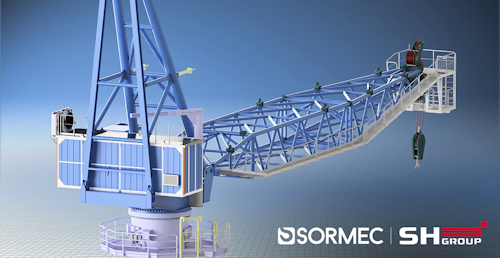 Sormec
Offshore staff
SVENDBORG, Denmark – Danish contractor SH Group has agreed to become Italian crane supplier Sormec's exclusive service partner and spare part provider, also selling and promoting the latter's cranes and products in Scandinavian countries.
Sormec has a contract to provide seven customized offshore cranes for Total's Tyra redevelopment project in the Danish North Sea.
Production is under way at headquarters in Sicily, with the first crane due to be delivered this summer.
Total is redeveloping the Tyra field under a $3.34-billion program to extend its operational life by at least 25 years. The field comprises the Tyra East and Tyra West production centers, linked to five unmanned satellite fields (Tyra Southeast, Harald, Valdemar, Svend, and Roar). The facilities process more than 90% of Denmark's gas production.
Sormec's cranes for this project are stiff boom and lattice boom type, fitted with a fully equipped operator cabin, HVAC, and suitable for Hazardous Area Zone 1, respecting MOTS, EN13852, and fully DNV GL approved.
05/28/2019