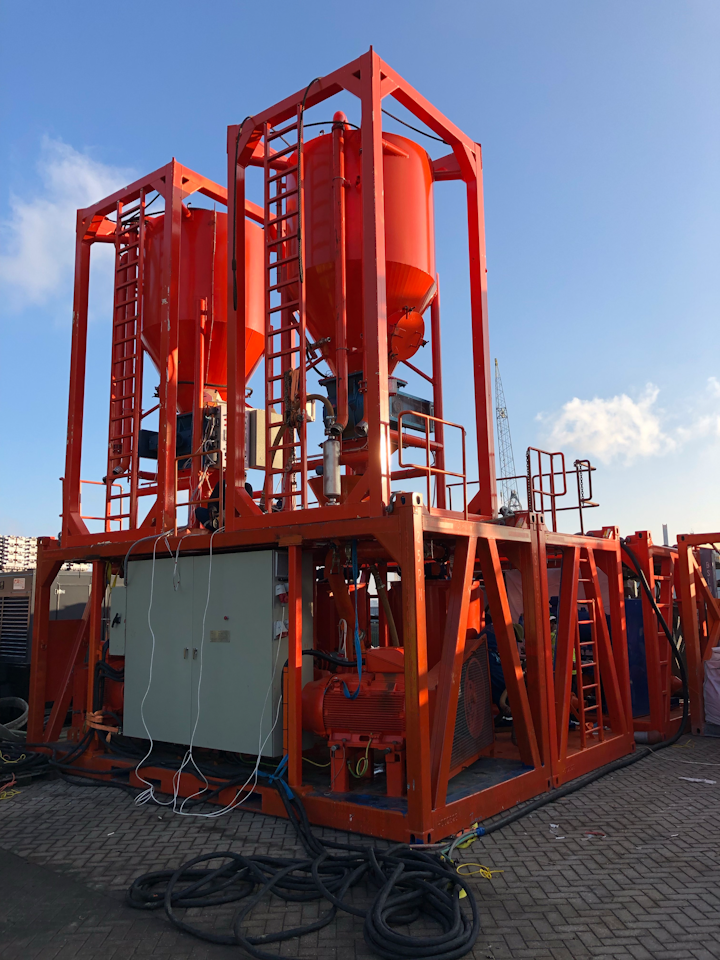 ULO Systems
Offshore staff
SHARJAH, UAE – ULO Systems has added a new recirculating jet mixer (RJM) and high-capacity pump to its grouting equipment range.
During trials, the RJM attained a mixing and pumping capacity of up to 120 cu m/hr (4,238 cu ft/hr), allowing grouting operations to be completed 75% quicker than with conventional systems, the company claimed.
Recently ULO staged a demonstration in Rotterdam for clients including Allseas, Boskalis, GeoSea, Heerema, Seaway 7, Van Oord, and Jumbo.
The first commercial deployment of the RJM will be on Aker BP's Valhall Flank West Platform in the southern Norwegian North Sea.
The system can grout and flush two separate annuli via its two holding tanks and water manifolds on one of the skids: the second skid houses the pumps. There are also two higher-capacity recirculating jet mixers on a single skid, which according to the company allows for higher capacities and thicker mixes.
Two jets feed one mixer drum, forming a more turbulent vortex for better colloidal dispersion of solids, the company added.
According to ULO's Colin Reilly, the new pump – designed to complement the RJM comes in either a single or double pump set version on a single DNV 2.7-1-certified 6M ISO skid.
"The single pump provides three times the capacity of industry-standard pumps, and a double pump performs at four times the capacity," he said. "Additionally, twin surge tanks, which can be filled from two silos simultaneously, feed cement at a higher rate."
05/20/2019