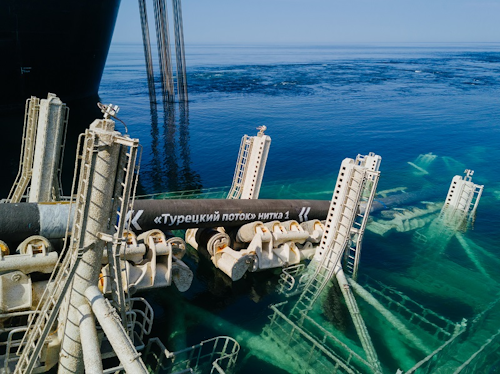 Offshore staff
MOSCOW – Allseas' Pioneering Spirit has completed deepwater pipelay for Line 1 of the TurkStream offshore gas pipeline through the Black Sea.
According to operator Gazprom, the average laying rate was 4.3 km/d (2.7 mi/d), with the maximum rate of 5.6 km/d (3.5 mi/d) attained twice this February.
Construction continues onshore in Russia and Turkey and in the Black Sea, and includes the reception terminal near Kiyiköy, Turkey.
Following completion of the landfall sections works on the first line will finish. ThePioneering Spirit will then continue deepwater pipelay of Line 2 this summer.
Since May 7, 2017, when pipelay started, 1,161 km (721 mi) of pipes have been laid, comprising 62% of the overall gas pipeline length, saidAlexey Miller, chairman of the management committee of Gazprom PJSC.
Gas through the first line is intended for Turkish consumers, while the second line is designated for countries in southern and southeast Europe.
Each line will have throughput capacity of 15.75 bcm/yr.
05/07/2018