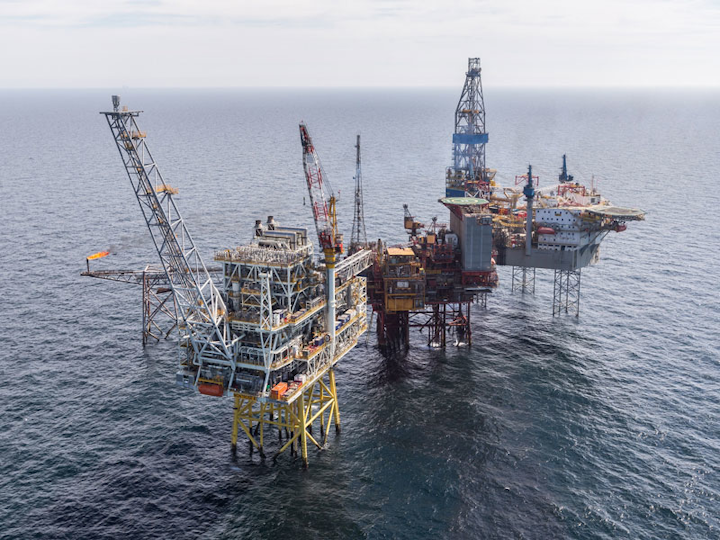 Offshore staff
ABERDEEN, UK – First oil has flowed from the Shaw field in the UK central North Sea, one of the components of the Montrose Area Redevelopment.
OperatorRepsol Sinopec Resources UK has been developing three new fields – Godwin, Cayley, and Shaw – through a new bridge-linked production platform (BLP) connected to the Montrose Alpha facility to provide additional process and plant support facilities.
Godwin was already onstream via an extended-reach well from the Arbroath platform, which is linked to the Montrose facilities.
Cayley and Shaw are both subsea tiebacks to the BLP. Cayley should start producing by end-June, with gross incremental production from the developments expected to peak at up to 40,000 boe/d.
Over the long term the project should recover up to 100 MMboe of additional reserves.
Bill Dunnett, managing director, Repsol Sinopec Resources UK, said: "This is a major achievement for this business and will help to consolidate the transformation that Repsol Sinopec Resources has undergone in the last two years. The Montrose Area is a key part of our long-term future and we look forward to it safely delivering value for us, our shareholders, and our partner Marubeni for many years to come."
In addition, the redevelopment aspects of the program should extend the lives of the Montrose Area fields beyond 2030. Montrose Alpha was originally commissioned in 1976.
Repsol Sinopec Resources UK's partner is Marubeni Oil & Gas (U.K.).
05/09/2017