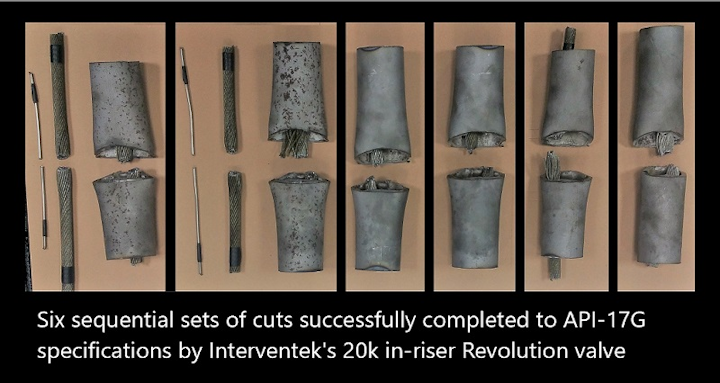 Offshore staff
ABERDEEN, UK – Interventek has successfully completed the current API-17G specification shear and seal test procedure for its new 20,000-psi (1,379-bar) subsea in-riser Revolution Valve.
Testing, independently witnessed and verified, fulfilled the requirements for Service Specification Level liquid and gas.
The trials showed that the device could exceed the demands of the forthcoming API-17G standards for a wireline/coiled tubing class shear and seal valve.
The valve completed six cut sequences comprising slickline, braided cable and coiled tubing with braided cable, followed by low and high-pressure liquid and gas seat tests after each sequence.
No disassembly or redress was needed at any point in the trials.
Interventek plans further qualification testing early next year.
The system, developed this year, is designed to withstand working pressures of 20,000 psi and temperatures up to 350°F (176°C). It can cut wireline and coiled tubing up to 2 x 0.203 in., 30 ksi minimum yield strength, the company claims, adding that it is the sole in-riser wireline/coiled tubing class valve available that guarantees sealing after shearing.
It uses separate cutting and sealing actions to prevent damage to the sealing surfaces, with resilient seals that are said to avoid the use of vulnerable elastomer materials for primary fluid containment, making it suitable for ultra HP/HT applications.
Interventek has developed the Revolution technology for a light well intervention open water well control valve, a subsea tree saver for well abandonment, and a bi-directional ball valve.
12/18/2017