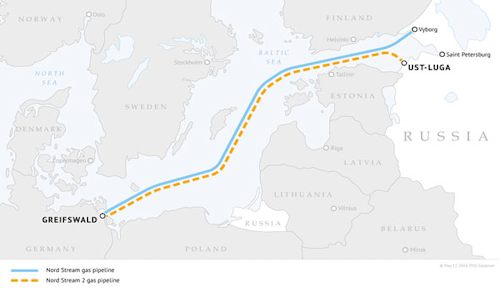 Offshore staff
MOSCOW – Gazprom has provided an update on the Nord Stream 2 gas pipeline project in the Baltic Sea, following a meeting of the management committee last week.
Early last September, project operatorNord Stream 2 AGcontracted a Wasco Group subsidiary for concrete weight coating, logistics, and pipe storage.
Later that month, United Metallurgical Co. and Chelyabinsk Pipe Rolling Plant delivered the first pipes to the coating plant in Finland, while in late October the first pipes produced by Europipe arrived at the coating facility in Germany.
Basic engineering is under way for the pipeline's offshore section and the landfalls in Russia and Germany.
Additional geotechnical surveys are in progress in the Bay of Greifswald's offshore and onshore areas traversed by the pipeline, along with national environmental impact assessment (EIA) reports and the consolidated EIA report.
Last month, Allseas signed a letter of intent for laying the first string's offshore section, with an option to collaborate on the second string.
Gazprom aims to bring the new gas pipeline onstream before the end of 2019, with the two-string system providing annual capacity of 55 bcm, and running from Russia to Germany across the Baltic Sea.
01/03/2017