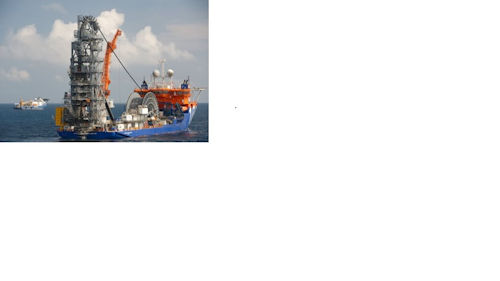 Offshore staff
HOUSTON– A subsidiary of McDermott International Inc. (NYSE: MDR) has become the first to install rigid reel-lay pipe-in-pipe in Asia/Pacific for the Siakap North-Petai (SNP) development project offshore Malaysia. At more than 3,900 ft (1,190 m), the SNP development is one of the industry's most challenging deepwater projects.
"Successfully installing the rigid reeled pipe-in-pipe flowlines on the Siakap project is a significant achievement for McDermott and a first for the region," said David Dickson, president and CEO of McDermott. "The performance of our project team and vessels in the final months of installation was critical in helping our client achieve first oil at the end of February."
McDermott was awarded the turnkey contract in December 2011 for the project'ssubsea infrastructure. This included the design, procurement, fabrication, and installation of two complex rigid insulated pipe-in-pipe production flowlines, one rigid water injection, and one main umbilical system connecting eight new manifolds and subsea distribution units to existing riser slots.
Installation of the pipe-in-pipe production flowlines and rigid water injection flowlines was undertaken by McDermott's lay vesselNorth Ocean 105, while flexible risers were installed by McDermott's North Ocean 102.
04/30/2014