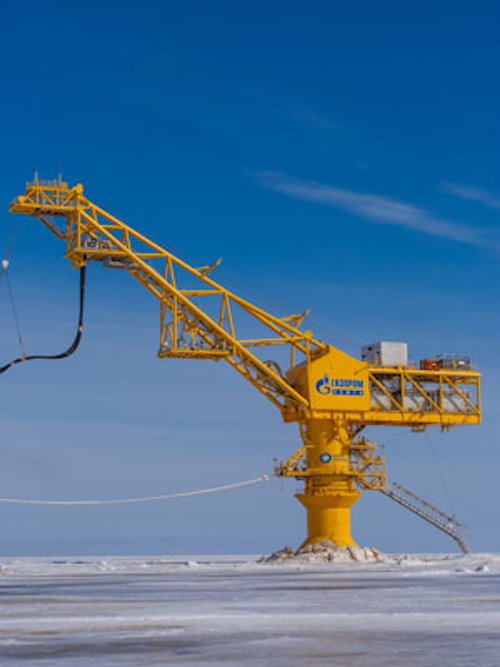 Offshore staff
MOSCOW– Gazprom has started year-round shipments of Yamal oil from its new Arctic Gate (Vorota Arktiki) oil loading terminal offshore northern Russia.
Oil from the onshore Novoportovskoye field is exported through a 100-km (328-mi) export pipeline to the Ob Bay coast. The bay's ship channel, with a depth of 11 m (36 ft) is too shallow for ship traffic, hence the location of the oil loading terminal in the sea, 3.5 km (2.2 mi) offshore.
Annual capacity of the oil transshipment terminal is up to 8.5 MM tons. The facility is designed for year-round loading of tankers with Yamal oil for further shipments via the Northern Sea Route.
According to Gazprom, the Arctic Gate terminal is a unique facility designed to operate under extreme conditions. Temperatures in the region can drop below -50°C (-58°F) and ice can grow more than 2 m (6.6 ft) thick.
The terminal features a two-tier protection system and is said to comply with the strictest requirements for industrial safety and environmental protection.
Its equipment is fully automated and safely protected from hydraulic shocks, and allows for prompt undocking without depressurizing of the units undergoing disconnection.
The zero discharge technology prevents foreign substances from entering Ob Bay, Gazprom adds, while the subsea pipeline that connects the terminal to the coastal tank battery is protected by an additional concrete shell.
05/26/2016
Share your news withOffshore at news@offshore-mag.com