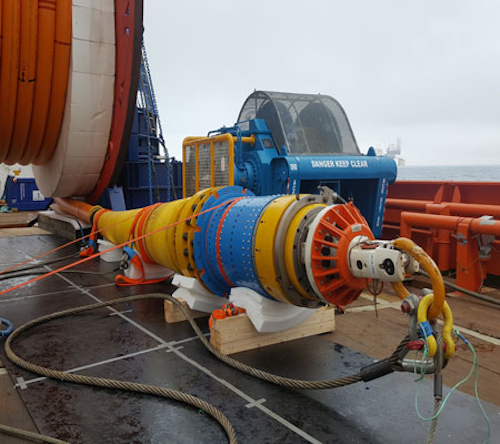 Offshore staff
LANCASTER, UK – First Subsea has supplied a relatchable bend stiffener connector for a flexible production riser for Statoil's turret-moored Gina Krog FSO in the Norwegian North Sea.
NOV Completion & Production Solutions commissioned the API 17L-1 compliant, Type II bend stiffener connector (BSC).
It comprises a ball and taper connector attached to a bend stiffener which is pulled into a pre-machined, compact J-tube built into the turret.
During pull-in the end fitting is fixed to the male BSC, and once locked into the receptacle, the end fitting is detached, allowing the end fitting and 9-in. production riser to slide up into the J-tube.
First Subsea bend stiffener connectors are certified as load transfer devices under API 17L1, which the company claims represents a new benchmark for the performance of bend stiffener connectors in harsh offshore applications.
The Type II connector is self-energizing and self-aligning, and features First Subsea's automatic release clamp, said to facilitate diverless and ROV-less riser and umbilical connections.
The Gina Krog connector also features a re-connect system that allows the end fitting to be de-latched and the riser uninstalled and reconnected again as necessary.
Gina Krog is the new name for the Dagny and Eirin are two oil and gas fields, respectively 30 km and 40 km (18.6 and 25 mi) north of the Sleipner A platform.
Statoil has commissioned a jacket platform for oil and gas processing, with a subsea development on Eirin tied back to the facility.
Produced oil will be stored in the FSO which will be moored in 116 m (380 ft) water depth, 2.5 km (1.6 mi) northeast of the Gina Krog platform, with oil exported via shuttle tankers.
07/20/2016
Share your news withOffshore at news@offshore-mag.com