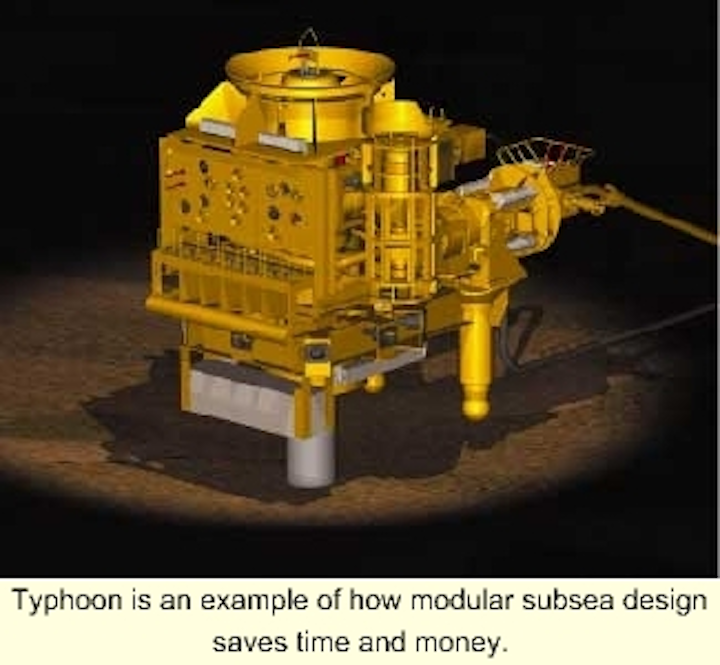 Standardization new trend in subsea
Cameron recently announced the details of its work on Chevron's Typhoon subsea development project. Among the advantages of the equipment used was the fact that the components were part of Cameron's Modular Subsea and Integrated Completions (MOSAIC) system. While each subsea development is unique, subsea development is clearly shifting from one-off innovation to cost-conscious standardization.
In the early days of subsea completions, the savings over a surface structure were considered reason enough to incur the cost of front-end engineering to create a unique development solution.
Smaller deepwater fields rarely justify expensive, custom subsea equipment solutions. Proven, existing technology that can be readily adapted to the new application becomes the only cost effective solution for smaller fields.
Shell and FMC have aligned on several subsea developments to make use of standardized components, and ABB is also taking this approach. Ed Will, Subsea and Surface Bus-iness Vice President for Cameron, said standard components are not typically items that Cameron has sitting in the warehouse waiting for an order.
By taking advantage of front-end design work on past projects, Cameron said it could cut design and delivery time.
Most subsea developments of the future will require tight cost control. Shell embraces the hub-and-spoke concept of deepwater development in which smaller fields are developed subsea and tied back to floating structures installed over much larger producing fields. The lower the capital expenditure, the more fields an operator can make viable.
Will explained it this way: It is no longer a question of "can this be done?" but "can this be done economically?" The key seems to be a standard range of components combined with integrated customer-supplier work teams and effective use of systems engineering know-how and life of field service programs. Mosaic and the ABB and FMC solutions have in common a collection of component products that can be integrated in a mix-and-match fashion to meet most customers' needs.
By drawing on existing proven designs, the companies can not only cut capital expenditures, but also improve procedures for installation and operation. The trans- fer of learning from one project to the next means that new designs benefit from those that came before.
While there will always be exotic solutions for unique fields, the future of deepwater subsea appears to lie in effective use of existing technology and know how. This frees up the engineers' time to concentrate on solutions that are not so readily available.
John Allen, Business Dev-elopment Technology Director for ABB Offshore Systems said their Modular Subsea Systems design is a good example of how standardization shortens delivery times. In addition, when changes to a design are necessary they are minor, Allen said.
With any subsea installation, reliability is key because of the high cost of intervention. Allen said when changes are made to these standard designs they are minor and thus present less of a risk than designing the equipment from scratch. Because the components are standardized, the connections are also standardized. This eliminates the interface risk. Other savings come from working with a set group of vendors for components and manufacturing certain components in advance for later assembly.
Optics network complete with 30 crossings
Sonsub recently announced it has completed work on PetroCom's FiberWeb system in the Gulf of Mexico. Sonsub worked on about 30 pipeline crossings for the project in water depths up to 700-ft. The company installed concrete mattresses to protect the fiber optic cable crossings over pipelines. The company also performed pipeline location and cable inspection for the project.
Sonsub used a complete marine installation offshore spread consisting of its 100 hp Scorpion 24 ROV system, the Midnight Arrow, new build ROV vessel from Torch and surface and acoustic positioning services from J.D. Silvetti. Sonsub also provided cable maintenance services. FiberWeb is a project to provide high-bandwidth communication capability to fixed platforms in the Gulf.
BP partners with CiDRA
In an unrelated announcement, BP has partnered with CiDRA Corp. for the provision of consulting services to integrate fiber optics into deepwater and other developments.
The goal is to undertake the development of new fiber optic products, enhance the capabilities of existing technologies, and integrate multiple, optical technologies for specific applications. Under the agreement, CiDRA will also provide fiber optic monitoring systems. Paul Martins, BP's Head of Well Performance Worldwide, said he sees CiDRA as a leader in a technology that will play a key strategic role in future field developments. He said the partnership was a starting point for routinely integrating fiber optics into well construction.
Remote articulated connector
The Remote Articulated Connector (RAC), recently introduced by Big Inch Marine Systems, is designed to take the place of hydraulic collet connectors for the completion of diverless tie-ins on pipeline projects. While such connectors have been widely used for years with much success, the RAC offers several advantages, according to Big Inch.
The collet connector system is very rigid, requiring expensive up front engineering and complex spoolpieces. These large spool pieces require expensive surface support vessels for offshore installation. If there is a problem with the annulus seal on these connections, then that adds to the installation cost. There is also a tendency for the seals in these connectors to fail once installed in the field.
These problems, while not widespread, have a common cause. Because the collet connector is rigid it cand not accommodate misalignment conditions during installation, causing residual stresses in the connection. To overcome this Big Inch combined the Grey-Lok clamp system with the company's Ball Flange misalignment joint design.
By making this misalignment joint integral to the design, the RAC can achieve the desired stress-free condition even when the connector halves are misaligned as much as 5