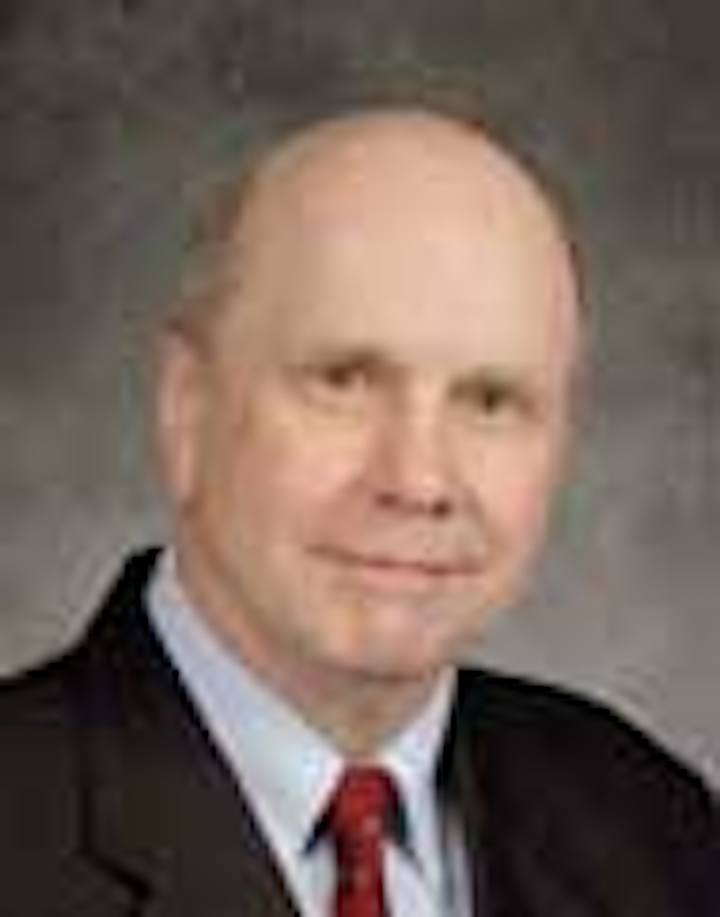 | | | |
| --- | --- | --- |
| | | Gene Kliewer • Houston |
Statoil has awarded framework agreements for subsea operations services on the Norwegian continental shelf to Aker Solutions and to FMC Technologies. Statoil said the agreements ensure long-term supply of maintenance and operations support. The scope of works covers service and maintenance of subsea production systems during installation and operation phases.
The agreements are for five years duration, with additional options of three three-year extensions. The estimated value to Aker Solutions for the firm period is NOK 5.5 billion ($953 million). For FMC Technologies, the agreement is NOK 8.5 billion ($1.473 billion). The actual value depends on Statoil's demand for subsea services.
In signing these two agreements, Statoil said that it expects to need more help in maintenance of subsea systems and wells as it strives to extend the life of those fields.
Technip contracts ties to Rostec
Technip has signed an agreement with State Corporation Russian Technologies (Rostec) with the aim of manufacturing flexible pipe and umbilicals in Russia for Arctic and Black Sea use.
"Cooperation with Rostec offers new business development opportunities for Technip in the Russian oil and gas market. We are delighted to reinforce a long-term industrial footprint in the country," said Thierry Pilenko, Technip chairman and CEO.
Petrofac, Doris go into deepwater with Pemex
Petróleos Mexicanos (Pemex) has contracted a partnership of Petrofac's Engineering & Consulting Services and Doris Engineering for technical assistance and supervision on construction, installation, commissioning, testing, and startup of deepwater subsea wells for the Lakach project. Completion of the project is expected to come late in 2015.
New ROVs added to world fleet
ROVOP is preparing to add two new ROVs to its operation. The company has spent £4 million ($6 million) on a second Schilling Work Class HD ROV and an additional SAAB Seaeye Cougar XT. The Schilling is a 150-hp, 3,000-m (9,842-ft) rated system that joins the one ROVOP took delivery of earlier this year. The Seaeye ROV was purchased for its size to power ratio. The equipment will go to work on the £3.5 million ($5.28 million) in contracts ROVOP reports signing by the end of this past January.
ExxonMobil deepwater umbilicals for Erha North
Aker Solutions has signed a contract with ExxonMobil for the supply of subsea umbilicals for the Erha North Phase 2 development offshore Nigeria. Phase 2 involves extending the existing Erha subsea system and infrastructure.
Aker will delivery two dynamic and two static steel-tube umbilicals totaling 16.5 km (10.25 mi) in length in 2014 for installation in 1,000-1,200 m (3,280-3,936 ft) of water.
The umbilicals will be designed, engineered and manufactured at Aker Solutions' facility in Mobile, Alabama, supported by project management and engineering by a local team in Lagos, Nigeria. The Mobile facility has horizontal bundling and extrusion machines, deepwater access to installation vessels, high-capacity processing and storage carousels, and on-site welding and test facilities.
Petrobras continues to order subsea trees
Petrobras has ordered another $600-million in subsea trees and associated equipment from Cameron. The hardware is destined for both presalt and subsalt use starting in 2014. Along with this, Cameron says it has decided to increase its manufacturing capacities in Brazil.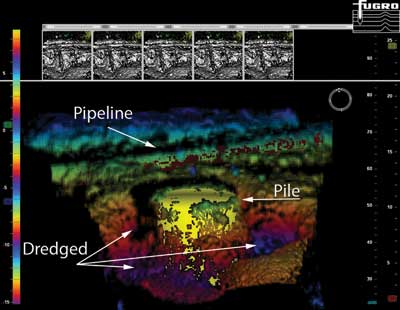 Fugro Chance and Coda Octopus have agreed on a two-year cooperation using Coda's Echoscope 3D sonar technology. Coda said it will benefit by having access to the real-world requirements of Fugro Chance's projects. In return, Fugro Chance will be able to work with Coda to develop solutions that fit its subsea image deliverable requirements. The Echoscope Dual Frequency 3D Sonar uses phased array technology. It generates more than 16,000 beams simultaneously to instantly produce 3D sonar images of both moving and stationary objects.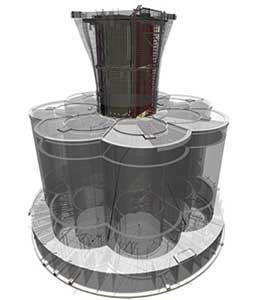 ExxonMobil Canada Properties has released Kiewit-Kvaerner Contractors to proceed with the full-scope engineering, procurement, and construction of the Hebron project gravity-based structure. Shown here is an example of Kvaerner's GBC design. The completed GBS will be installed at the Hebron field on the Grand Banks in the Atlantic Ocean 350 km (217.5 mi) offshore St. John's, Newfoundland and Labrador, Canada. First oil is anticipated by the end of 2017.
More Offshore Issue Articles
Offshore Articles Archives
View Oil and Gas Articles on PennEnergy.com