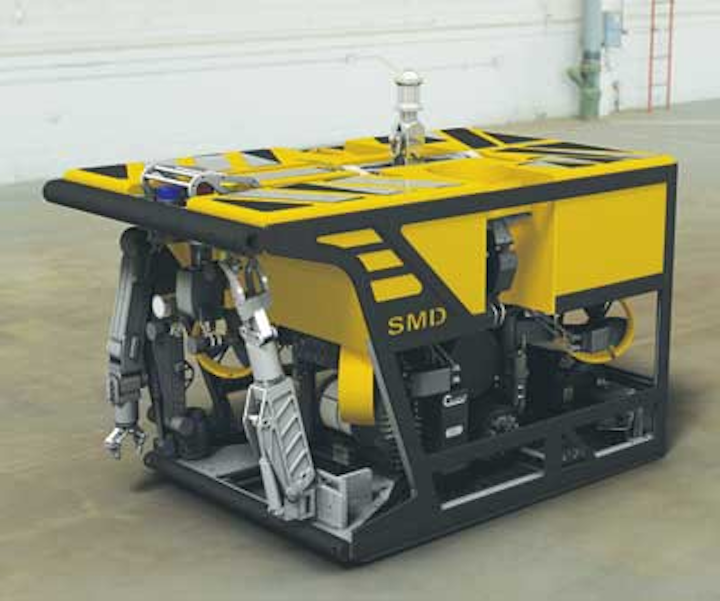 Matthew R. White
TE Connectivity
As the world of offshore exploration and production changes, more companies are looking to remotely operated vehicles for drill support, surveying, and light construction activities. Traditionally, there was a choice between large and powerful hydraulic-based ROVs, or small and limited power electric units. SMD aims to bridge the gap with their new Atom work-class ROV.
The Atom work-class ROV combines a smaller footprint with a high workload capacity. The thinner umbilical supplied by TE Connectivity is a natural match in reducing size, saving space, and realizing greater potential.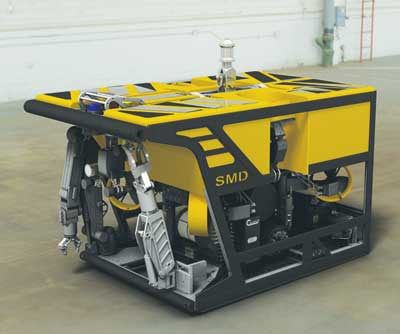 SMD's Atom work-class ROV defines a new class of hydraulically powered device with a compact size.
SMD provides work-class ROVs and other remote intervention equipment for harsh environments. Its new Atom ROV is an ultra-compact ROV comparable in size to high-end electric units but with improved work-class capabilities. The base system is less than 2,000 mm (6.56 ft) long x 1,500 mm (4.9 ft) wide x 1,500 mm high and weighs 1,500 kg (3,307 lb) for the base unit. The hydraulic powered unit accepts a range of tools to make to adapt the ROV for different needs. The Atom can be fitted with a variety of manipulators, grabbers, survey equipment, and other tools. It offers up to 100 hp of hydraulic power, with 36 hp available for tools.
A cross section of the 17-conductor, seven-fiber armored umbilical cable for the Atom.
"As exploration and production companies evolve to smaller ships and rigs, there is increasing interest in compact work-class ROVs," says Mark Collins, manager for the ROV business stream at SMD. "Deck space is limited. The Atom work-class ROV gives operators a space-saving unit, but with capabilities beyond those of comparably sized electric units, offering 50% more thrust and twice the tooling capability."
Smaller umbilical benefits
Saving deck space involves more than just the ROV unit. SMD and the Rochester Cable unit of TE Connectivity worked together to create a lighter, smaller umbilical cable. Umbilical cables can be thousands of meters long, so considerable deck space must be allocated for the reel. Any reduction in cable diameter reduces the size of the winching equipment required. Similarly, smaller cable diameter translates in lower weight.
Reducing the cable size is not a trivial matter. The cable also serves as a lift cable, meaning that it must be able to support the 1,500+ kg weight of the work-class ROV and withstand the dynamic loads of daily operations.
Most of TE Connectivity's cables are custom designed to meet the exact requirements of the customer's application. Application requirements tend to be unique, both in terms of the types of cables in the umbilical and in the mechanical and environmental needs. Umbilicals have various combinations of fiber optics, power, signal, and working loads.
A cross section of the 17-conductor, seven-fiber armored umbilical cable for the SMD Atom work-class ROV shows the following main elements:
Seven single-mode fibers in a single steel tube (FIST), one of the fiber is for the main instrumentation, one is for HDTV, and the rest are spares
Two conductors for cathodic protection
Six conductors for signal and power
Nine conductors for power.
The cables are concentrically arranged in three layers; this structure permits the cable to remain flexible and eases handling. The main armoring for the cable is two outer layers of steel wire.
One key to reducing the size and weight of the cable is the use of thin-wall jacketing and insulation materials. TE pioneered radiation cross-linked insulations. The Atom ROV umbilical cable uses TE SPEC 44 wire, which has thin-wall cross-linked polyalkene insulation. The result is a wire that can be 20-30% smaller and 20-30% lighter than a standard-wall counterpart—while still maintaining, or even improving on, the mechanical, electrical, and environmental properties required for rugged subsea applications.
The final umbilical cable is 27.2 mm (≈1 in.) in diameter and has a nominal weight of 2,460 kg/km in air (or 1,860 kg/km in seawater). The small diameter yields a dynamic bend radius of 500 mm (19.7 in.).
Fiber-optic cables are the obvious choice to carry data over long runs of umbilical cable. The Atom ROV uses Gigabit Ethernet to send and receive data. The high data rates not only accommodate large amounts of data in real time, but also reduce the number of copper conductors required. Only two of the fibers are used for instrumentation, video, and other control and monitoring needs. The rest are spares. Copper signal cables are used for the less data-intensive task of continuity monitoring. Power cables provide high-voltage to the instrumentation, telemanagement, and power to the system.
The thin-wall materials have benefits in addition to size and weight reduction. The cores have a higher temperature rating. The electrical cores in the Atom ROV umbilical are rated to 150°C (300°F), well above the typical 90°C (195°F). The higher temperature rating can further reduce the size of the cable by allowing smaller power conductors. The current rating for a given cross sectional area of conductor is limited by heat generated. Allowable heat levels, in turn, are limited by the wire's insulation. Conversely, the higher temperature rating provides an extra safety margin.
While the higher temperature rating does not mean higher temperatures, it does provide additional safety to deck hands. The cable is less likely to overheat in the event of a short circuit or other error.
The author
With a degree in electrical and mechanical engineering and more than 10 years in the oceanographic and oil and gas industries, Matthew White is sales manager for Subsea Cables, for TE Connectivity, Global Aerospace, Defense & Marine business unit.
More Offshore Issue Articles
Offshore Articles Archives
View Oil and Gas Articles on PennEnergy.com