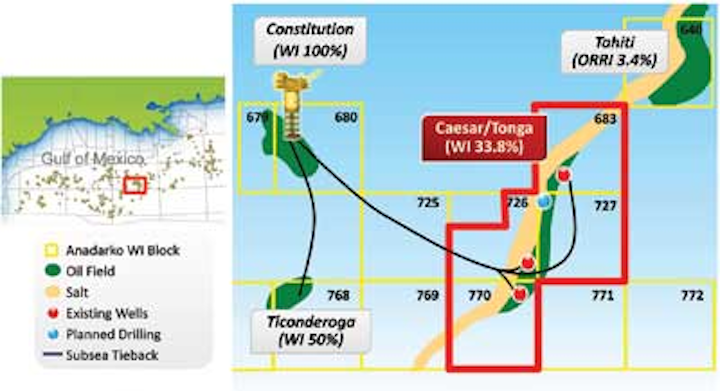 Jessica Tippee
Assistant Editor
First production from the deepwater Caesar/Tonga development not only represents the first application of steel lazy wave riser technology in the Gulf of Mexico, but also exemplifies the region's production resurgence in the post-Macondo era.
Caesar/Tonga lies in Green Canyon blocks 683, 726, 727, and 770 in water depths of about 1,500 m (5,100 ft). Located 190 mi (300 km) from New Orleans, the development consists of three discoveries: Caesar, Tonga, and Tonga West. The discoveries were combined into one project and developed as a subsea tieback to the Constitution spar.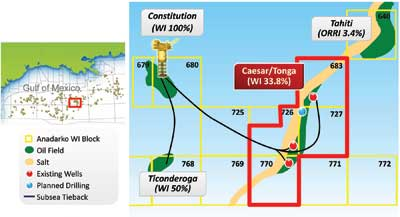 Caesar/Tonga is 10 mi (16 km) to the east of the Constitution spar.
Production began on March 7, 2012, and has increased to more than 45,000 boe/d from the first three subsea wells. As part of Phase 1 development, a fourth well has spudded and is expected to be completed later this year. The area is estimated to hold resources in the range of 200-400 MMboe.
Anadarko Petroleum Corp. operates the $1.3-billion Caesar/Tonga development with a 33.75% working interest. Co-owners in the development are Statoil Gulf of Mexico LLC (23.55%), Shell Offshore Inc. (22.45%), and Chevron U.S.A. Inc. (20.25%).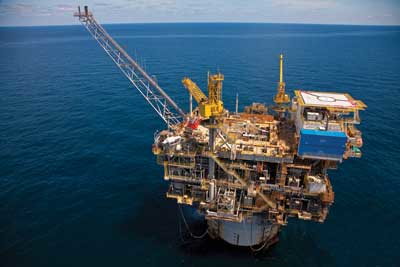 The Constitution truss spar floating production facility is located in Green Canyon block 680. Image courtesy Anadarko.
The Constitution spar is in Green Canyon block 680 in about 5,000 ft (1,524 m) of water. In 2006, Anadarko's 100%-operated floating production facility went onstream with a capacity of 70,000 b/d of oil and 200 MMcf/d of natural gas. The spar also serves as a hub facility for the Constitution field in Green Canyon block 680 in about 1,554 m (5,128 ft) of water, and the Ticonderoga field in Green Canyon block 768 in about 1,600 m (5,280 ft) of water.
In 2009, the company began making modifications to the spar's topsides to accommodate production from the Caesar/Tonga area, approximately 10 mi (16 km) to the east. According to Anadarko, using the hub-and-spoke approach to exploration and development saved the company $1 billion.
The tieback system consists of two pipe-in-pipe insulated oil flowlines connected to two insulated flexible risers that originate from the spar. The offshore pipeline from Caesar/Tonga was attached to the spar using steel lazy wave riser technology. Not only was this project the first in the Gulf of Mexico to utilize steel lazy wave risers, but it was also the first time steel lazy wave risers have been applied with a spar platform.
Anadarko awarded Technip two lump sum contracts for the deepwater project. The first contract covered the design, supply, and installation of the components for four pipe-in-pipe flowlines totaling 27 mi (43 km). It also included the design, fabrication, and installation of eight pipeline end terminations. Technip's operating center in Houston executed the contract. The pipe-in-pipe flowlines were welded and assembled at the group's spoolbase in Mobile, Alabama. Offshore installation was carried out with the company's deepwater pipelay vesselDeep Blue.
The second contract covered the project management, engineering, and fabrication of two control umbilicals and associated termination hardware. This contract was executed by Duco, Technip's wholly owned subsidiary in Houston. The umbilicals were manufactured at the company's plant in Channelview, Texas. Aspen Aerogels supplied Spaceloft aerogel thermal insulation for the subsea tieback.
Subsea 7 received an engineering, construction, and installation contract for two manifolds and two riser base pipeline end manifolds. The company also transported and installed two flexible risers, and fabricated and installed 10 jumpers, two main umbilicals, and associated flying leads. In 2006, Kerr-McGee Corp. (now Anadarko) drilled a discovery on the Caesar prospect, located in 4,500 ft (1,372 m) of water in Green Canyon block 683. The discovery well, Caesar No. 1, was drilled to a total depth of 29,721 ft (9,059 m) and encountered quality oil pay. In 2007, the company drilled an oil discovery at its West Tonga prospect on Green Canyon block 726 in 4,700 ft (1,433 m) of water. The discovery well, drilled to TD of 25,680 ft (7,827 m), encountered more than 350 ft (107 m) of net oil pay in three high-quality subsalt Miocene sands. The Caesar/Tonga development was sanctioned on April 2, 2009.