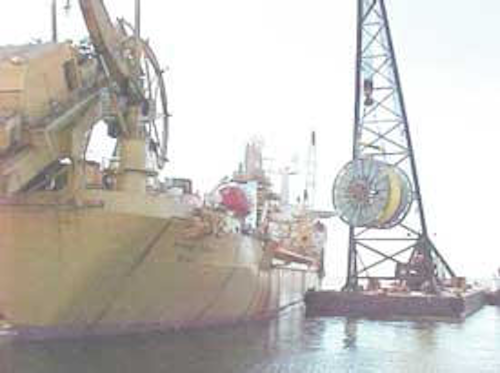 Stolt completes Einset installation
Stolt Offshore completed a deepwater subsea-to-subsea installation, including one flowline and one umbilical, for Shell's single-well Einset project in the Gulf of Mexico. Bjorn Koi, Stolt's project manager, said such installations are unusual in the industry, but may become more prevalent as developments move into deeper water. To date, most subsea tiebacks have been supported by host platforms in shallower water.
"In the case of Einset, we tied back a new deepwater well to existing subsea infrastructure, also located in deepwater. This achievement demonstrates how the industry is applying proven technology while effectively utilizing deepwater construction vessels, such as Stolt's Seaway Falcon," said Koi.
The Shell Einset well is located in 3,463 ft water depth on Viosca Knoll Block 872. This was the deepest pipelay to date for the Seaway Falcon multipurpose vessel. The Stolt crew completed the umbilical and flowline installation project in a single mobilization, using the J-lay installation method. Incorporating the use Stolt's Serimer Dasa Saturnax automatic welding system on board the Seaway Falcon, the crew assured the quality of the welds, without any repairs required. From Einset, the Falcon installed a 6-in. diameter flowline 5.3 miles to lay down at the SE Tahoe 1 satellite well in 1,800 ft water depth.
The Falcon also installed 7.4 miles of Shell's EH umbilical from Einset to Shell's Tahoe UTS facility in 1,500 ft water depth. Stolt installed the umbilical from a reel on deck through the Falcon's flexible lay system (FLS) situated above the vessel's moonpool. The SE Tahoe 1 well and Tahoe UTS facility tieback to an existing Shell-operated platform on Main Pass Block 252 in 276 ft water depth.
Stolt began the fast-track Einset project in early August 2001, mobilized its vessels and equipment by mid-October, and successfully completed the project by Oct. 31, as scheduled.
Atlantia awards Gulf Marine Matterhorn contract
Technip-Coflexip Group said Atlantia Offshore Limited awarded Gulf Marine Fabricators a fabrication contract for the Matterhorn dry-tree tension leg platform (TLP) topsides facility and foundation piles in the US Gulf of Mexico. GMF is an entity of the Technip-Coflexip Group. The work scope includes procurement, fabrication, and outfitting of a 6,000-ton topsides facility with a height of 18.9 meters and an area of 5,900 square meters. The scope also includes the fabrication of six piles each 96 in. in diameter and 415 ft long. The piles have a total weight of 2,100 tons. The mini-TLP platform will be installed at Mississippi Canyon Block 243 in 2,800 ft water depth.
GMF will perform this work at its North Yard located in Aransas Pass, Texas. The topsides work will commence in 1Q 2002 with completion in May 2003. The pile work is also scheduled to start during 1Q 2002 with a completion date in July 2002.
Over the past few years, GMF has invested in improvements and upgrades to its North Yard facilities. These upgrades include the addition of a large covered fabrication building, blast and paint buildings, a new underground utilities grid, concrete deck erection pads, and substantial dockside improvements.
FMC tapped for Gunnison trees
FMC Energy Systems business has been chosen by Kerr-McGee Corp. to provide subsea trees and associated services for the Gunnison Field area project in the deepwater Gulf of Mexico.
Located in water depths greater than 3,100 ft, Gunnison includes Garden Banks Blocks 667, 668, and 669. Gunnison will be developed using a truss Spar similar to those used in the development of Kerr-McGee's Nansen and Boomvang fields in the deepwater Gulf of Mexico. FMC Energy Systems provided equipment for those developments as well. The Gunnison Spar will be designed for production of 40,000 b/d of oil and 200 MMcf/d of natural gas. Initial production from the development is expected in early 2004. The subsea tree system for Gunnison is expected to be produced at FMC Energy Systems' facilities in Houston. Delivery of the trees is scheduled to commence in 4Q 2002.
In a related matter, J P Kenny has been awarded a contract by Kerr-McGee to conduct detailed engineering and design of subsea tiebacks for three wells in the deepwater Gulf of Mexico. The contract encompasses the design of two tiebacks, the first for the Durango and West Gunnison wells and the second for the East Gunnison well. The tiebacks will be located at 3,100 ft water depth, adjacent to Kerr-McGee's Gunnison truss Spar in Garden Banks Block 668. Rigid pipe flowlines will be designed to accommodate gas with an expected flow rate of 30-50 MMcf/d from each well. The flowlines will be rated for 8,000 psig. The project runs through October 2003.
New Cabett Subsea facility
Cabett Subsea Products is in the final construction phase of a new subsea umbilical manufacturing facility in the Port of Freeport, Texas. The facility will incorporate state-of-the-art equipment and controls along with three, 1,000-metric-ton processing/storage carousels. The location, adjacent to a 1,200-ft-long wharf with 40 to 60-ft water depth, allows direct loading and unloading of umbilicals and related equipment to most lay vessels operating today. This facility greatly increases the capabilities for larger and longer umbilicals of all configurations while allowing Cabett to service and optimize delivery for marginal field developments. The plant facility should go into operation this month.
Halliburton wins umbilicals work
Halliburton Subsea has been awarded a contract for the transportation and installation of a steel tube umbilical for Shell's Coulomb project on Mississippi Canyon in the Gulf of Mexico. The contract will be performed in conjunction with the umbilical works previously awarded to Halli-burton Subsea by Shell for its Nakika Field Development. The 27-mile steel tube umbilical will be loaded out in a single length from Nexan's manufacturing facility in Norway onto Hallibur-ton Subsea's deepwater umbilical installation vessel, MSV Toisa Perseus, at the same time as the nine Nakika umbilicals are being loaded. The project involves the installation of more than 75 miles of steel tube umbilicals on the Nakika and Coulomb projects in up to 7,600 ft water depth.