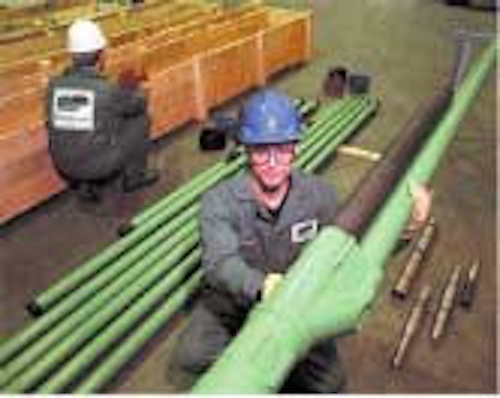 Subsea well abandonment tool
A four-well abandonment campaign for Amerada Hess using the innovative subsea well abandonment tool (SWAT) has been completed. This tool was developed by the UWG Group that was recently awarded the Institute of Petro-leum's prestigious International Platinum Award for the achievement with the most impact setting new benchmarks for the oil and gas industry.
This was the latest in a number of well abandonment campaigns carried out for a variety of operators in recent years. The knowledge and expertise in well abandonment from a DSV contributed to the campaign's successful completion within schedule, despite the many challenges of mobilizing during the winter in waters West of Shetland and in the Northern North Sea.
The tool was developed in response to the growing need to abandon redundant wells in a safe, reliable, economic, and environmentally sensitive manner. It was specifically designed to enable the abandonment of previously suspended subsea wells without the use of a drilling rig. The tool locks into the casing, thus eliminating the need to be designed around a wide variety of wellhead configurations. It provides pressure control, if required, and facilitates perforating and cementing of the annuli and bore in a controlled manner.
Designed to comply with a double-barrier isolation policy, an additional safety feature includes the ability to disconnect from a well while leaving the barriers in place. Work can restart either from the vessel used initially or a rig if required as a result of unforeseen well conditions.
Deployment of the SWAT from a wide range of vessels enables access to permanently abandon suspended wells in remote locations worldwide without the use of divers or a drilling rig. This results in significant cost savings.
This approach to rigless well abandonment and intervention is aimed at testing both the commercial and technical boundaries of the industry. This tool has enhanced deliverability of cost-effective abandonment and intervention solutions.
Company designs and manufactures artificial lift Y-tool
A successful start with an installation in Shell Expro's Tern Field has launched a new oil and gas specialist company in Aberdeen. Pumptools has entered the electrical submersible pump (ESP) systems accessories market. Set up at the end of 2000, this company provides ESP users and suppliers with a portfolio of systems, completions, and accessories that keep pace with the continual improvements in artificial lift and well technology.
In concert with Baker Hughes Centrilift and Shell Expro, a Y-tool bypass system was undertaken for the Tern field with design changes that exactly suited their specification. The design and manufacturing met the rapid timescale that was required for the task. The time from initiation to start-up in the field was 12 weeks. This was half the usual time, and was due to the expertise and support of the team.
Once installed, the Y-tool allows any necessary well intervention, such as logging data, by using the bypass tubing system that the Y-tool supports. The system can be configured to suit any well environment knowing the well chemistry, temperature, and the completion requirement.
Compact repeat formation pressure tester
A new testing device called the Compact Repeat Formation Pressure Tester (MFT) launched following well trials carried out in the UK and the subsequent completion of successful operations in Europe and the US. The MFT developed by Reeves Oilfield Services provides the ability to determine in-situ formation pressures at several points along a well during one run, and is capable of being run in a broad range of well types, including low and high-angle, horizontal wells, and wells with restricted access.
The setting mechanism closes to a diameter of 2 3/4-in., which gives the tool the unique ability to pass restrictions smaller than 3-in. in diameter and to seal wells smaller than 4-in. diameter, yet it is also able to open to over 11-in.
This design enables the MFT to access restricted entry wells and makes it ideally suited to re-entry work, sidetracks, and for use in through-tubing drilled and coiled-tubing drilled wells.
It is operated from a compact, PC-based, surface unit. This enables the system to be quickly mobilized. It can also operate on a wide range of third party wirelines, including single core cable. Specialists are not needed to run or maintain the tool. This is likely to encourage the acquisition of pressure data in a broader range of circumstances.
During trials, the tool was run initially in its 2 3/4-in. diameter configuration in two 8 1/2-in. bit size wells. These were followed by a series of 7 7/8-in. diameter wells, and a slim hole 3 7/8-in. well which was logged on a third party monocore cable. Good seals and drawdown curves were achieved in all wells. Measure-ments in 8 5/8-in. casing confirm the ability of the tool to drawdown to near-vacuum.
Long-term protection from scale deposition
A novel scale prevention service offering long-term protection from scale deposition has been introduced. The ScalePROP service is a single treatment. It minimizes the need for a series of subsequent squeeze treatments by effectively placing sufficient quantities of scale inhibitor deep into the formation. ScalePROP services were deployed on three treatments in the North Sea and one in the Gulf of Mexico. Schlumberger Well Services stimulation expertise is combined with Clariant chemical expertise in scale control to provide this treatment service.
A proactive approach to the scaling problem enables wells to perform better and longer, and to achieve higher potential. This technology has extended treatment life, which is now practical for deepwater subsea wells that often are too expensive to squeeze.
Use of conventional methods in such wells usually results in short treatment life with the need for regular workovers. Such workovers can be prohibitively expensive, especially in subsea or deepwater wells.
This treatment, which is deployed in combination with hydraulic fracturing, provides controlled protection that inhibits scale longer than conventional chemical squeeze treatments. A core component is a porous ceramic proppant impregnated with scale inhibitor. The treated proppant maintains conductivity of the pack, inhibits scale deposition, and keeps the formation and tubulars free from common scale types.
The treatment service integrates candidate identification, treatment design, and execution, along with post-treatment monitoring of the inhibitor return. Post-treatment monitoring ensures the completion remains scale-free by providing timely signals of protection loss so that the well can be re-treated.