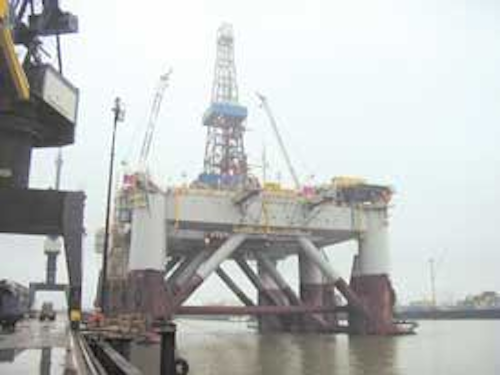 First electric BOP crane
Noble Drilling has asked R Stahl to develop the world's first electric blow out preventor (BOP) crane. Cranes are used to install BOP over the borehole on the seabed. The BOPs weigh about 150 tons and must be placed with an accuracy of millimeters. This requires an installation crane that is reliable and easy to control.
Because these operations take place offshore in potentially explosive atmospheres, such cranes have always relied on hydraulic technology. While safe in such an environment, hydraulic cranes require a great deal of maintenance, can be expensive to use, and create their own safety problems. Weighing these concerns, Noble requested an electric crane be installed on its semisubmersible Ton van Langeveld, which was due for an overhaul in Aberdeen.
R Stahl engineers inspected the rig in Scotland and learned that the space available for the new crane was substantially smaller than expected.
The designers thus opted for a 150t safe working load (SWL) BOP crane. It features two explosion-proof electric overhead traveling BOP hoist units. These units are a double-rail, under-slung design, arranged to run along the bottom flanges of the twin deck beams. The crab traverse drive is of the rack and pinion type, while each crab is fitted with eight, single-flanged runner wheels. Each is driven by twin Stahl EEx de-geared motor units traveling along a machined rack. These ensure a positive drive for operation in suitable sea states. The two crab units are tied in tandem to give the combined lifting capacity of 165 t. Each BOP unit consists of twin Stahl AS 7100-8 Ex hoist units in a ZW configuration, lifting on eight falls of wire rope from twin barrels.
To overcome the problem of slacking, the grooving on the winding barrels is fitted with a patented, robust two-piece rope guide-tensioning unit. The guide completely encloses the circumference at the position the rope leaves the barrel for the bottom hook unit. The rope leaving or winding onto the barrel passes through a slotted hole in the guide and the complete unit travels along the grooved section, ensuring complete rope layering while retaining rope tension at all times.
For safety, the hoisting unit is fitted with an overload device that operates when 110% of SWL is lifted. The load cannot be lifted further when this device operates. In such a situation the overload device trips as soon as the load is tensioned, but this excess load can still safely be lowered to the floor. A warning klaxon sounds as long as the overload condition continues.
The electric motors are Stahl-designed with motor windings insulated to Class F VDE 0530. Each motor is fitted with a temperature-limiting control by means of thermistors embedded in each phase of the motor windings. Due to the repeated switching encountered in hoist operations, in combination with full-load cycle duty, thermistor protection is essential to keep explosion-proof motor temperature within the certified rating. Ambient protection of motor enclosures meets IP66/DIN 40050. The motors are enclosed in EExd explosion-proof enclosures with connection enclosures that meet increased safety EExe standards. Anti-condensation heaters are fitted to all motors.
Each motor is fitted with an integral, axially operated conical brake, arranged to provide brake performance relative to the hoist or wheel loads. The brake fitted to the hoisting motor includes thermistor protection.
The new design also boasts a lifting height of 13.5 m, lifting speed of 2 and 0.33 m/min, and travel speed of 10 and 1.6 m/min. The whole unit is explosion protected to Zone 1fEEx de IIB T4.
Expro Group lands contract
The Expro Group was awarded an exclusive, three-year contract from FMC Kongsberg Subsea to supply subsea landing strings to Norsk Hydro for all new subsea field developments. The frame agreement, which includes Vale and Fram Vest in 2002, will take advantage of the Expro Group's latest Enhanced Landing String Assembly (ELSA) subsea technology.
Vale, located near the Heimdal Field in the Norwegian North Sea, will be the first field development included within the frame agreement. It will be followed later this year by the Fram Vest development. Fram Vest is located about 20 km north of the Troll C platform in the Norwegian North Sea in approximately 1,180-ft water depth. Within this project, Expro will supply and deploy monobore ELSA tooling for the development of five subsea wells. Further subsea field developments will be announced by Norsk Hydro.
Within the workscope, Expro will supply and deploy ELSA, its latest generation of landing strings, to interface with FMC's horizontal Christmas trees. These landing strings will act as the main subsea safety barrier between the well and the surface during completion of wells, and will enable safe workovers in the wells in the future.
First introduced to the market in 2001, ELSA is designed and manufactured to API 14A. Expro is currently building new ELSA tooling to fulfill the Norsk Hydro frame agreement. As holder of the Norsk Hydro Subsea frame agreement, FMC Kongsberg Subsea AS is the main systems provider for subsea completion and production systems to Norsk Hydro for all its new subsea field developments.
Gas compression package
Australian company Refrigeration Engineering produced a made-to-order fuel gas compression package for use on a Middle East gas platform.
The package delivers compressed fuel gas at a designated pressure, flow rate, and temperature to a gas turbine within the hazardous environment of a gas platform.
The A$1 million package will compress sour gas, so carbon steel pipework with specific hardness properties, known as NACE, was used to prevent sulphide cracking.
The package was produced on a tight delivery schedule and was designed, produced, tested, inspected, and dispatched within 23 weeks for Kværner Process Systems from Malaysia. Kværner is providing specific equipment for the platform. The platform is currently in production in Singapore by Sembawang Marine and Offshore Engineering. The final customer for the package is TotalFinaElf.
Enterprise sensor contract
Wood Group Production Technology (WGPT) was selected by Enterprise Oil and Dril-Quip to provide wellhead sensors for Enterprise's Bijupirá and Salema Project in the Campos Basin off Brazil. Twenty-six sensors were to be delivered during a three-month period that began in January.
WGPT's wellhead sensors feature a modular design that simplifies manufacturing processes while allowing modifications to meet specific customer requirements. The modular designs also allows for a variety of combinations of sensors and data outputs. The high accuracy wellhead sensors incorporate many of the features that WGPT has developed to improve downhole gauge reliability with the ROC permanent gauges.
"We're very pleased to be working with Enterprise and Dril-Quip on this project," stated David Blacklaw, general manager of Wood Group Production Technology. "The award of this contract follows the success of several Gulf of Mexico projects with Dril-Quip and shows the ability of both companies to work together to provide the customer with a fully integrated product."