Aramco selects EMAS CHIYODA Subsea-LTHE consortium
Saudi Aramco has awarded the EMAS CHIYODA Subsea and Larsen & Toubro Hydrocarbon Engineering (LTHE) consortium a $1.6-billion EPCI contract for the second phase of the Hasbah gas field in the Arabian Gulf.
Aug 11th, 2016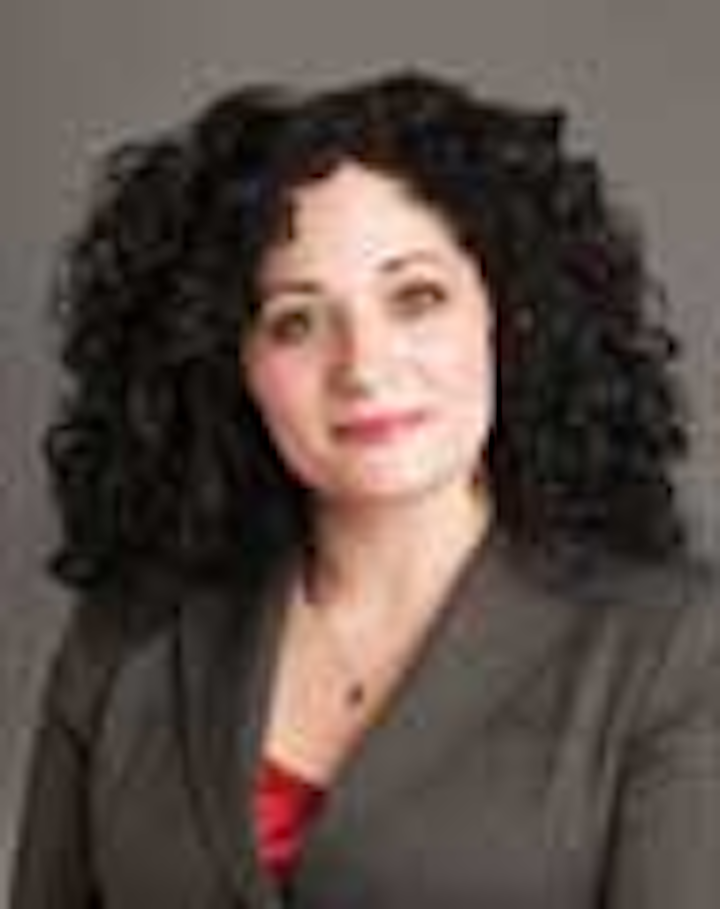 | | | |
| --- | --- | --- |
| | | Sarah Parker Musarra Houston |
Saudi Aramco has awarded the EMAS CHIYODA Subsea and Larsen & Toubro Hydrocarbon Engineering (LTHE) consortium a $1.6-billion EPCI contract for the second phase of the Hasbah gas field in the Arabian Gulf.
The consortium will be involved in the construction of two streams of three wellhead platform topsides, one tie-in platform with flare platforms and bridges tied together by 20 km (12 mi) umbilicals and 25 km (16 mi) of in-field pipelines. Other works include interconnections of two 36-in. trunklines to transport produced gas from offshore to the Fadhili gas plant, complete with 110 km (68.4 mi) of fiber optic and power cables for power and communication network with the onshore facilities.
The installation of onshore facilities such as a beach valve station, a sectionalizing valve station and four scraper traps will also be executed as part of the contract. The onshore engineering and fabrication component of the project has commenced and the offshore execution phase is expected to begin in 4Q 2017.
Dril-Quip secures Indonesian job
Dril-Quip Asia Pacific and its local representative have won a $40-million contract to supply subsea drilling and production equipment and related services for the development of the Terang/Sirasun/Batur gas fields offshore Indonesia. Kangean Energy Indonesia, working on behalf of SKK Migas, issued the contract. Dril-Quip will provide subsea wellhead systems, subsea tree systems, subsea control systems, and other equipment.
Heerema contracts Oceaneering
Oceaneering International has entered into a master service agreement with Heerema Marine Contractors (HMC). Between now and December 2020, Oceaneering will provide up to 10 ROVs with associated subsea tooling, engineering, and technicians to support HMC's fixed and floating platform installations, platform decommissioning, subsea infrastructure, and pipeline installations.
The ROVs will be installed onboard HMC's deepwater construction vesselsAegir, Thialf, and Balder; the semisubmersible crane vessels Hermod and Sleipnir; and other support vessels.
HIPPS delivered to Lakach
Frames and partner Mokveld have completed two high integrity pressure protection systems (HIPPS) for PEMEX's Lakach field gas collection station. This is said to be one of the first-ever certified HIPPS in the offshore Mexico sector. Arendal, which is responsible for constructing the gas gathering plant for the deepwater Lakach field, assigned the contract to Frames. The HIPPS will protect the gas collection station against high pressure in the event of a pressure control valve failure.
Apache chooses Wood Group
Apache has awarded Wood Group a master service agreement (MSA) contract in the North Sea.
The contractor will continue to provide subsea engineering and consultancy services supporting Apache's routine operation and maintenance works, as well as detailed engineering for future subsea developments in the Forties and Beryl areas, the offshore Scottish Area Gas Evacuation (SAGE) pipeline and the onshore SAGE facility at St, Fergus, eastern Scotland.
The contract carries two one-year extension options.
Wood Group has held this service agreement with Apache since 2012 and has worked on projects such as the Forties Subsea Isolation Valves program, the Aviat development, and most recently the Ness Nevis development.
OneSubsea expands order book
OneSubsea was recently awarded two sizeable contracts. The Schlumberger company first announced an engineering, procurement, and construction contract totaling more than $170 million from Belayim Petroleum Co. (Petrobel). to supply the subsea production systems for the first stage of the Zohr gas field in the Shorouk concession offshore Egypt.
The scope of the Zohr contract includes six horizontal SpoolTree subsea trees, intervention and workover control systems, landing string, tie-in, high-integrity pressure protection system, topsides and subsea controls and distribution, water detection and salinity monitoring provided by the AquaWatcher water analysis sensor and installation and commissioning services. The FasTrac program comprises a strategic inventory capability with the flexibility to configure the system to the customer needs and deliver on a fast turnaround.
This award follows an accelerated front-end engineering and design study by OneSubsea in which a multidisciplinary team collaborated with Eni and Petrobel to develop the subsea equipment architecture and control system to validate handling of high gas volumes, considering reservoir characteristics and subsea equipment specifications.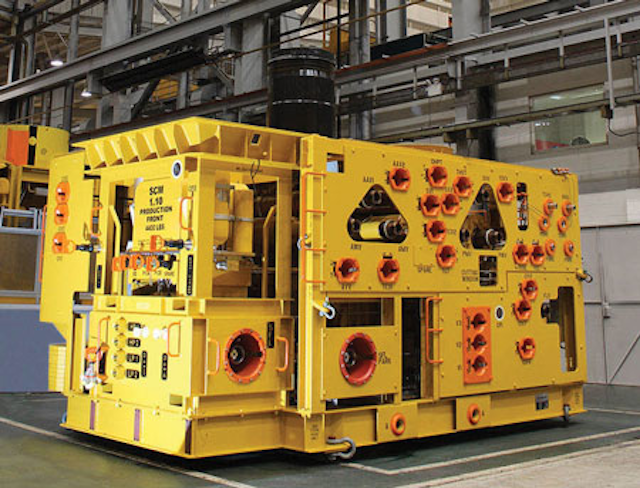 OneSubsea SpoolTree horizontal subsea tree systems are available for 10,000-psi shallow-water environments and 10,000-psi and 15,000-psi deepwater environments. (Image courtesy Schlumberger)
Mike Garding, president of OneSubsea, said: "Zohr is one of the largest gas fields discovered in the Mediterranean Sea to date, and is also the world's second-longest step-out, a distance greater than 150 km (93 mi). This step-out will be enabled by OneSubsea controls systems with fiber-optic communications technology."
Weeks later, Woodside Energy Ltd. granted OneSubsea an engineering, procurement, and construction contract totaling around $300 million to supply a subsea production system and a dual multi-phase boosting system for the Greater Enfield project offshore northwest Australia.
The Greater Enfield contract includes six horizontal SpoolTree subsea trees, six horizontal trees for the water injection system, six multi-phase meters, a high-boost dual pump station with high-voltage motors, umbilical, topsides, subsea controls and distribution, intervention and workover control systems, landing string, and installation and commissioning services.
Woodside Energy and Mitsui E&P Australia sanctioned the Greater Enfield development in June. The $1.9-billion project is targeting 69 MMboe from the Laverda Canyon, Norton over Laverda, and Cimatti oil accumulations, 60 km (37 mi) offshore Exmouth. First oil is planned for mid-2019.
The development is planned to have six subsea production wells and six water injection wells. Production will be supported by subsea multiphase booster pumps in the Laverda area and gas lift in the Cimatti area. All will be produced via a 31-km (19-mi) subsea tieback to the FPSONgujima-Yin serving the Vincent oil field.