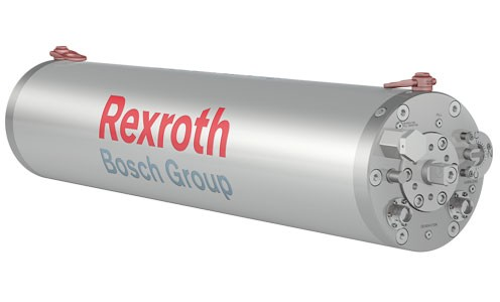 (Courtesy Bosch Rexroth)
Bosch Rexroth has developed the Subsea Valve Actuator (SVA) to address operational issues associated with electromechanical or electrohydraulic actuators on the seafloor, which typically require large, central hydraulic power units above water.
Fluids supplied to the actuators must pass through long-length umbilicals, which can add complexity and expense to the production system. In addition, the long lines and couplers can potentially leak fluid into the sea.
Purely electro-mechanical solutions, the company claims, do not allow mechanical intervention for adjustment from the outside. Due to friction, mechanical wear occurs on the force-transmitting system, making it difficult for the systems to achieve their expected 25-year operating time without maintenance.
SVAs are autonomous assemblies with their own fluid circuit and a variable-speed pump drive, with no need for a central power unit or long fluid lines, only a power supply and data line. A displacement control system adjusts the flow virtually loss-free depending on the speed. This, the company claims, simplifies the design and increases energy efficiency: compared to purely electro-mechanical actuators, SVAs are said to consume up to 75% less electricity at peak loads.
The integrated cylinder opens and closes drilling valves on the seabed. A safety valve with a mechanical spring is said to ensure the cylinder closes the drilling valve reliably without an external energy supply, even if the power supply fails. It is also possible for an ROV or AUV to operate the cylinder from outside via a spindle. And all components in the drive-train are engineered for double redundancy.
The built-in sensor system, which is compatible with Industry 4.0 technology, continually records operating states within the actuator such as position, temperature and pressure, and forwards the data to the higher-level control system. The latter can evaluate trends and detect/rectify deviations from the normal operating state early on, lessening the likelihood of downtime and enabling predictive maintenance to be scheduled where necessary.
At OTC this year, the SVA received the Award of Merit as one of five finalists in the 2019 Woelfel Best Mechanical Engineering Achievement Award. •