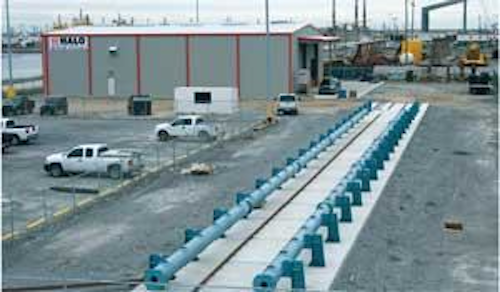 Halo LLC is using advanced technology as an integral component of its "Life First" safety initiative.
One of the newest companies to locate in Port Fourchon, Louisiana, the provider of wire rope, chains, slings, and related industrial equipment for the offshore has incorporated Radio Frequency Identification (RFID) technology to ensure traceability of all its products. President and owner Ken Ragusa says that unlike the traditional stainless tagging systems popularized in the 1980s, RFID eliminates human error and instantly advises clients when slings and other industrial products are scheduled for safety inspections.
"This is revolutionary technology and is keeping with what the industry wants and needs," Ragusa says. "We listened to our end users and they want total traceability and we want to modernize the industry by using innovative and creative technology to ensure our goal of keeping 'Life First'."
While RFID tracking tags can be found in everything from passports to people, it was only a few years ago that they made their way into the oilfield. Today, closed-loop RFID systems provide 100% computerized and transparent record keeping, which helps end users minimize mistakes and speed up the typically tedious tracking process.
"This technology can be added to any product we fabricate, test or inspect," says Ragusa. "It eliminates paperwork, helps clients maintain compliance, and ensures total traceability of our products. More importantly, it strengthens our commitment to keeping 'Life First' as opposed to 'Safety First.' I am very passionate about safety and this is in keeping up with what the industry wants," says Ragusa.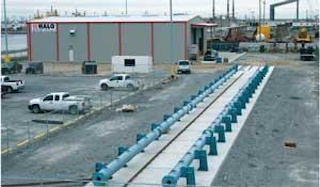 The Halo LLC facility in Port Fourchon is equipped with a 3-million lb (1,361-metric ton), 220-ft (67-m) load test bed to test all sizes and types of mooring lines and heavy-lift slings.
Click here to enlarge image
Founded in 2007, Halo opened its 11,000-sq ft (1,022-sq m) rigging warehouse and fabrication shop at the 25-acre InterMoor facility in December 2008. The facility is equipped with a 4,000-ton (3,629-metric ton) hydraulic swaging machine able to press up to 6-in. (15-cm) wire rope, and seven spooling units capable of handling up to 300,000 lb. In addition, the facility houses a 3-million lb (1,361-metric ton), 220-ft (67-m) load test bed with an 11-ft (3-m) stroke capable of testing all sizes and types of mooring lines and heavy-lift slings.
In addition to slings, wire rope, and related products, the Halo Offshore Equipment Sales and Rental division also offers heave compensation units, ROV handling systems, and abandonment and recovery winches, among other items. Complementing its product offerings are onsite and in-house inspection and training services.
"As a company, we believe it is our responsibility to educate and train our customers to make sure they know how to handle our products in a safe manner," says Ragusa. "We feel our responsibility for that product does not end when it is delivered to the customer."
In late 2008, the company went global when it formed a strategic alliance with Gaylin International PTE Ltd. of Singapore. The agreement calls from Halo to market Gaylin's heavy-lift cable-laid slings and grommets in the Gulf of Mexico and Atlantic basin while Gaylin, in turn, will do the same with Halo products in the Pacific Rim.
"Our goal is to become a full-service deepwater rigging and testing center," Ragusa says.