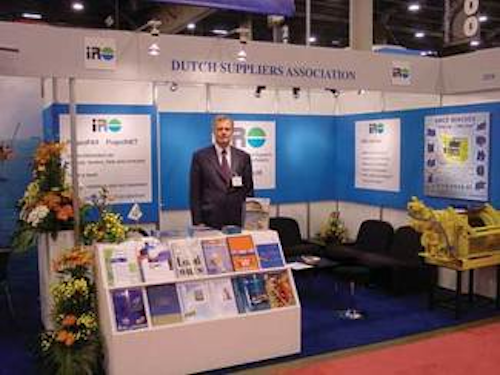 Jeremy Beckman, Editor, Europe
Since 1971, IRO, the Association of Dutch Suppliers in the Oil and Gas Industry, has been the main association promoting the interests of Dutch supplier and service companies in the upstream sector. Membership has soared in recent years, with 20 joining in the first half of 2007 alone.
"Right now we're at 320, and my target is to bring in as many new members as possible," says Hans de Boer, IRO managing director. "The latest influx includes small and large companies from all sectors wanting to jump on the oil and gas bandwagon. But there are also some small niche players with special products and ideas that are becoming active. We have seven full-time staff attending to their various needs."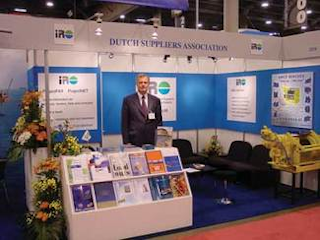 IRO Managing Director Hans P. de Boer.
Click here to enlarge image
For many of these entrants, membership in IRO brings exposure to new markets via group participation at the major trade shows. So far this year, IRO has taken stands at the Iran Oil Show, OTC, and the European Wind Energy Conference, which was held in Milan.
After Offshore Europe in Aberdeen, a 25-strong Dutch contingent will head to Almaty in October for KIOGE in Kazakhstan. This will be combined with an official trade mission led by the Dutch Minister for Economic Affairs. The mission is designed to forge links with Kazakhastan's government and local offshore/onshore operators.
Last fall, IRO organized similar trade missions to Aberdeen and Kuwait, with another delegation making presentations this spring to shipyards and operators in Singapore and Malaysia. "All these missions include matchmaking programs with the local suppliers," adds de Boer.
Insurance burden
Within IRO, numerous working groups also address the concerns of members in specialist sectors. One of the chief preoccupations of the Personnel Services and Well Services Groups at present is proposed EU legislation concerning changes to social insurance, which could affect staff of all companies working on the Dutch shelf.
According to De Boer, the work directive on social security insurance states that everyone working in an EU country must be fully insured in accordance with the local insurance system. Brussels is trying to extend this rule to operations on the Dutch continental shelf, which would also affect contractors such as Weatherford and Schlumberger bringing in staff from another country in Europe or elsewhere. In certain cases, the added administrative burdens could double social security costs.
The directive was originally due to come into effect on Jan. 1, 2007, but IRO successfully lobbied the Dutch Ministry of Social Affairs to postpone implementation. Talks are continuing in an attempt to modify the terms of the legislation.
IRO's Export Group staged four sessions in 2006 that included presentations on doing business in China and Iran. "This group allows companies to get together in an informal setting with the idea of exchanging information on export projects," de Boer says, "and maybe working together on these projects, strengthening opportunities for collective tenders.
"What we're finding lately, however, is that everyone is so busy, with companies in some cases booked up on projects through 2009-10. Because of this heavy workload and the general shortage of skilled technical staff, there is a lack of interest in new markets or new activities."
These days, he adds, doorstep projects in the Dutch North Sea are relatively small and are of interest mainly to maintenance and service companies, rather than mainstream oil and gas contractors. "The problems on the Dutch shelf date back four or five years ago to the government's abolition of Depreciation at Will for production assets. We are supporting the Dutch operator association Nogepa in lobbying the government to restore this measure as a way of stimulating new activity.
"There are so many smaller gas pockets on and offshore The Netherlands being left unused. We think this is a shame, but they are too small to be developed on a commercial basis at present prices without fiscal support. Right now, we still have a comprehensive infrastructure of platforms and pipelines that could be used to develop these pockets. But most of that infrastructure is 25-30 years old, and if you don't use it, it could become too expensive to operate."
Last year, the government split state gas distributor Gasunie into two new companies, one of which is operating and maintaining the Dutch gasline network. This could improve access to spare capacity. There have also been discussions concerning a second BBL pipeline taking gas from the Netherlands to the UK.
IRO's Safety and Training Group has been working with Nogepa on another project to revise their offshore safety training manual. One of the two parties' main concerns is helicopter underwater escape training. "There was a helicopter crash in the Dutch North Sea at the end of last year," de Boer says, "but fortunately, all the crew survived.
"Partly as a result of that incident, we want to move towards standardization of safety procedures for helicopter flights. The UK, Norway, and the Netherlands currently each have their own requirements, but ideally, our members don't want to have to switch from one training course to another if working in different countries."
R&D exchange
Since the trans-European Eurogif oil and gas R&D program ended in 2005, IRO has maintained links with counterpart organizations in Norway, the UK, and Denmark. "We meet twice a year for an informal exchange of information," de Boer explains.
Over the past year, IRO has strengthened ties with the Aberdeen-based Industry Technology Facilitator (ITF). The latter is considering co-opting Dutch suppliers into UK industry-funded new technology projects.
ITF will also attend the IRO Innovation Event in Delft in October. Unlike the previous event in 2005, which featured numerous presentations of individual technology projects, the focus this time will be on fostering a climate for innovation in the Netherlands.
"There are some positive developments too on the government's side. They are now making funds available for technology development. Recently, they approved a grant of €39.5 million for maritime innovation, under the Omnibus scheme. Part of that budget will be available for offshore oil and gas projects. The two themes that have been nominated are deepwater E&P and the LNG chain.
"The question now is what do we do with the money? So a committee has been set up to coordinate the whole thing and to decide how much should be apportioned to new projects. The industry also has to come up with proposals."
As for the skills crisis, IRO and Nogepa co-funded a recent survey by an external consultant into the staffing needs of the associations' various members. "Everybody has been screaming for skilled people, but no one knows the actual figures required. We have also been looking at what is on offer in the market - what training opportunities the technical colleges and universities are offering for careers in the oil and gas industry. How many students do they attract? How many would they like to get?"
The next phase of this program will be to determine what actions should be taken. "One of our first tasks will be to try to improve the image of the industry, which is seen as dirty and demanding too much overtime. We have to explain that it can also be a lot of fun and an adventure. And we want to standardize the whole oil and gas education and training system because people are setting up more training initiatives than there are students. We need to come up with more structured training courses which would also be recognized by Nogepa," de Boer says.
IRO conducted another joint study last year with the Port of Rotterdam concerning the city's role as a service center for the upstream oil and gas industry. "The main conclusion was that Rotterdam is an attractive center for companies specializing in maintenance and modification of equipment.
"Several local contractors such as Huisman-Itrec, Mammoet, and Keppel Verolme are active in upgrading floating equipment. The IHC Holland Merwede shipyards are also busy at present, building two pipelay vessels for Subsea 7 and a new crane vessel for Seaway Heavy Lifting. There are quite a lot of offshore companies that like to be based in the area, in fact, despite the poor transport infrastructure locally, particularly road congestion.
"However, the study concluded that as an offshore supply base for the Dutch shelf, Rotterdam is too far out - IJmuiden and Den Helder to the north are better placed - and that Rotterdam should focus instead on promoting itself as a service center."
More sites could become available at the second Maasvlakte, a new government-initiated project to reclaim land for further development of Rotterdam harbor. "Also, the Port of Rotterdam is planning to dredge a deep pit for testing and maintenance of very large offshore structures. There is an existing pit, but it's in the wrong location. The new one will be 35 m (115 ft) deep."
This study was written by the energy department of Ernst & Young. "We are now looking at sponsoring an update of this work, to see where new opportunities might be. We are also setting up a regional network of IRO in and around the Rotterdam area, with a view to improving co-operation in the offshore supply chain, and to attract new service companies in the area," de Boer says.