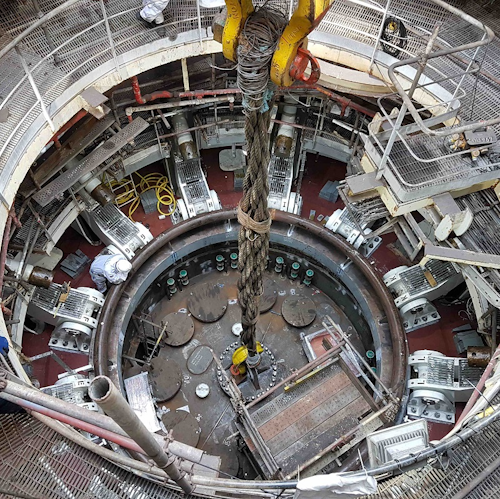 Offshore staff
GODALMING, UK – Hurricane Energy has issued an update on activities at Drydocks World in Dubai related to the early production system for the Lancaster field west of Shetland.
Under the EPC contract withBluewater Energy Services BV, the FPSO Aoka Mizu is undergoing repair, upgrade, and life extension works at the Drydocks World yard. This facility is also fabricating the buoy which will form part of the mooring system.
A 'dry' trial fit testing operation was carried out between the buoy cone and the turret mooring system of the vessel. The final step in the testing sequence involved separation of the turret from the buoy cone, which occurred yesterday.
The successful completion of these operations provides a high level of confidence that the newly machined conical ring of the buoy will successfully engage with the machined receptacle of the existing turret during the offshore hook-up campaign for the Lancaster EPS.
Hurricane said that careful dimensional control and appropriate scheduling of the activities enabled the fit and proper functioning of the turret locking mechanism to be demonstrated a week ahead of schedule.
The buoy cone will now be released for painting and then connected to the base buoyancy structure, which has been fabricated separately from the cone. Completion and outfitting of the buoy is on schedule; it is expected to be ready to sail away from Dubai during 2Q 2018. Handover to the offshore installation contractor will occur on delivery at the port of Lerwick in the UK and will be installed during 3Q 2018.
The turret of theAoka Mizu, which was removed so that certain renovation and upgrade works could be carried out, will be reattached to the vessel as part of its continuing upgrade and life extension works. Vessel sail away from Dubai remains on schedule to take place by the end of 3Q 2018.
According to Hurricane CEO Dr. Robert Trice, first oil remains on schedule for 1H 2019.
02/14/2018