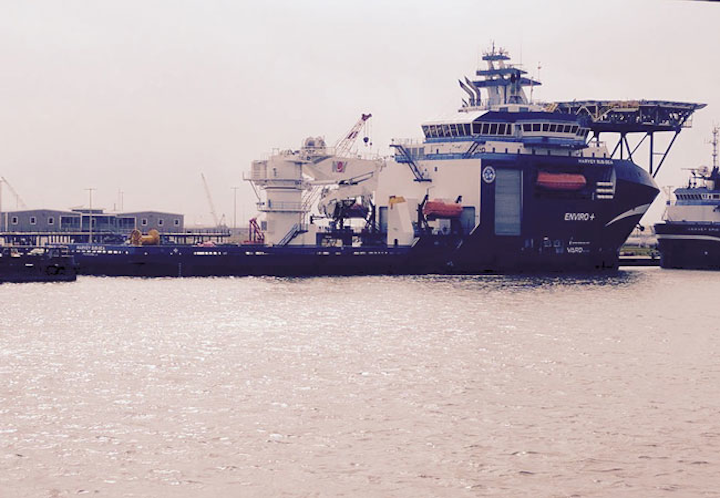 Offshore staff
NEW ORLEANS – Harvey Gulf International Marine has taken delivery of two vessels.
The first, the M/VHarvey Freedom, is the company's fourth LNG-powered offshore supply vessel.
Built at Gulf Coast Shipyard Group in Gulfport, Mississippi, the vessel is 310 ft x 64 ft x 24.5 ft (95 m x 20 m x 7 m), US flagged Subchapter I and L, and is SOLAS (Safety of Life at Sea)-compliant.
In addition to being powered by natural gas, the vessel is certified ENVIRO+, Green Passport by ABS.
TheHarvey Freedom will be based out of Port Fourchon, Louisiana, and will immediately begin a five-year charter with a major oil and gas company. 
Harvey Gulf also delivered the first of two, large capacity multi-purpose support vessels (MPSV).
The M/VHarvey Sub-Sea is a Jones Act-compliant 327-ft x 73-ft x 29-ft (100-m x 22-m x 9-m) MPSV, equipped with a 250-ton knuckle boom, heave compensated crane with 4,000 ft (1,219 m) of wire. The crane's winch is below deck, expanding her lifting capacity and enabling loads of 107 metric tons to be delivered to water depths of 12,000 ft (3,658 m).
In addition, the vessel has 150 berths, all in one- or two-person rooms, 13,000 sq ft (1,208 sq m) of deck space, and a 24-ft x 24-ft (7.3-m x 7.3-m) moonpool. It has a S61 (Heavy) helideck and meets ABS DP2, SPS Code and MLC 2006 certification requirements.
05/05/2017