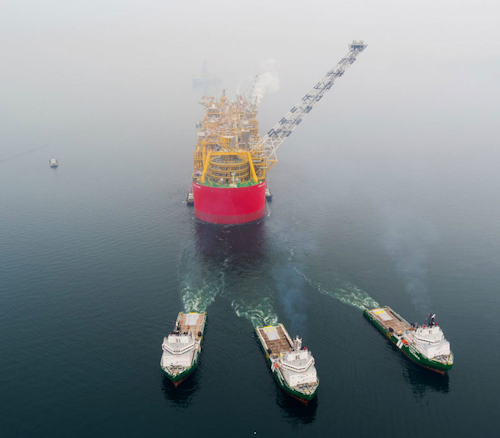 Offshore staff
PERTH, Australia– Royal Dutch Shell'sPrelude floating liquefied natural gas (FLNG) facility has departed the Samsung Heavy Industries shipyard in Geoje, South Korea.
The facility, constructed byTechnip Samsung Consortium, is being towed about 5,800 km (3,600 mi) to the Prelude gas field in the Browse basin, 475 km (295 mi) offshore Broome, Western Australia.
On arrival, 16 pre-positioned mooring chains will be lifted from the seabed and secured to the vessel's 93-m (305-ft) high turret. Once secure, the hook-up and commissioning phase of the project will begin, which is expected to take nine-12 months.
ThePrelude is 74-m (243-ft) wide and 488-m (1,600-ft) long. It is being towed by three tugs, each more than 75 m (246 ft) long. A fourth tug acts as an escort.
According to Shell, cash flow from the project is expected in 2018.
ThePrelude FLNG facility is operated by Shell in joint venture with INPEX (17.5%), KOGAS (10%), and OPIC (5%).
06/29/2017